Homemade Biscochitos Recipe
How to make Homemade Biscochitos Recipe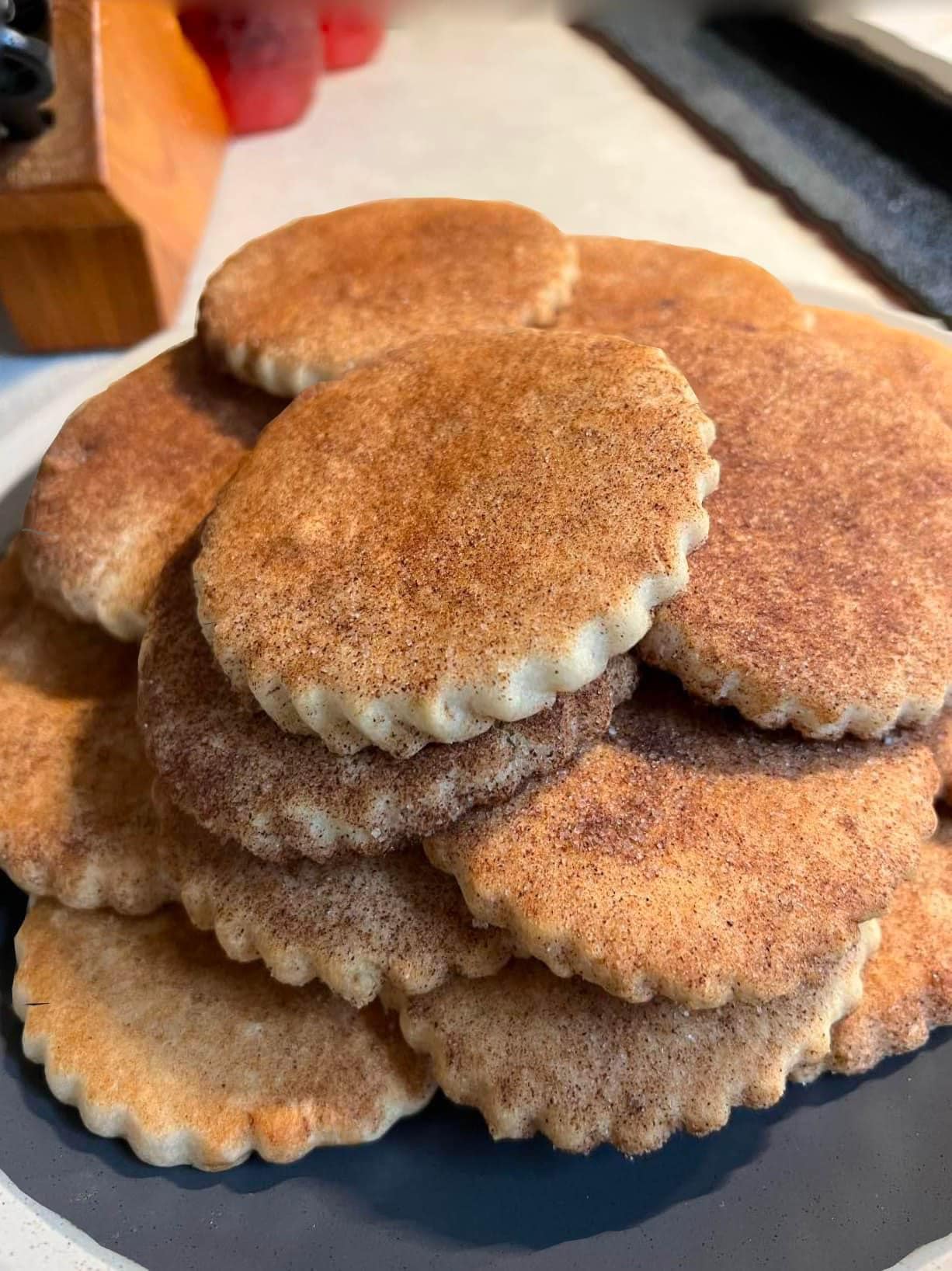 Ingredients:
4 cups all purpose flour
2 tsp baking powder
1/2 tsp salt
1 1/2 cups cold lard
2 eggs
2 tsp anise seed
1 cup sugar
3 tbsp brandy, apple juice, oj
(3 tbsp sugar & 2 tsp cinnamon) for sprinkling on top before baking.
Instructions:
In a stand up mixer cream lard for about 10 minutes,
I put my lard in the freezer for about 30 minutes or so it's really cold
Add Sugar and mix another couple of minutes.
Add eggs, 2 tsp anise, ( I place anise in a plastic baggie and roll over with a rolling pin to release the oils) mix well.
Sift flour, baking powder, and salt.
Add flour mixture and 3 tbsp of brandy, apple juice, or oj. Whatever you prefer. Once mixed well.
Sprinkle flour onto a piece of parchment paper and sprinkle a little on top.
Roll out to desired thickness and cut with cookie cutter dipped in flour.
Sprinkle with the cinnamon sugar mixture.
Bake at 350 on a cookie sheet that has parchment paper for about 12-14 min depending on how you like them. I rotate the pan in the oven half way through.
Enjoy !!
Nutrition Information:
Calories: 280 | Total Fat: 18g | Saturated Fat: 7g | Cholesterol: 35mg | Sodium: 100mg | Total Carbohydrates: 27g | Dietary Fiber: 1g | Sugars: 10g | Protein: 3g
Frequently Asked Questions:
Can I substitute lard with another fat?
Yes, you can use vegetable shortening or butter as a substitute for lard, but keep in mind that it will slightly change the flavor and texture of the Biscochitos.
What can I use if I don't have anise seeds?
If you don't have anise seeds, you can use anise extract as a substitute.
Use about 1-2 teaspoons of anise extract in place of the anise seeds, depending on your preference for the flavor.
Can I make the dough in advance and refrigerate it?
Yes, you can prepare the dough in advance and refrigerate it for later use.
Just wrap the dough tightly in plastic wrap or store it in an airtight container.
When you're ready to bake, let the dough come to room temperature before rolling and cutting the cookies.
Can I freeze Biscochitos?
Yes, Biscochitos freeze well.
After baking and cooling, store them in an airtight container or freezer bags.
They can be frozen for several weeks.
Thaw them at room temperature when you're ready to enjoy.
What is the traditional occasion for serving Biscochitos?
Biscochitos are a traditional cookie in New Mexico, often served during special occasions like Christmas, weddings, and religious celebrations.
They are especially popular during the holiday season.
Can I use butter instead of lard?
While lard is traditional for Biscochitos and imparts a unique flavor and texture, you can substitute it with butter if you prefer.
The cookies will have a slightly different taste and texture with butter.
What can I use instead of brandy in the recipe?
If you prefer not to use brandy, you can substitute it with orange juice or apple juice, as mentioned in the recipe.
This will give a different flavor profile to the Biscochitos.
How thick should I roll the dough for Biscochitos?
The thickness of the dough can vary based on personal preference.
Traditional Biscochitos are often rolled out to about 1/4 to 1/2 inch thickness.
You can adjust the thickness to your liking for softer or crispier cookies.
Can I make Biscochitos without anise seeds?
While anise seeds are a traditional ingredient in Biscochitos and add a unique flavor, you can omit them if you don't like the taste of anise or don't have them on hand.
The cookies will still be delicious.
How should I store Biscochitos to keep them fresh?
Store your Biscochitos in an airtight container at room temperature.
They should stay fresh for about a week.
If you want to extend their shelf life, you can freeze them for longer storage.