Crispy Style Chicken Fritters
How to make Crispy Style Chicken Fritters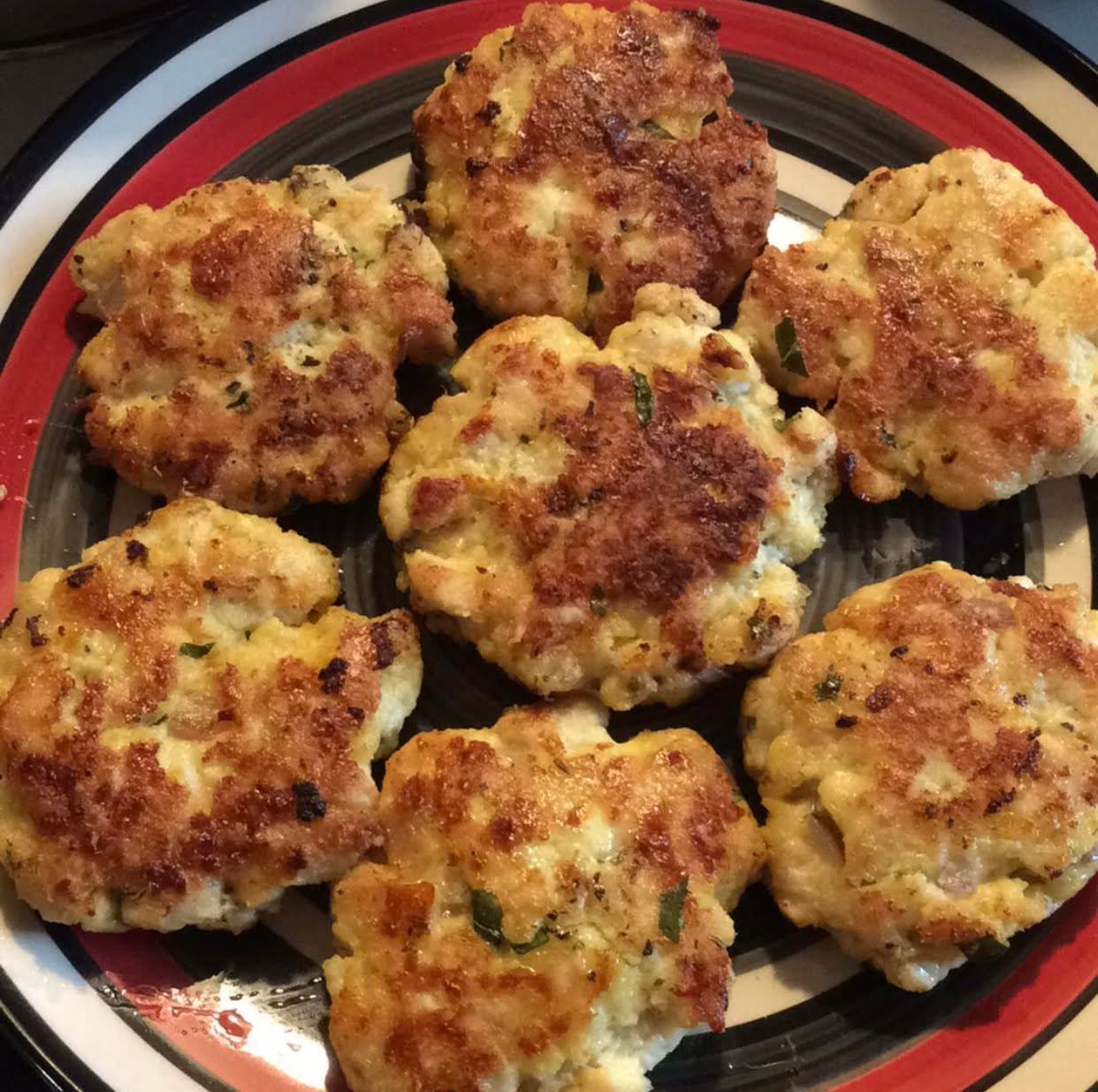 Ingredients
25 ounce can of Chicken breast, drained completely
1 tsp Dijon mustard
¼ cup Breadcrumbs, I use an Italian style
⅛ tsp Thyme, use dried
¼ tsp Garlic powder
¼ tsp Onion powder
1 large egg, beaten
Salt and pepper to taste, if desired
Oil for frying
Instructions
Step 1:
In a large bowl combine the diced chicken, breadcrumbs, dijon mustard, thyme, garlic powder, onion powder, salt and pepper and the egg
Blend together completely
Step 2:
Pour about ½ inch of oil into a skillet and heat on medium high heat
Form the chicken mixture into 6 patties and carefully place them in the heated oil in the skillet
Carefully flip each pattie to cook both sides
Step 3:
Fry until they are golden brown on both sides
Set on a paper towel lined plate to drain excess oil
Serve and enjoy!
Nutrition Information:
YIELD: 6 SERVING SIZE: 1
Amount Per Serving: CALORIES: 247 | TOTAL FAT: 8g | SATURATED FAT: 2g | TRANS FAT: 0g | UNSATURATED FAT: 5g | CHOLESTEROL: 131mg | SODIUM: 204mg | CARBOHYDRATES: 4g | FIBER: 0g | SUGAR: 0g | PROTEIN: 38g
Frequently Asked Questions:
Can I use fresh chicken instead of canned chicken breast?
Yes, you can use fresh chicken breast if you prefer. Simply cook and shred the chicken breast before mixing it with the other ingredients.
Canned chicken is used for convenience in this recipe.
What can I substitute for breadcrumbs if I don't have them on hand?
If you don't have breadcrumbs, you can use crushed crackers, panko breadcrumbs, crushed cornflakes, or even rolled oats as a substitute.
Choose an option that you have available and enjoy experimenting with different textures and flavors.
Can I bake these chicken fritters instead of frying them?
Yes, you can bake the chicken fritters for a healthier option.
Preheat your oven to 375°F (190°C) and place the fritters on a baking sheet lined with parchment paper.
Bake for about 15-20 minutes or until they are golden brown and cooked through.
Is there a dipping sauce you recommend for these chicken fritters?
You can serve these chicken fritters with a variety of dipping sauces, such as barbecue sauce, honey mustard, ranch dressing, or even a simple ketchup-mayo mix.
Choose your favorite sauce or create your own custom dip.
Can I make these fritters in advance and reheat them?
Yes, you can make these fritters in advance and reheat them.
To reheat, place them in a preheated oven at 350°F (175°C) for about 10-15 minutes or until they are heated through and crispy again.
Alternatively, you can reheat them in a skillet with a bit of oil over medium heat.