How to make The Best Nachos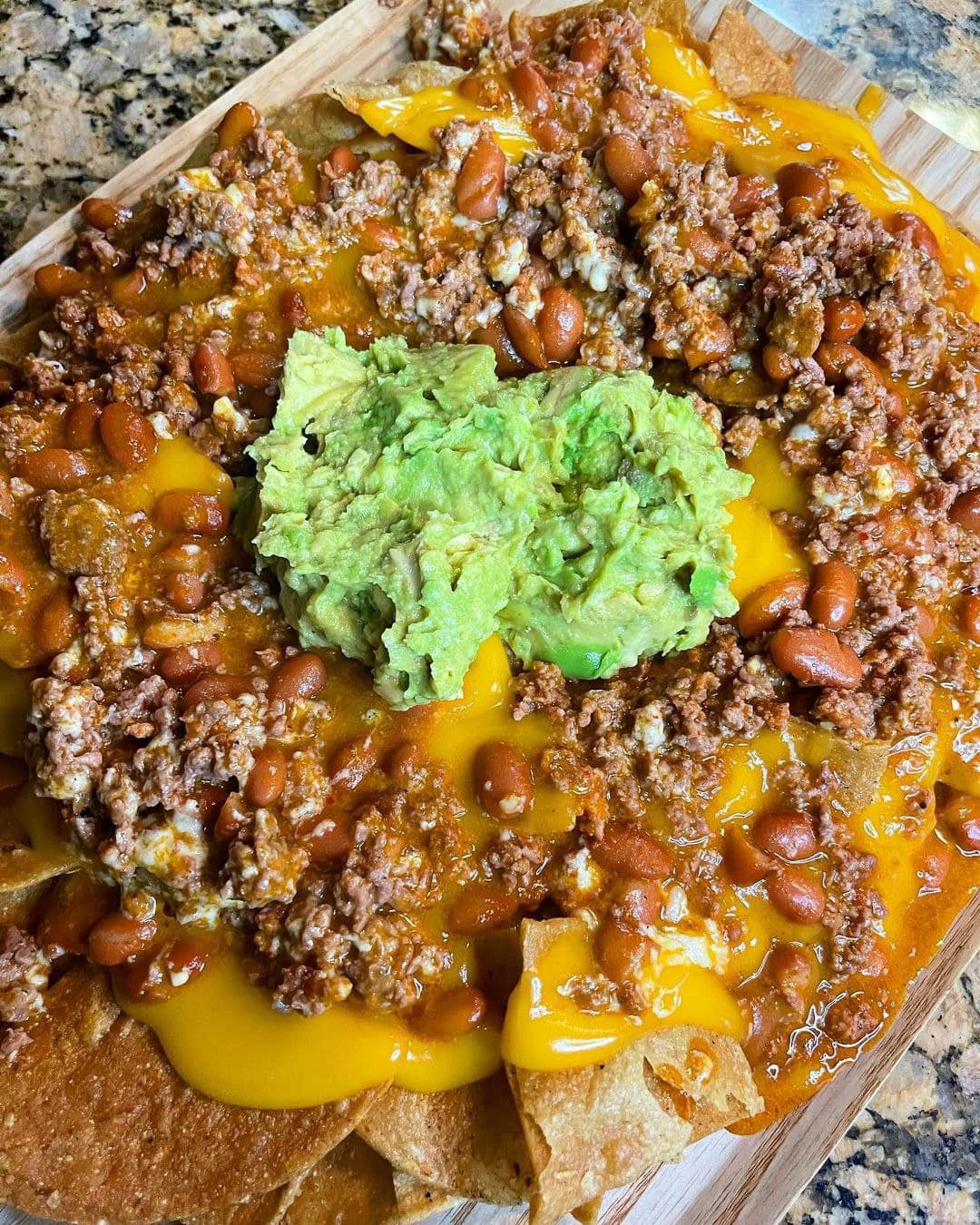 Ingredients:
1 pound ground beef
1 onion, chopped
1 (15-ounce) can black beans
1 (16-ounce) can low fat refried beans
1 large bag thick corn tortilla chips
2 roma tomatoes, diced
1/2 cup pickled jalapeños, sliced
1/4 cup black olives, sliced
1 (8-ounce) package shredded cheese, Cheddar or Monterrey Jack
2 to 3 green onions, chopped
1/4 cup cilantro, chopped
1/4 cup salsa
1 to 2 tablespoons cumin, to taste
2 to 3 tablespoons chili powder, to taste
Salt and pepper, to taste
Serve with sour cream, salsa and guacamole
Instructions:
Preheat oven to 400°F.
In a large skillet on medium heat, add ground beef and chopped onion, stirring occasionally to brown the meat and cook the onions.
Add salt, cumin, chili powder, and black pepper to season, as the ground beef browns. Drain excess grease.
Add the black and refried beans and stir into the ground beef. Add ¼ cup salsa. Stir ingredients until well mixed.
Add more cumin and chili powder, to taste. Stir and simmer 5 minutes.
Place the chips on a baking sheet. Spoon and sprinkle the ground beef mixture over the chips.
Top nachos with diced tomato, sliced jalapenos, black olives, and the chopped bottoms of the green onions. Sprinkle the top with cheese.
Slide the baking sheet into the oven and let cook approximately 15 minutes, or until the cheese is melted and the nachos heated through.
Remove from the oven and top with chopped green onion tops and cilantro.
Serve with sour cream, salsa and guacamole.
enjoy!!
Nutrition Information:
YIELD: 6 SERVING SIZE: 1
Amount Per Serving: CALORIES: 505 | TOTAL FAT: 28g | SATURATED FAT: 11g | TRANS FAT: 0g | CHOLESTEROL: 70mg | SODIUM: 1125mg | CARBOHYDRATES: 38g | FIBER: 9g | SUGAR: 4g | PROTEIN: 30g
Frequently Asked Questions:
Can I use a different type of meat instead of ground beef?
Yes, you can substitute ground beef with other meats such as ground chicken, turkey, or pork.
Adjust the cooking time and seasonings accordingly to ensure the meat is cooked through and flavored to your liking.
Can I make these nachos spicy?
Absolutely! If you enjoy spicy flavors, you can increase the heat in this recipe.
Add more chili powder, jalapeños, or even a dash of hot sauce to amp up the spiciness.
Adjust the amount according to your personal preference.
Can I make these nachos healthier?
Yes, you can make some adjustments to make the nachos healthier.
Opt for baked tortilla chips instead of fried ones, use reduced-fat cheese or a smaller amount, and choose leaner meats like ground turkey or chicken.
Additionally, you can reduce the amount of salt and use low-sodium beans and salsa.
Consider adding more vegetables as toppings to boost the nutritional value.
Can I make these nachos in advance and reheat them later?
While nachos are best enjoyed immediately after baking, you can prepare the components in advance.
Cook the ground beef and assemble the toppings, but keep them separate until you're ready to serve.
Store the chips separately to maintain their crispness.
When you're ready, assemble the nachos and reheat in the oven until the cheese is melted and the toppings are heated through.
Can I customize the toppings to suit my preferences?
Absolutely! The toppings in this recipe are customizable.
Feel free to add or omit ingredients based on your taste preferences.
You can add other toppings such as diced bell peppers, corn, or different types of cheese.
Get creative and make the nachos your own by adding your favorite flavors and ingredients.
Can I make this recipe vegetarian or vegan?
Yes, you can easily modify this recipe to be vegetarian or vegan.
Simply omit the ground beef and use plant-based alternatives such as veggie crumbles or tofu.
For the cheese, you can use dairy-free shredded cheese or make a vegan cheese sauce.
Replace the sour cream with vegan sour cream or yogurt, and use vegan-friendly salsa and guacamole.
Can I adjust the level of spiciness in the nachos?
Absolutely! The spice level can be adjusted to your preference.
You can increase or decrease the amount of chili powder, pickled jalapeños, and salsa according to your desired level of spiciness.
Feel free to customize it to suit your taste.
Can I use different types of beans?
Yes, you can experiment with different types of beans in this recipe.
While the recipe calls for black beans and low-fat refried beans, you can substitute them with kidney beans, pinto beans, or any other variety you prefer.
Be sure to drain and rinse canned beans before using them.