Tangy Beef And Cabbage Soup
How to make Tangy Beef And Cabbage Soup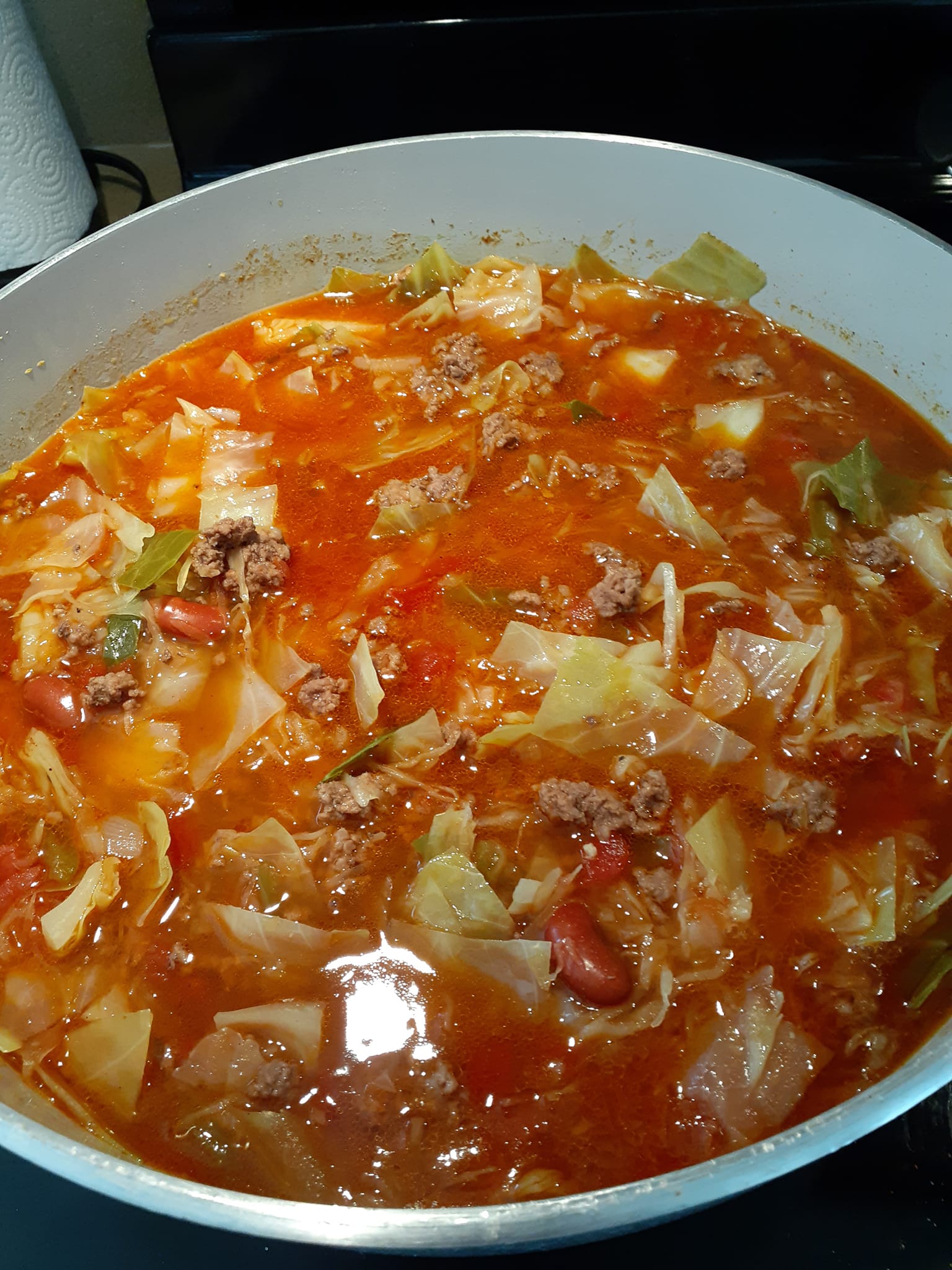 Ingredients
1 pound ground beef
1 large onion, chopped
2 to 3 stalks celery, chopped (Optional)
1 large green or red bell pepper, chopped
1 (14.5 ounce) can kidney beans, drained and rinsed
1/2 head cabbage, chopped
2 (14.5 ounce) cans beef broth
1 (14.5 ounce) can diced tomatoes
¼ cup red wine vinegar
1 teaspoon salt
1/2 teaspoon black pepper (or more to taste)
2 teaspoons chili powder
1/2 teaspoon cumin
1/2 teaspoon garlic powder
Instructions:
Cook the ground beef in a skillet on top of the stove and drain.
Add ground beef, onion, celery, green pepper, kidney beans and cabbage to the crock pot.
In a bowl whisk together the beef broth, vinegar, tomatoes, salt, pepper, chili powder, cumin and garlic powder.
Pour over the crock pot ingredients.
Cook on low for 6 to 7 hours or high for 4 hours.
This could be made in a stew pot on top of the stove, too.
Makes 3 quart crock pot full or 8 to 10 servings.
Top with shredded cheddar cheese and a dollop of sour cream if desired.
Nutrition Information:
YIELDS: 8 | SERVING SIZE: 1
Calories: 250 calories | Protein: 15 grams | Carbohydrates: 20 grams | Dietary Fiber: 6 grams | Fat: 10 grams | Sodium: 800 milligrams | Potassium: 600 milligrams
Frequently Asked Questions:
Can I use ground turkey or chicken instead of ground beef?
Yes, you can substitute ground turkey or chicken for the ground beef if you prefer a leaner option.
Just be sure to cook it thoroughly and drain any excess fat.
Is the celery necessary, or can I omit it?
Celery is listed as an optional ingredient, so you can omit it if you don't have it on hand or if you're not a fan of celery.
The soup will still be flavorful without it.
Can I use other types of beans instead of kidney beans?
Yes, you can use other types of beans, such as black beans, pinto beans, or cannellini beans, in place of kidney beans based on your preference.
What can I use if I don't have red wine vinegar?
If you don't have red wine vinegar, you can substitute white wine vinegar or apple cider vinegar.
It will provide a slightly different flavor but should work well in the recipe.
How do I adjust the spice level to my liking?
You can adjust the spiciness of the soup by increasing or decreasing the amount of chili powder and black pepper.
Start with the amounts listed in the recipe and add more if you prefer it spicier or reduce if you want it milder.