Soft Sour Cream Sugar Cookies
How to make Soft Sour Cream Sugar Cookies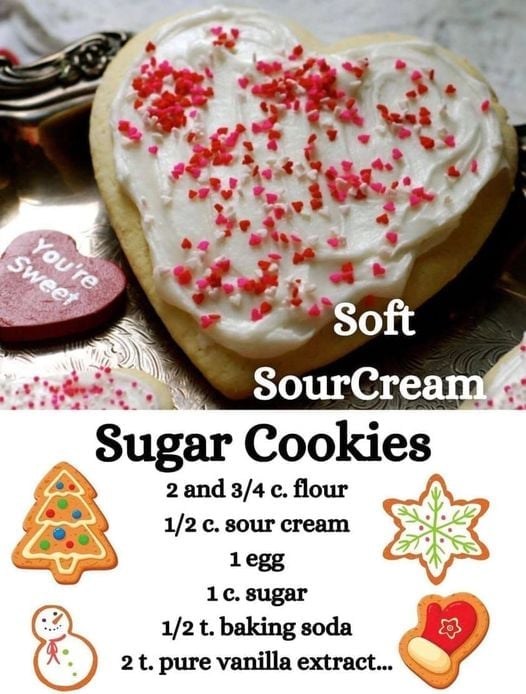 Ingredients:
1 cup (227 g) salted butter, softened
2 cups (424 g) granulated sugar
2 large eggs
2 teaspoons vanilla extract
5 ½ cups (781 g) all-purpose flour
2 teaspoons baking powder
½ teaspoon ground nutmeg, optional
½ teaspoon salt
1 cup (227 g) sour cream
1 ½ teaspoons baking soda
Instructions:
In a large bowl with a handheld electric mixer (or in an electric stand mixer), cream together the butter and sugar for a minute or so. Add the eggs and vanilla and mix until well-combined.
Add the flour, baking powder, nutmeg (if using) and salt. Mix until combined; the mixture will be in little pieces.
In a separate bowl, stir together the sour cream and baking soda. The sour cream may foam a bit – that's totally normal.
Add the sour cream mixture to the cookie dough and mix until combined. Don't overmix – just until it is smooth and looks like sugar cookie dough.
Wrap the dough in plastic wrap and refrigerate for 1-2 hours.
Preheat the oven to 375 degrees F.
Roll the dough on a lightly floured counter to about 1/4-inch thick and cut into desired shapes, using additional flour on the counter or rolling pin as needed. Place the cutout cookies on a parchment or silpat lined baking sheet a couple inches apart and bake for 9-11 minutes, depending on the size and thickness of the cookies. Don't overbake. They'll be puffed up a bit and should be lightly browned (or not browned at all) on the bottoms; they'll be softer if there's no browning on the sides and top.
Let the cookies rest a minute or so on the baking sheet before removing to a wire rack to cool completely.