Pozole Verde de Pollo (Green Mexican Hominy and Chicken Soup)
How to make Pozole Verde de Pollo (Green Mexican Hominy and Chicken Soup)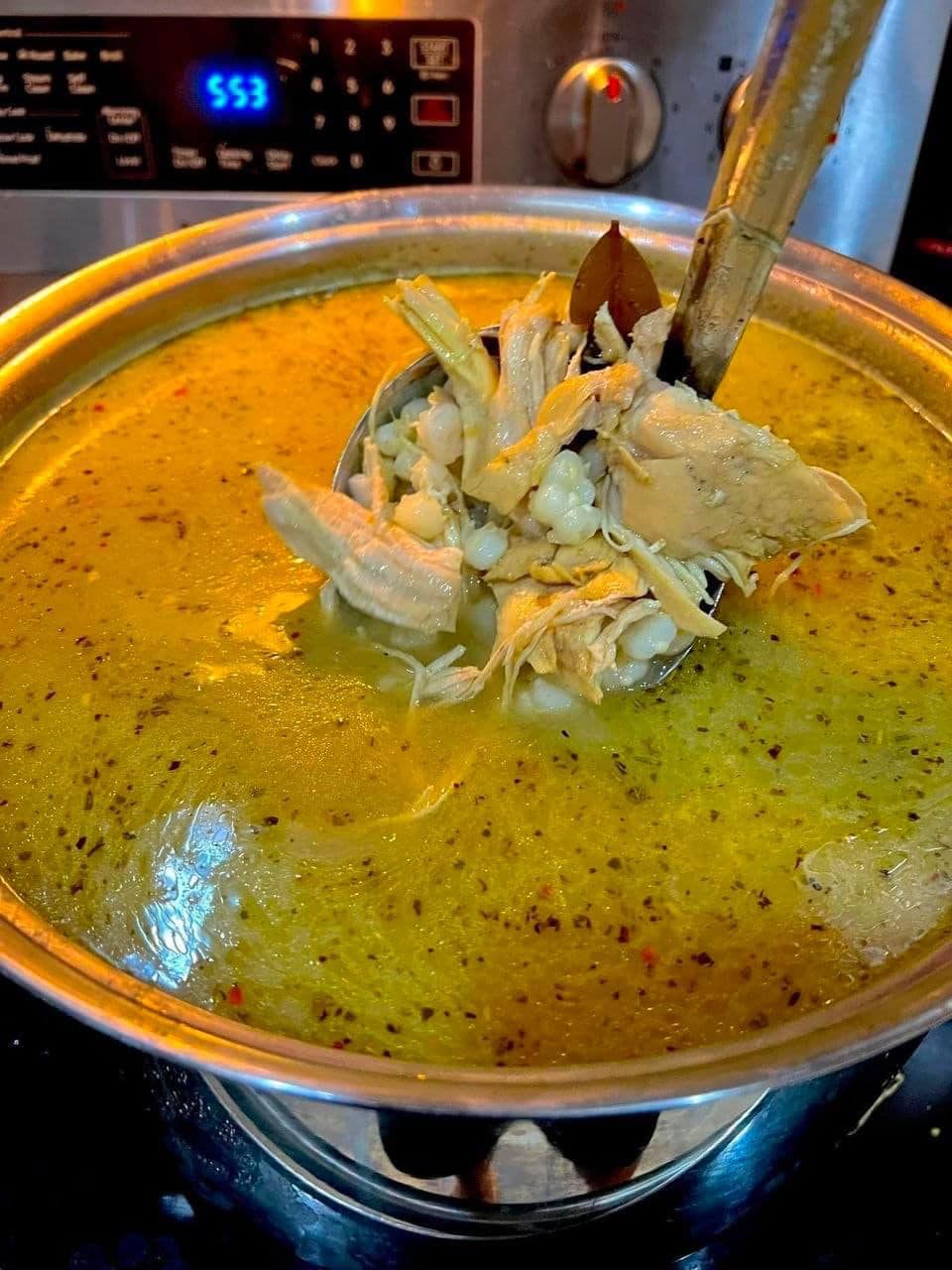 Ingredients:
• 1 tablespoon oil
• 1 onion, diced
• 6 cloves garlic, chopped
• 2 teaspoons cumin, toasted and ground
• 6 cups chicken broth
• 2 cups hominy, soaked in cold water overnight
• 3 pounds chicken (whole or legs, thighs, etc.)
• 2 teaspoons oregano
• 1 pound tomatillos
• 2 jalapenos, cut in half, seeds removed
• 2 poblano chilies, cut in half, seeds removed
• 1/2 cup cilantro, coarsely chopped
• 2 tablespoons lime juice (~1 lime)
• salt and pepper to taste
Instructions:
1. Heat the oil in a large sauce pan over medium-high heat, add the onion and cook until tender, about 3-5 minutes, before adding the garlic and cumin and cooking until fragrant, about a minute.
2. Add the broth, chicken, oregano and hominy, bring to a boil, reduce the heat and simmer until the hominy is tender but still has that al-dente chewiness, about 2 hours.
3. Meanwhile, roast the tomatillos, jalapenos and poblanos in under the broiler, in a cast iron pan over high heat or in the direct flames of a gas stove until they are lightly charred black before pureeing them along with the cilantro in a blender with some of the broth from the soup and mixing it back into the soup.
4. Remove the chicken from the soup, let cool until you can handle it, shred the meat and mix it back into the soup.
5. Mix in the lime juice and season with salt and pepper before enjoying!
Enjoy !!
Nutrition Information:
YIELD: 6 SERVING SIZE: 1
Amount Per Serving: CALORIES: 400 | TOTAL FAT: 15g | SATURATED FAT: 3g | TRANS FAT: 0g | CHOLESTEROL: 80mg | SODIUM: 600mg | CARBOHYDRATES: 30g | FIBER: 5g | SUGAR: 5g | PROTEIN: 30g
Frequently Asked Questions:
Can I use canned hominy instead of soaking it overnight?
Yes, you can use canned hominy as a convenient alternative to soaking dried hominy overnight.
Make sure to drain and rinse the canned hominy before adding it to the soup.
Can I use boneless chicken instead of whole chicken or chicken parts?
Yes, you can use boneless chicken in this recipe. Adjust the cooking time accordingly to ensure the chicken is fully cooked and tender.
How spicy is this soup? Can I adjust the heat level?
The spiciness of the Pozole Verde de Pollo can be adjusted to your preference.
By removing the seeds from the jalapenos and poblano chilies, you can reduce the heat.
If you prefer a spicier soup, you can add additional jalapenos or chili peppers.
Can I use canned tomatillos instead of fresh ones?
Yes, you can use canned tomatillos if fresh ones are not available.
Just make sure to drain them before roasting or pureeing.
Is it necessary to soak the hominy overnight, or can I use canned hominy?
Soaking the hominy overnight is recommended for this recipe to ensure it softens properly.
Canned hominy may be used as a substitute, but the texture and flavor may differ slightly.
Can I make this soup in advance?
Yes, you can make this soup in advance. In fact, the flavors tend to develop and intensify after being refrigerated for a day or two.
Store the soup in an airtight container in the refrigerator and reheat it before serving.
Can I use a slow cooker or Instant Pot for this recipe instead of simmering on the stovetop?
Yes, you can adapt this recipe for a slow cooker or Instant Pot.
Adjust the cooking times and follow the manufacturer's instructions for cooking chicken soup or stews.
What toppings or garnishes can I add to the Pozole Verde de Pollo?
Traditional toppings for pozole include diced avocado, shredded cabbage, sliced radishes, chopped onions, cilantro leaves, and a squeeze of lime juice.
You can also add a sprinkle of Mexican cheese, such as queso fresco, for extra flavor.
Can I make this soup in advance and reheat it later?
Yes, Pozole Verde de Pollo is a great soup to make in advance.
Allow it to cool, then refrigerate in an airtight container for up to 3 days.
Reheat gently on the stovetop, adding a little extra broth if needed to adjust the consistency.