How to make Peach Cobbler Egg Rolls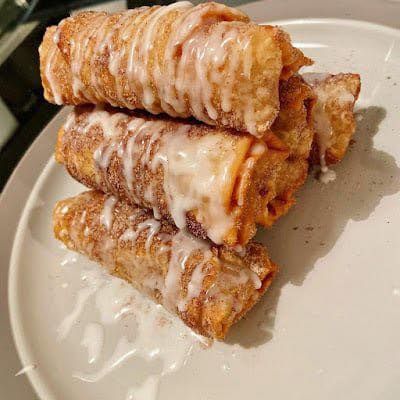 Ingredients
2 cups peaches, chopped
1 tbsp fresh lemon juice
2 tbsp butter, salted
½ cup brown sugar, Preferably light brown
4 tsp cornstarch
½ tsp cinnamon
½ tsp vanilla extract
10 egg roll wrappers
Water to seal the edges
Vanilla Bean Sauce for dipping
½ tsp vanilla bean paste
2 ½ tbsp milk
¾ cup powdered sugar
Instructions
In a small saucepan combine the peaches, lemon juice, butter and brown sugar
Add in the cornstarch and cinnamon
Bring to a boil, then reduce the heat and simmer while stirring occasionally. It should begin to thicken within 10 minutes.
Stir in the vanilla extract and set aside to cool
Lay one egg roll wrapper on a flat surface in a diamond shape
Brush the edges with water
Place approximately 2 tbsp of peach filling in the center in a line of the wrapper
Fold the sides in while you are rolling, continue and be sure to press the edges
Preheat the oil in a skillet to 350* and allow to heat up
Place the egg rolls into the oil seam side down and fry until the egg roll is a golden brown
Remove from the oil and place on a paper towel lined dish to drain off the oil
After a few minutes, place the egg rolls on a cooling rack and dust with Confectioners sugar
For the Vanilla Bean Sauce, mix the ingredients together and use for dipping or drizzling over the egg rolls.
Serve and enjoy!
Nutrition Information:
YIELD: 10 SERVING SIZE: 1
Amount Per Serving: CALORIES: 207 | TOTAL FAT: 3g | SATURATED FAT: 2g | TRANS FAT: 0g | UNSATURATED FAT: 1g | CHOLESTEROL: 10mg | SODIUM: 265mg | CARBOHYDRATES: 41g | FIBER: 1g | SUGAR: 20g | PROTEIN: 4g