How to make Easy Mexican Casserole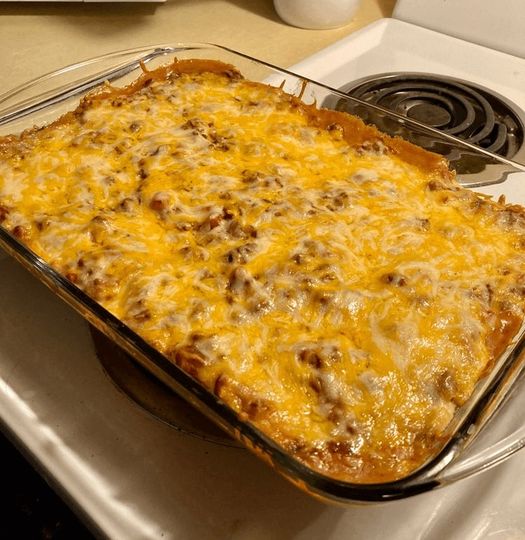 Ingredients
10 to 12 ounce bag of Tortilla chips
1 pound lean ground beef
1 can black beans, drained and rinsed
1 can rotel tomatoes with chilis
1 small onion chopped
1 can cream of chicken soup
½ cup water
1 package taco seasoning
2 cups Cheddar Cheese, shredded
Sour cream and salsa for garnish
Instructions
Preheat the oven to 325*
Brown the ground beef with the chopped onion, drain off the grease
Add in the black beans, tomatoes, taco seasoning, the cream of chicken soup and the water.
Stir to combine and mix well
Simmer for 15 minutes to heat everything thoroughly
Lightly spray a 9 x 13 baking dish
Layer the bottom with lightly crushed tortilla chips
Spoon half of the meat mixture over the chips
Sprinkle with half the cheese
Lay down another layer of the tortilla chips
Spoon the remaining meat and bean mixture over the chips
Sprinkle with the remaining shredded Cheddar Cheese
Cover with Aluminum foil and bake for 25 to 30 minutes, until bubbly
Let sit on stove for 5 minutes before serving
Serve with salsa and sour cream.
Enjoy!
Nutrition Information:
YIELD: 6 SERVING SIZE: 1
Amount Per Serving: CALORIES: 530 | TOTAL FAT: 20g | SATURATED FAT: 8g | CHOLESTEROL: 60mg | SODIUM: 1000mg | CARBOHYDRATES: 50g | FIBER: 7g | SUGAR: 3g | PROTEIN: 30
Frequently Asked Questions:
Can I use a different type of meat?
Yes, you can substitute the lean ground beef with ground turkey, ground chicken, or even a plant-based meat substitute if you prefer.
The important thing is to ensure that whatever meat you use is cooked thoroughly before adding the other ingredients.
What if I don't have a can of Rotel tomatoes with chilis?
If you don't have a can of Rotel, you can substitute it with a can of diced tomatoes and a small can of diced green chilies.
You could also use fresh diced tomatoes and a diced jalapeno for a fresh spin.
Can I use a different type of cheese?
Cheddar cheese is recommended for this recipe due to its strong flavor and good melting properties.
However, you can use other types of cheese like Monterey Jack, Colby, or Mexican blend cheeses.
Do I need to fully cook the ground beef before adding it to the casserole?
Yes, you should fully brown and cook the ground beef before mixing it with the other ingredients.
This ensures that the beef is fully cooked before baking the casserole.
How do I know when the casserole is done baking?
The casserole is done when it's bubbly and the cheese on top is fully melted.
If you'd like a slightly browned top, you can remove the foil for the last few minutes of baking, watching closely to prevent burning.