How to make Vegetable Beef Soup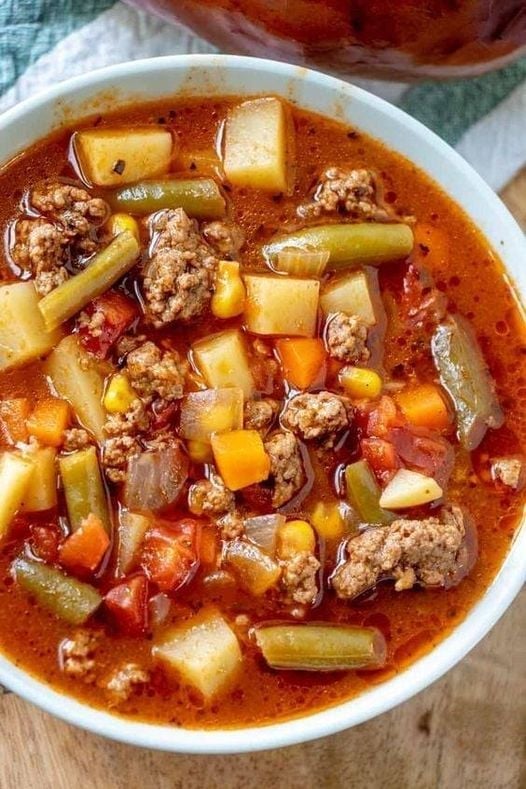 Ingredients
1 lb ground beef
1 small onion diced
1 tsp garlic minced
Salt & pepper to taste
3 1/2 cup beef broth
1 15 oz can petite diced tomatoes
1 10.5 oz can condensed tomato soup
2 tsp worcestershire sauce
2 tsp Italian seasoning
1 16 oz bag frozen mixed vegetables
2 medium potatoes any variety, we use russet
Instructions
In large pot or dutch oven add your ground beef, onion and garlic and cook until meat is no longer pink and onions are translucent.
Add your salt and pepper and mix to combine.
Mix in your beef broth, tomatoes, tomato soup, worcestershire sauce, Italian seasoning, vegetables and potatoes.
Bring to a boil the reduce heat, cover and simmer for about 30 minutes until potatoes are tender.
Nutrition Information:
Calories: 250 kcal | Protein: 14 grams | Carbohydrates: 20 grams | Dietary Fiber: 3 grams | Sugars: 5 grams | Fat: 10 grams | Saturated Fat: 3 grams | Cholesterol: 30 mg | Sodium: 800 mg
Frequently Asked Questions:
Can I use lean ground beef for this soup?
Yes, you can use lean ground beef if you prefer a lower-fat option.
It will reduce the overall fat content of the soup.
Can I use fresh tomatoes instead of canned diced tomatoes?
Yes, you can substitute fresh diced tomatoes for the canned ones.
Use approximately 2-3 medium-sized fresh tomatoes, peeled and diced, as a replacement for the canned tomatoes.
Are there any vegetable variations I can try?
You can customize the vegetable mix to your liking.
Some popular additions include celery, carrots, green beans, or corn.
Feel free to add your favorite vegetables or use what you have on hand.
Can I make this soup in advance and freeze it?
Yes, Vegetable Beef Soup is suitable for freezing.
Allow it to cool completely before transferring it to airtight containers or freezer bags.
It can be stored in the freezer for up to 3-4 months.
Can I use vegetable broth to make this soup vegetarian?
Absolutely! You can replace the beef broth with vegetable broth to make a vegetarian version of this soup.
Also, consider using a plant-based ground meat substitute or omitting the meat entirely for a fully vegetarian option.
Can I use a different type of meat instead of ground beef?
Yes, you can substitute ground beef with other ground meats like ground turkey, ground chicken, or even ground pork, depending on your preference.
Can I make this soup in a slow cooker or crockpot?
Absolutely! To make Vegetable Beef Soup in a slow cooker, brown the ground beef and onions in a pan, then transfer them to the slow cooker along with the other ingredients.
Cook on low for 6-8 hours or on high for 3-4 hours until the potatoes and vegetables are tender.
What can I serve as a side with this soup?
Vegetable Beef Soup pairs well with crusty bread, dinner rolls, or a simple green salad.
You can also sprinkle some grated Parmesan cheese or fresh herbs like parsley on top before serving.
Can I adjust the level of spiciness in this soup?
Yes, you can control the spiciness by adjusting the amount of black pepper and Italian seasoning.
If you prefer a spicier soup, you can add a pinch of red pepper flakes or a dash of hot sauce.
How can I store leftovers, and how long will they stay fresh?
Leftover Vegetable Beef Soup can be stored in an airtight container in the refrigerator for up to 3-4 days.
Reheat it on the stovetop or in the microwave until hot before serving.