Sausage, Egg And Cream Cheese Hashbrown Casserole
How to make Sausage, Egg And Cream Cheese Hashbrown Casserole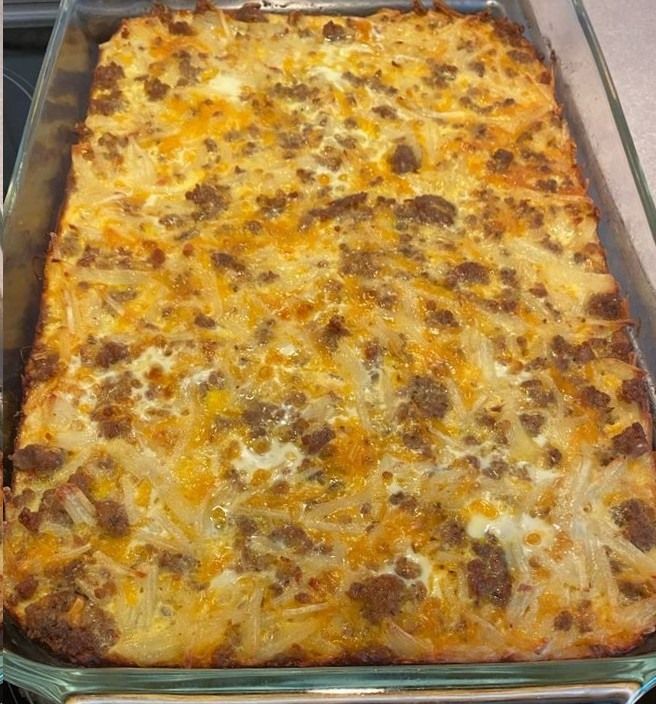 Ingredients:
2 lb. Breakfast Sausage Ground
16 oz. Cream Cheese Softened To Room Temperature
32 oz. Frozen Hashbrown Potatoes
2 cup Cheese Shredded
8 Large Eggs
2 cup Milk
¼ tsp. Onion Powder
¼ tsp. Garlic Powder
Salt And Pepper To Taste
Instructions:
Set your oven to preheat to 350 degrees.
Place the sausage in a skillet over medium high heat, and cook until completely browned. Drain any extra fat.
Mix together the cream cheese and meat in a bowl.
Saute the hashbrowns in the skillet until slightly browned.
Place the hashbrowns in a 9×13 dish that has been well greased.
Layer the meat on top of the hashbrowns. Spread the cheese over the meat.
In a bowl, combine the eggs, milk, garlic powder, onion powder and salt and pepper to taste.
Pour the egg mixture over the ingredients in the baking dish.
Bake for 40-50 minutes until cooked through.
Enjoy!