Homemade Taco Dorados Sinaloa
Homemade Taco Dorados Sinaloa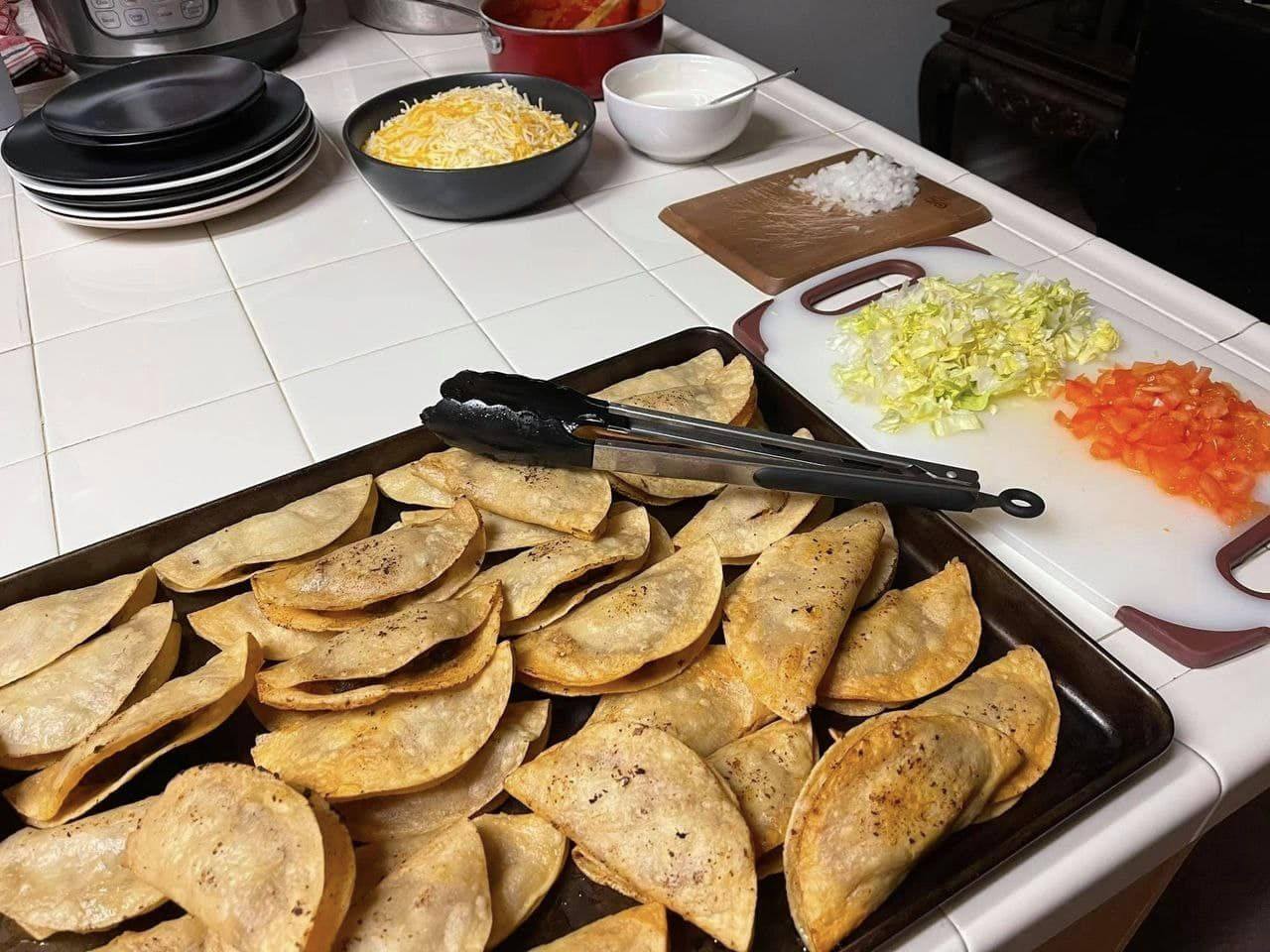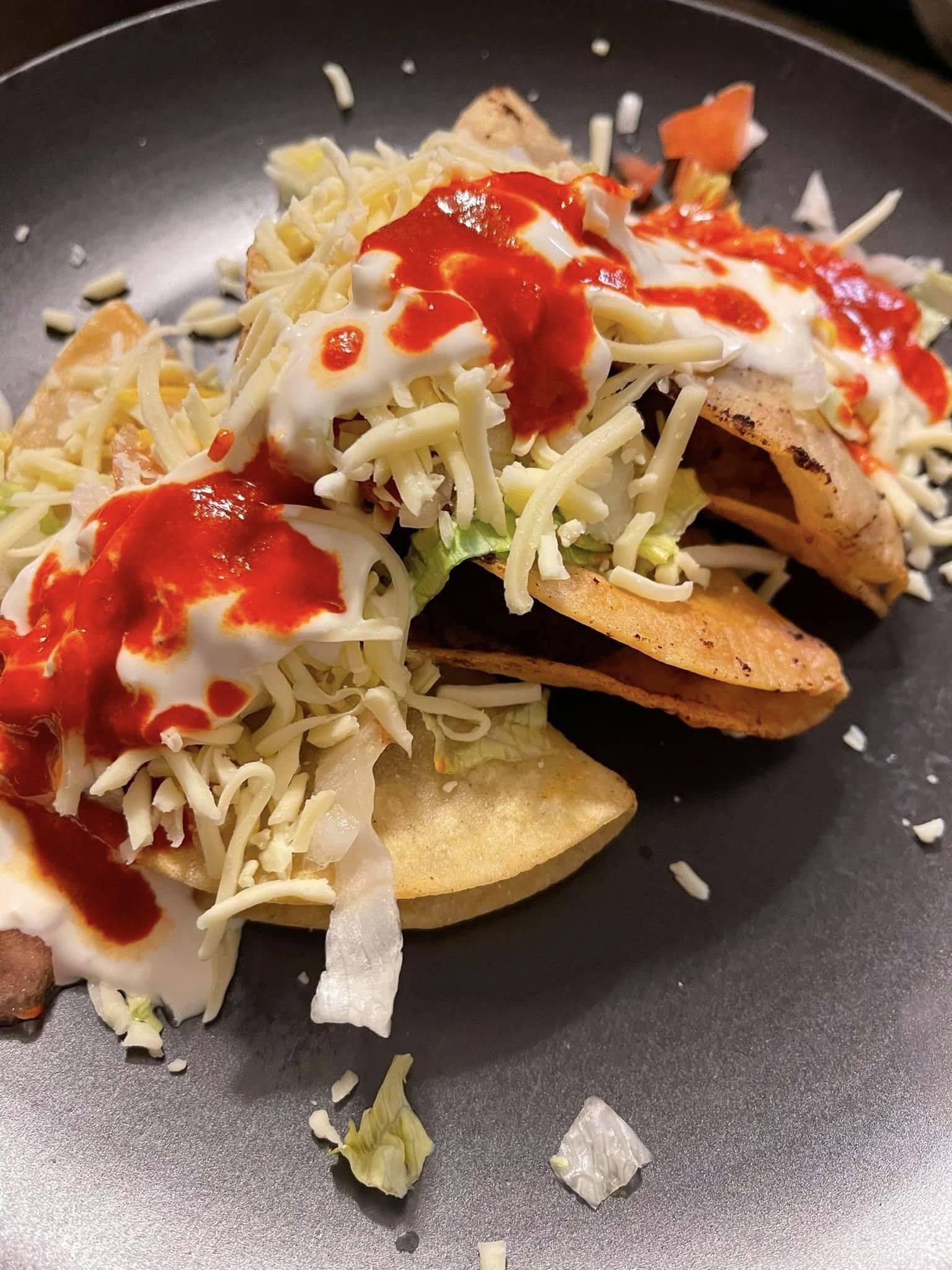 Ingredients:
1 pound ground sirloin or 90 percent lean ground beef
vegetable oil
1 cup finely chopped onion
1½ tablespoons mild chile powder
1 tablespoon paprika
1½ teaspoons ground cumin
¾ teaspoon garlic powder
½ teaspoon dried oregano
1½ teaspoons kosher salt
1½ tablespoons tomato paste
1½ teaspoons finely minced chipotle chile in adobo
2 ounces finely shredded cheddar cheese (1/2 cup)
12 (6-inch) corn tortillas
Taco Garnishes:
shredded iceberg lettuce
diced onion
diced tomato
pickled jalapeños
shredded cheddar cheese
sour cream
Instructions:
Adjust oven rack to middle position and heat oven to 400 degrees.
Combine chile powder, paprika, cumin, garlic powder, oregano and kosher salt in a small bowl.
Heat 1 tablespoon canola oil in a 12-inch skillet over medium heat. Add onion and cook, stirring occasionally until softened, about 5 minutes.
Add spice mix to the onions, stirring constantly for 1 minute. Stir in tomato paste and chipotle chile and cook for another minute.
Add ground sirloin and cook, using a wooden spoon to break meat into pieces no larger than ¼-inch, until beef is cooked through and no longer pink, 5-7 minutes.
Transfer beef to a bowl; stir in cheddar until cheese has melted and mixture is homogenous. Wipe skillet clean with paper towels.
Thoroughly brush both sides of the tortillas with canola oil (or spray lightly with cooking spray).
Arrange tortillas, overlapping slightly, on a foil-lined baking sheet (2 rows of 6 tortillas). Bake until tortillas are warm and pliable, about 5 minutes. Reduce oven temperature to 200 degrees.
Place 2 tablespoons of filling on 1 side of each tortilla. Fold and press to close tortilla. The filled tortillas can be covered and refrigerated for up to 8 hours.
Set a small wire rack in a rimmed backing sheet (for first batch of cooked tacos). Heat ¼ cup oil in the skillet over medium to medium-high heat until shimmering.
Arrange 6 tacos in the skillet with open sides facing away from you. Cook, adjusting heat so oil actively sizzles and bubbles appear around the edges of the tacos, until tacos are crispy and deeply browned on 1 side, about 2-3 minutes.
Using a spatula, carefully flip tacos. Cook until browned on second side, about 2 minutes, adjusting heat as necessary.
Remove skillet from heat and transfer tacos to a paper towel lined plate and blot tops with paper towels. Transfer tacos to prepared rack and place in oven to keep warm. Return skillet to medium to medium-high heat and cook remaining tacos.
Serve tacos with your favorite garnishes, rice and beans.
Enjoy !!
Nutrition Information:
YIELD: 6 SERVING SIZE: 1 Taco
Amount Per Serving: CALORIES: 340 | TOTAL FAT: 16g | SATURATED FAT: 6g | TRANS FAT: 0g | CHOLESTEROL: 70mg | SODIUM: 600mg | CARBOHYDRATES: 25g | FIBER: 2g | SUGAR: 2g | PROTEIN: 20g
Frequently Asked Questions:
Can I use a different type of meat instead of ground sirloin?
Yes, you can use other ground meats like chicken, turkey, or pork as a substitute for ground sirloin in this recipe. Adjust the cooking time accordingly to ensure thorough cooking.
Can I make the tacos ahead of time and refrigerate them?
Yes, you can assemble the filled tortillas ahead of time and refrigerate them for up to 8 hours before frying. This allows for convenient preparation when serving.
Can I bake the tacos instead of frying them?
Yes, the recipe suggests baking the tortillas initially to warm and make them pliable. If you prefer a healthier option, you can continue baking the filled tacos in a preheated oven at a slightly higher temperature until they are crispy.
What are some suggested taco garnishes to serve with Taco Dorados Sinaloa?
Popular garnishes for these tacos include shredded iceberg lettuce, diced onion, diced tomato, pickled jalapeños, shredded cheddar cheese, and sour cream. Feel free to customize with your preferred toppings.
Can I serve these tacos with other side dishes?
Absolutely! Rice and beans are traditional accompaniments to Mexican tacos and would complement the Taco Dorados Sinaloa well.
You can also consider serving a side of Mexican-style corn, guacamole, or salsa for a complete meal experience.
Can I use flour tortillas instead of corn tortillas?
While the recipe calls for corn tortillas, you can use flour tortillas if you prefer. Keep in mind that the texture and taste of the tacos will differ slightly, but it can still be a delicious alternative.
How can I make these tacos vegetarian or vegan?
To make a vegetarian version, you can substitute the ground meat with plant-based ground meat alternatives or cooked and seasoned vegetables.
For a vegan version, omit the cheese or use a vegan cheese substitute, and ensure that all ingredients used are plant-based.
Are there any alternatives to frying the tacos?
If you prefer a healthier cooking method, you can lightly brush the assembled tacos with oil and bake them in a preheated oven at 400 degrees Fahrenheit until they become crispy and golden brown.