Chiles Rellenos Cornbread
How to make Chiles Rellenos Cornbread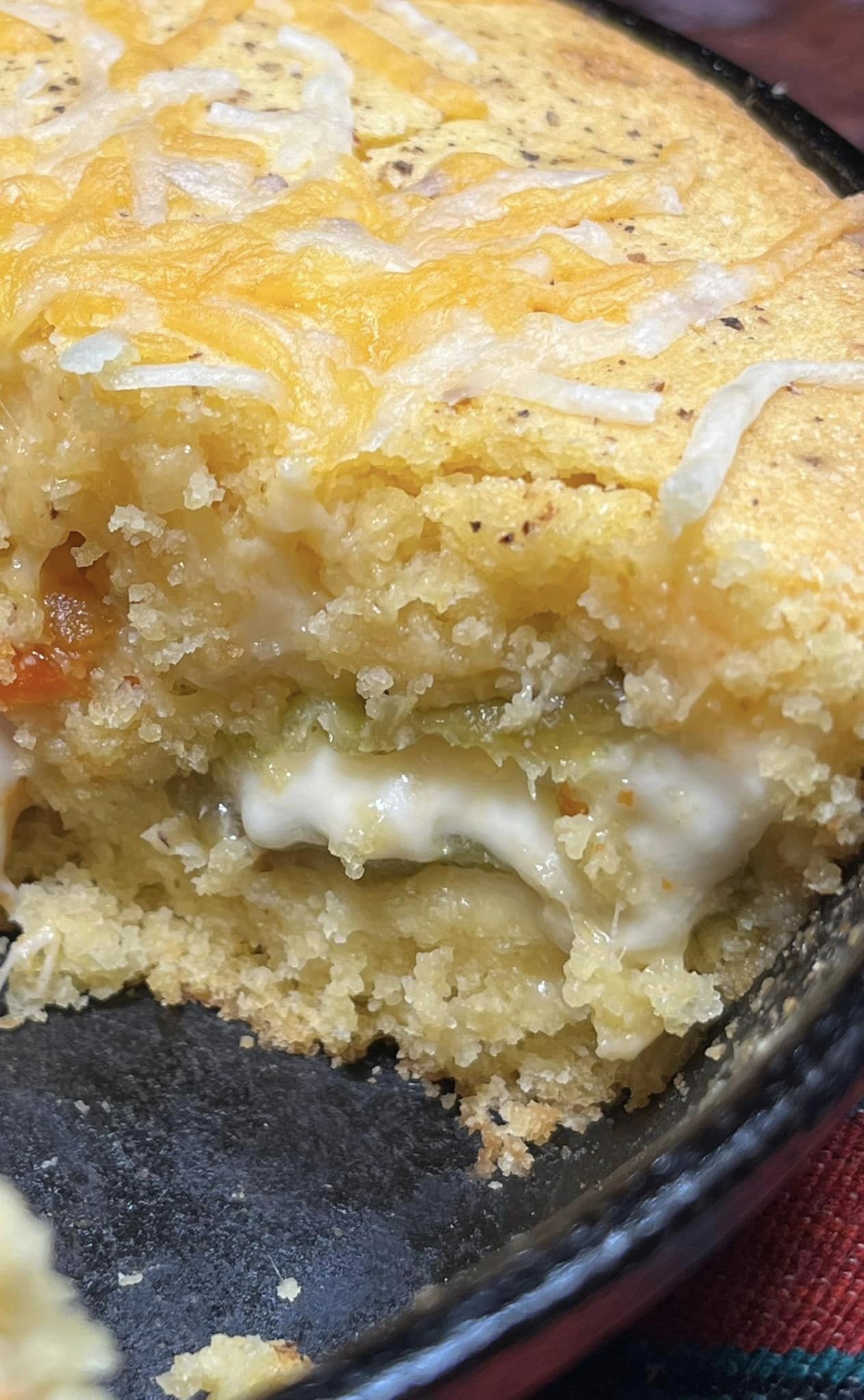 Ingredients:
2 cups stone-ground yellow cornmeal
2 teaspoons baking powder
1⁄2 teaspoon baking soda
1⁄2 teaspoon salt
1 cup sour cream
2 large eggs
1 cup creamed corn
1 (4 ounce) can chopped green chilies, rinsed and drained
1 cup shredded Mexican blend cheese
Instructions:
Step 1:
Preheat the oven to 400°F
Lightly coat an 8-inch round cake pan with cooking spray.
Step 2:
In a medium bowl, whisk the cornmeal, baking powder, baking soda, and salt. In a large bowl, whisk the sour cream, eggs, and creamed corn.
Fold in the cornmeal mixture, green chiles, and cheese until just blended.
Spread evenly in the prepared pan.
Step 3:
Bake until a toothpick inserted in the center comes out clean, about 30 minutes.
Cool in the pan on a wire rack.
Serve warm or at room temperature.
Nutrition Information:
YIELDS: 8 | SERVING SIZE: 1
Calories: 220 kcal | Total Fat: 10g | Saturated Fat: 5g | Trans Fat: 0g | Cholesterol: 65mg | Sodium: 480mg | Total Carbohydrates: 27g | Dietary Fiber: 2g | Sugars: 4g | Protein: 7g
Frequently Asked Questions:
Can I use a different type of cornmeal for this recipe?
Yes, you can use a different type of cornmeal if you prefer.
However, stone-ground yellow cornmeal gives the cornbread a rustic texture and flavor.
Using a finer cornmeal might result in a slightly different texture.
Is the heat level of the cornbread spicy due to the green chilies?
The green chilies add a mild level of heat and flavor to the cornbread.
If you're sensitive to spice, you can adjust the amount of green chilies or use mild chilies.
Can I substitute the creamed corn with whole kernel corn?
Creamed corn adds moisture and sweetness to the cornbread.
If you prefer to use whole kernel corn, consider blending or processing some of the corn to achieve a similar consistency before adding it to the batter.
Can I use a different type of cheese?
Absolutely! While the recipe suggests shredded Mexican blend cheese, you can use other types of cheese like cheddar, Monterey Jack, or even a combination of your favorite cheeses.
Can I make this cornbread ahead of time?
Yes, you can make the cornbread ahead of time.
After baking, let it cool completely and then wrap it tightly in plastic wrap or aluminum foil.
You can store it in the refrigerator for a few days.
Reheat individual slices in the microwave or oven when serving.
Can I use a different type of pan for baking the cornbread?
Yes, you can use a different type of baking pan, but keep in mind that the baking time and texture might vary.
If you use a larger or smaller pan, adjust the baking time accordingly and keep an eye on the cornbread as it bakes.
Is it necessary to rinse and drain the chopped green chilies?
Rinsing and draining the chopped green chilies can help remove excess moisture and any excess heat from the canning liquid.
This can prevent the cornbread from becoming too watery or overly spicy.
Can I make this recipe gluten-free?
You can try substituting the all-purpose flour in the cornbread mixture with a gluten-free flour blend.
However, note that the texture and taste of the cornbread might be slightly different.
Additionally, ensure that all other ingredients you use are also gluten-free.
Can I add other ingredients, like diced jalapeños or onions?
Absolutely! Cooking is all about creativity.
Feel free to add additional ingredients like diced jalapeños, sautéed onions, or even shredded cooked chicken to the batter for added flavor and texture.
Can I freeze the Chiles Rellenos Cornbread for later?
Yes, you can freeze this cornbread for later enjoyment.
After baking and cooling, wrap the cornbread tightly in plastic wrap and then in aluminum foil.
Label it with the date and freeze for up to 2-3 months.
To reheat, thaw in the refrigerator overnight and warm in the oven or microwave.