Chicken and Hatch Green Chile Pozole Recipe
How to make Chicken and Hatch Green Chile Pozole Recipe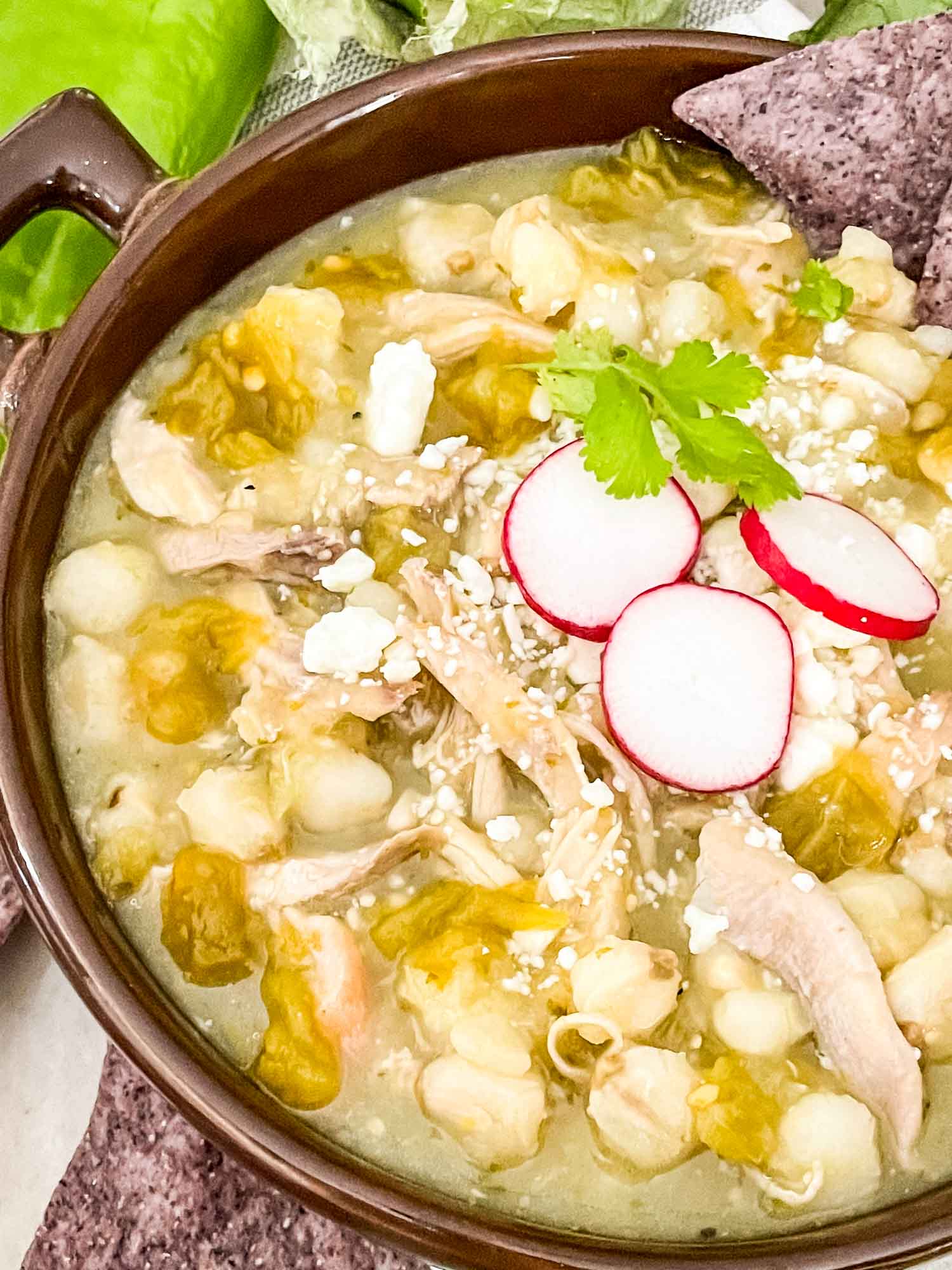 Ingredients
4 chicken thighs bone in, skin on (or other cuts as desired)
1 Tablespoon olive oil
salt
black pepper
45 ounces hominy, drained and rinsed (see note 1)
1 head garlic
1 small yellow onion (or white), trimmed and cut into 4 wedges
1 pound tomatillos outer husks removed, rinsed, and cut in half
12 ounces Hatch green chiles divided (8 and 4), heat level of choice, seeded and peeled, chopped (fresh, canned, or frozen)
½ cup fresh cilantro
1 teaspoon salt
Instructions
Heat a large pot over medium high heat.
Season the chicken on all sides with salt and pepper.
4 chicken thighs,black pepper,salt
Add the oil and when the oil is hot, add the chicken skin side down. Do not move and let cook for 3-4 minutes to develop a golden brown color.
1 Tablespoon olive oil
Add the hominy and garlic head to the pot. Fill with water to cover it all, about 5 cups.
45 ounces hominy,1 head garlic
Bring to a boil and then reduce heat to medium low and simmer for 45-60 minutes. The chicken should be cooked all the way through.
Remove the chicken and set aside until cool enough to handle.
Remove the head of garlic. Peel 6 cloves to use in the salsa and discard the rest.
In a blender, make the salsa by combining the cut tomatillos, peeled garlic cloves, cilantro, cut onion, 8 ounces of the Hatch peppers, and 1 teaspoon salt with 1 cup water.
Blend to combine until there is still a little texture or small chunks.
1 head garlic,1 small yellow onion,1 pound tomatillos,12 ounces Hatch green chiles,½ cup fresh cilantro,1 teaspoon salt
Pour the green salsa into the pot with the hominy. Add the remaining 4 ounces of green chiles as well.
12 ounces Hatch green chiles
Remove the chicken meat from the bones, shredding into pieces, and discard the bones and skin. Add the chicken to the pot.
Simmer at least 15 minutes. The green salsa will become duller. Add more water if needed to get the consistency you want.
Serve with your favorite toppings.
Notes
Hominy can be found in the Hispanic food section of your grocery store. Sometimes sold in smaller cans around 15 ounces, and sometimes in giant cans around 105 ounces. The quantity of hominy can be approximate based on what you have and find. (A giant 105 ounce can is perfect for two batches! Just rinse and freeze the second portion).
Will provide 6 larger servings or 8 standard servings.
Use any cuts of chicken as desired, but use bone in and skin on for maximum flavor.
Like most soups, this tastes even better the next day!
Nutrition
Serving: 1serving | Calories: 290kcal | Carbohydrates: 30g | Protein: 13g | Fat: 13g | Saturated Fat: 3g | Polyunsaturated Fat: 3g | Monounsaturated Fat: 6g | Trans Fat: 0.05g | Cholesterol: 55mg | Sodium: 1055mg | Potassium: 362mg | Fiber: 6g | Sugar: 6g | Vitamin A: 232IU | Vitamin C: 23mg | Calcium: 49mg | Iron: 2mg
Frequently Asked Questions:
Can I use chicken breast instead of chicken thighs?
Yes, you can use chicken breast if you prefer white meat.
Just be mindful that chicken breast tends to cook faster than thighs, so adjust the cooking time accordingly to prevent overcooking.
What type of Hatch green chiles should I use, and where can I find them?
You can use fresh, canned, or frozen Hatch green chiles based on your preference and availability.
Look for them in the canned goods or frozen section of your local grocery store.
The heat level can vary, so choose the one that suits your taste.
Can I prepare this pozole in advance and reheat it later?
Yes, pozole is a great dish to make ahead of time.
You can prepare it in advance and store it in the refrigerator for a few days.
Reheat it on the stove or in the microwave when you're ready to serve.
What are some popular toppings for pozole?
Traditional toppings for pozole include chopped cilantro, diced onion, shredded cabbage or lettuce, sliced radishes, lime wedges, and crumbled queso fresco or cotija cheese.
Feel free to customize your pozole with your favorite toppings.
Is there a vegetarian version of this recipe?
Yes, you can make a vegetarian version by omitting the chicken and using vegetable broth or water instead of chicken broth.
You can also add extra vegetables like diced bell peppers, zucchini, or carrots for added flavor and texture.
What is hominy, and where can I find it?
Hominy is dried maize (corn) kernels that have been treated with an alkali, such as lye or lime, to remove the hull and germ.
It's a common ingredient in Mexican and Southwestern cuisine.
You can find canned hominy in the canned vegetable section of most grocery stores.
Can I use boneless, skinless chicken thighs or chicken breast for this recipe?
Yes, you can use boneless, skinless chicken thighs or chicken breast if you prefer.
Just adjust the cooking time to ensure the chicken is cooked through without overcooking, as boneless cuts cook faster than bone-in ones.
What if I can't find Hatch green chiles?
If you can't find Hatch green chiles, you can substitute them with other types of green chiles, such as Anaheim or poblano peppers.
Choose the heat level that suits your taste.
Can I freeze leftovers of Chicken and Hatch Green Chile Pozole?
Yes, this pozole recipe freezes well.
Allow it to cool completely, then transfer it to airtight containers or freezer bags.
Label and date the containers and store them in the freezer for up to 3 months.
Thaw and reheat when ready to enjoy.