How To Make Stove Top Meatloaf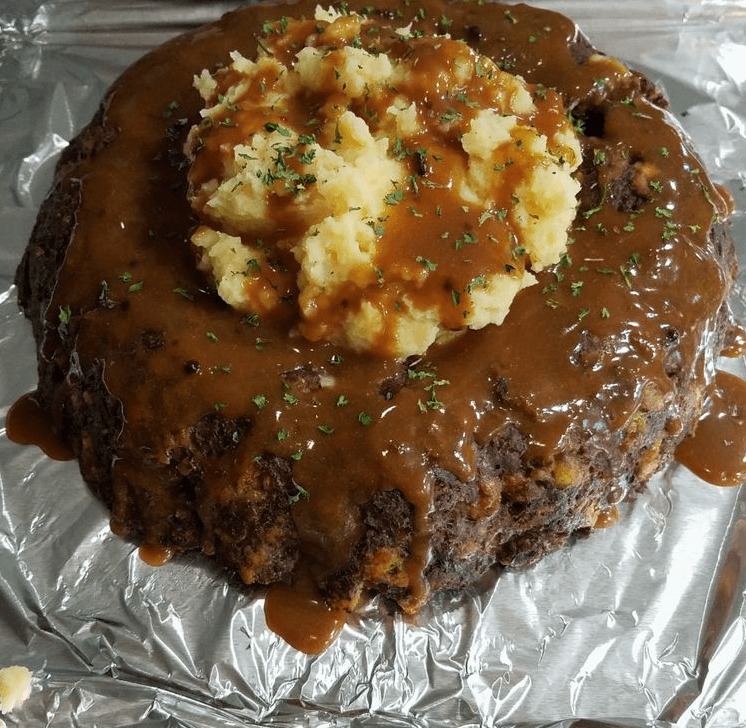 Ingredients
1 package Stove Top stuffing (use one of your favorite flavors, I prefer chicken, but herbed savory is good too!)
1 cup of hot water
2 packages of brown gravy mix (one for the inside of the meatloaf and one for the top)
1.5 lbs ground beef
1 cup cold water
2 large eggs, beaten
Instructions:
In a medium bowl, add the stuffing mix and 1 cup of hot water.
Let stuffing sit for 5 minutes.
Meanwhile, in another medium bowl, mix 1 package of brown gravy with 1 cup of cold water.
Add ground beef and egg, mix well (easiest to do with your hands, it's gross, I know).
After the stuffing has rested for 5 minutes, stir the stuffing mixture into the ground beef mixture.
Grease a bundt pan with non-stick spray, then press the ground beef mixture into the pan.
Bake at 350 degrees for 45-55 minutes or until the inside is no longer pink.
Once baked, let rest for about 5 minutes, then invert the pan onto a plate.
Serve with mashed potatoes and brown gravy in the center of the meatloaf.
Nutrition Information:
Calories: 400 calories | Protein: 20 grams | Carbohydrates: 30 grams | Dietary Fiber: 1 grams | Total Fat: 20 grams | Saturated Fat: 7 grams | Cholesterol: 85 milligrams | Sodium: 700 milligrams | Potassium: 300 milligrams | Sugars: 2 grams
Frequently Asked Questions:
Can I use a different type of stuffing mix for this recipe?
Yes, you can use your preferred flavor of Stove Top stuffing mix.
While the recipe suggests chicken or herbed savory, feel free to experiment with other flavors to suit your taste.
Is there a recommended type of ground beef to use?
You can use ground beef with varying levels of fat content, such as 80/20 or 90/10.
The fat content will affect the juiciness and flavor of the meatloaf.
Choose the one that aligns with your dietary preferences.
Can I make this recipe without a bundt pan?
While the bundt pan gives the meatloaf its distinctive shape, you can make this recipe in a traditional loaf pan if you don't have a bundt pan.
Adjust the cooking time as needed, as the shape and thickness of the meatloaf will be different.
What are some good side dishes to serve with this meatloaf?
This meatloaf pairs well with classic sides like mashed potatoes and gravy, as suggested in the recipe.
You can also serve it with steamed vegetables, a side salad, or dinner rolls for a complete meal.
Can I prepare this meatloaf in advance and reheat it later?
Yes, you can prepare the meatloaf in advance and reheat it later.
Cover it with foil and store it in the refrigerator.
When ready to serve, reheat it in the oven at a lower temperature (around 325°F) until it's heated through.
This can be a time-saving option for busy weeknights.
Can I use ground turkey or another ground meat instead of beef?
Yes, you can substitute ground turkey, chicken, or even a meatless ground option if you prefer a different protein.
Just keep in mind that the cooking time may vary depending on the meat you choose.
Can I use homemade gravy instead of packaged brown gravy mix?
Absolutely! You can prepare homemade gravy instead of using packaged mixes.
Simply make a roux with butter and flour, add broth, seasonings, and whisk until thickened to your desired consistency.
Is there a way to make this recipe vegetarian or vegan?
Yes, you can make a vegetarian or vegan version of this recipe by using plant-based ground meat substitutes and vegan stuffing mix.
Additionally, replace eggs with flaxseed or chia seed "eggs" for binding.
Can I prepare this meatloaf in advance and refrigerate it before baking?
Yes, you can prepare the meatloaf mixture in advance, shape it in the bundt pan, cover it, and refrigerate it until you're ready to bake.
This can be a time-saving option for busy days.
What are some creative variations or add-ins for this meatloaf recipe?
You can get creative with this recipe by adding ingredients like diced onions, bell peppers, shredded cheese, or herbs to the meatloaf mixture for extra flavor and texture.
Feel free to customize it to your liking.