Strawberry Rolls with Lemon Glaze
How to make Strawberry Rolls with Lemon Glaze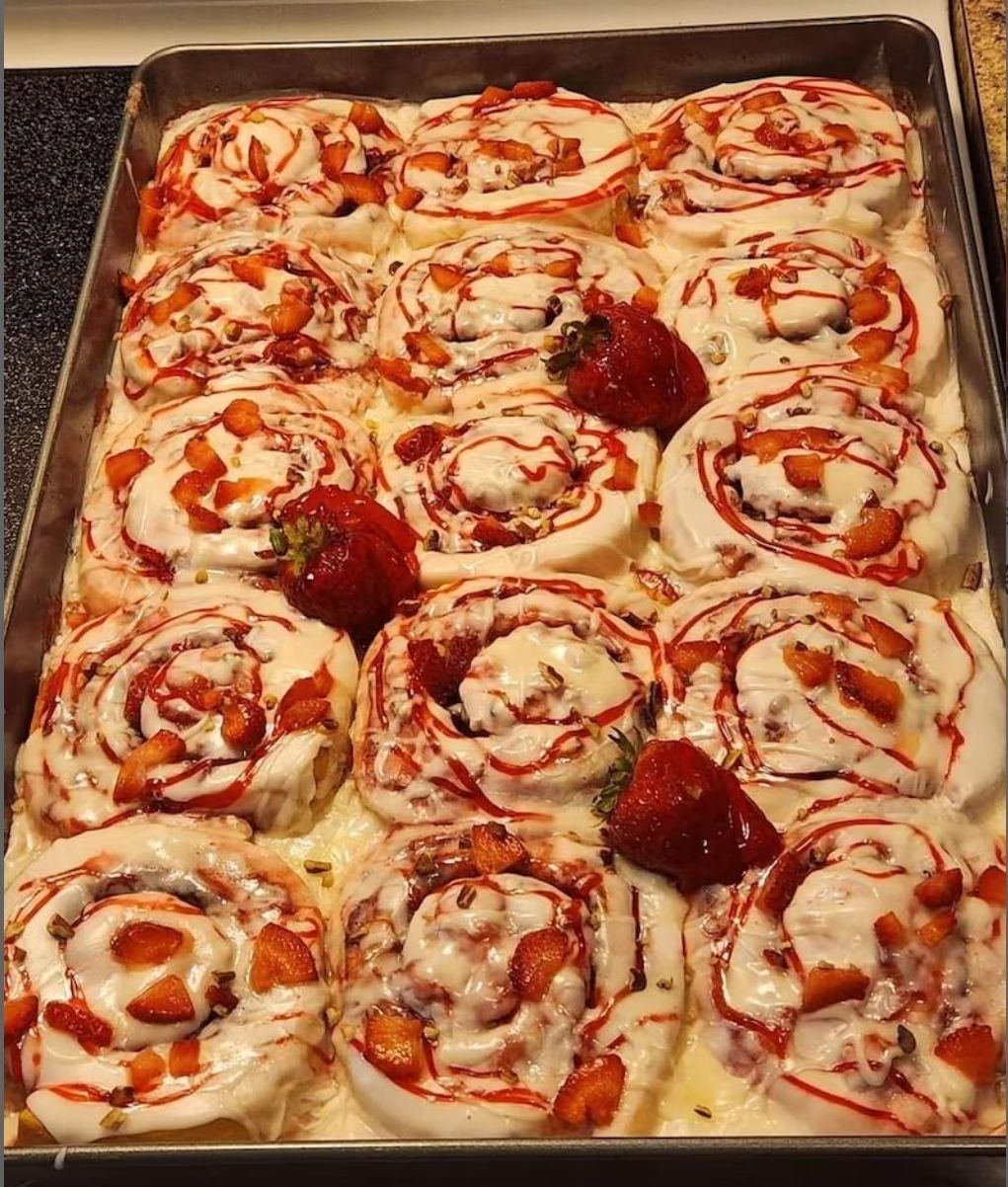 Ingredients
Dough
⅔ cup white sugar
1 cup milk
2 packets of active dry yeast
½ cup butter, unsalted and cut into 4 tbsp
2 large eggs, room temperature
½ tsp salt
4 ½ cups all purpose flour
Filling
1 ¾ cup strawberries, chopped small
⅓ cup sugar
1 ½ tbsp cornstarch
Lemon Glaze
1 cup powdered sugar, sifted so there are no lumps
2 to 3 tbsp lemon juice, depending on how thick you would like the glaze.
Instructions
Start by making the dough first. Heat the milk in a small saucepan and then pour into a mixing bowl, add in the sugar and the yeast, gently stir and cover with a towel for 5 to 10 minutes, until the yeast is frothy
With the mixer on low, beat in the softened butter, add the eggs one at a time and then add the salt. The butter may remain in pieces, this is normal. Do not soften too much or melt it.
Continue on slow speed, gradually add the flour. Once the flour has all been added, continue mixing until the dough forms.
Increase the speed until the dough is soft and supple. If you do not have the stand mixer, use your hands to knead the dough.
Transfer to a lightly floured surface and knead for another minute. Form the dough into a ball, place it into a lightly oiled bowl and cover with plastic wrap. Let sit in a warm place for two hours, or until doubled in size.
As the dough is rising, make the filling.
Warm the strawberries in a saucepan, stir constantly until the berries start to release juices. Add the sugar and the cornstarch.
The mixture will continue to thicken. Remove from the heat and continue to stir for a few more minutes. Place into a heatproof bowl, set into the refrigerator and let it cool.
Grease a 9×13 baking pan. Place the dough on a lightly floured surface, and roll out into a 12×18 inch rectangle.
Spread the strawberry filling evenly over the dough
Roll the dough up tightly into an 18 inch strip, cut into 12 equal pieces and place them into the pan.
Cover the pan and allow the dough to rise for 1 to 2 hours.
Preheat the oven to 375* and bake for 25 minutes or until golden brown
Cool on a wire rack for 10 minutes while you make the glaze
Whisk the lemon juice and the confectioner's sugar. Stir until smooth
Drizzle over the warm rolls and serve.
Enjoy!
Nutrition Information:
YIELD: 12 SERVING SIZE: 1
Amount Per Serving: CALORIES: 450 | TOTAL FAT: 11g | SATURATED FAT: 5g | TRANS FAT: 0g | UNSATURATED FAT: 5g | CHOLESTEROL: 43mg | SODIUM: 202mg | CARBOHYDRATES: 81g | FIBER: 3g | SUGAR: 33g | PROTEIN: 8g