Spaghetti Aglio e Olio e Peperoncino
How to make Spaghetti Aglio e Olio e Peperoncino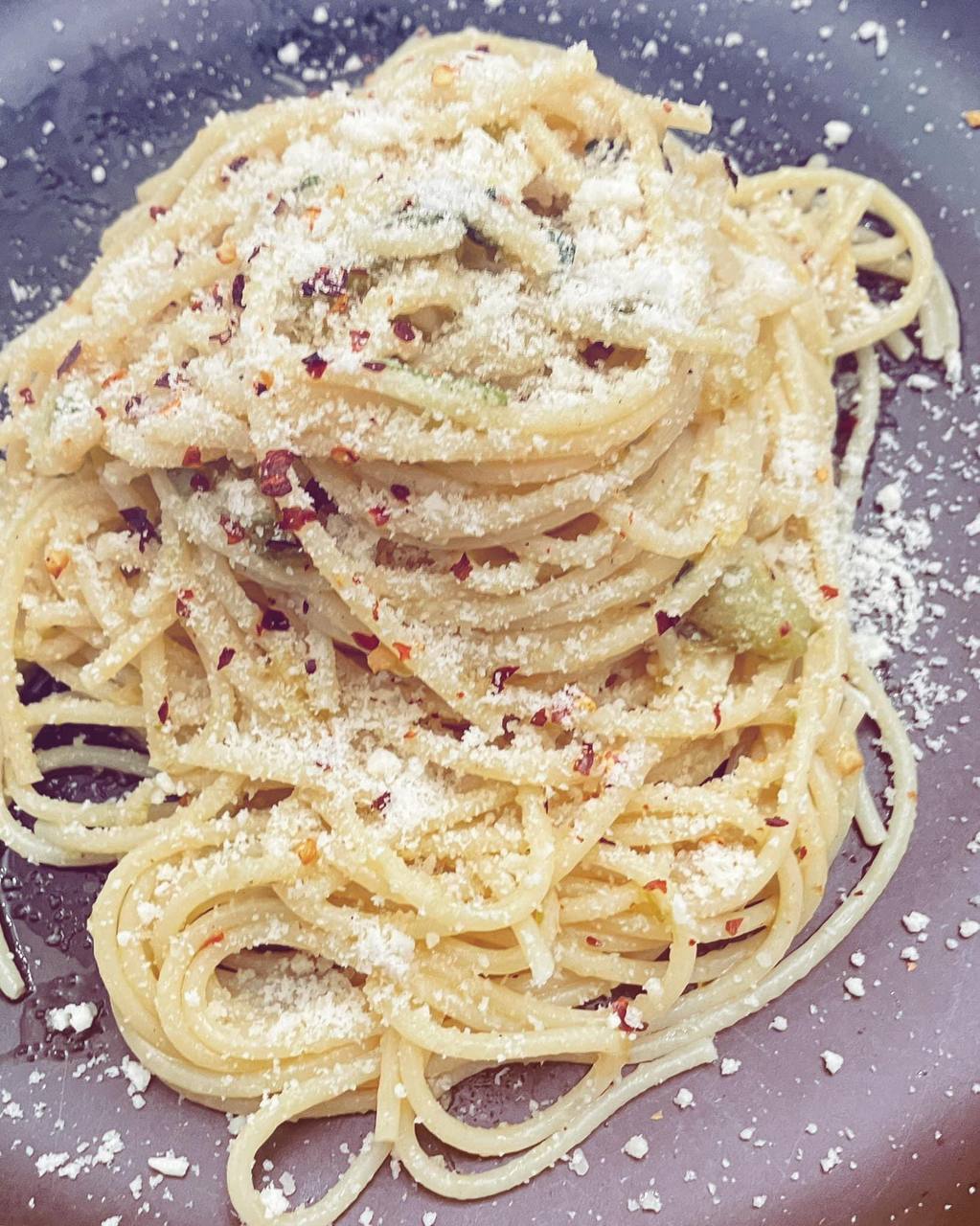 Ingredients:
4 garlic cloves sliced thinly in oval shape
10 g fresh parsley chopped thinly
200 g spaghetti gluten free if needed
60 ml (1/4 cup) olive oil
1/4 tsp chilli flakes optional
salt to taste
a pinch of black pepper
Instructions:
Heat 2L of water in a large pot.
While the water is getting hot, chop garlic cloves into thin oval shapes and chop parsley thinly (mostly the leaf parts).
When the water in the pot boils, add 2 tsp of salt and then the pasta. Wait for it to boil again then lower the heat to medium and cook 2 min less than it says in the instructions on the box of pasta.
At the same time as the pasta starts to cook heat olive oil in the pan over low or low to medium heat. Put garlic, parsley and if making aglio, olio e peperoncino also chilli flakes into the pan. Gently toast the garlic and don't let it burn.
2 min before the pasta is cooked turn the heat off, take the pasta out with pasta tongs and put it into the pan with oil. With ladle take a little bit of water where the pasta was cooking and put it into the pan with oil and pasta. Shake and toss the pasta so that the water emulsifies with olive oil and create a sauce. Cook until the pasta absorbs the liquid. Add more cooking water if needed until the pasta is al dente.
Remove from the heat, add salt (I added just 1/16 tsp) and mix.
Divide between two plates. Sprinkle black pepper on top. Serve immediately.
Nutrition Information:
Serving: 1serving | Calories: 606kcal | Carbohydrates: 72g | Protein: 14g | Fat: 28g | Saturated Fat: 4g | Polyunsaturated Fat: 3g | Monounsaturated Fat: 20g | Sodium: 88mg | Sugar: 4g