Sloppy Joe Grilled Burritos
How to make Sloppy Joe Grilled Burritos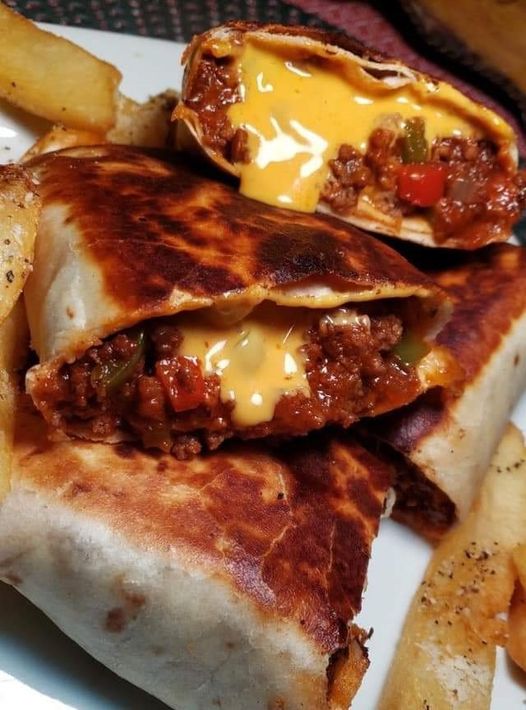 Ingredients:
2lbs Lean Ground Beef
½ C Onions (chopped)
¼ C Red Bell Peppers (chopped)
¼ C Green Bell Peppers (chopped)
1 T Salt, Pepper, Garlic Salt
½ T Dry Mustard
½ C prepared Cheese Sauce, see recipe under, "Sauces"
½ C Shredded Cheddar Cheese or use your favorite cheese
For Sloppy Joe Sauce:
½ C Ketchup
3 T Worcestershire Sauce
1 T Brown Sugar
½ T Salt, Pepper, Onion Powder and Garlic Salt
4-­6 Large Flour Tortillas (Wheat can be substituted)
1 T Oil
Instructions:
Mix ground beef with your seasonings.
Over Med High heat, brown your seasoned Ground Beef, about 6-­8 minutes.
Add onion, red & green bell peppers and continue cooking an additional 2 minutes, until vegetables are soft. Keep warm.
In a separate bowl mix ketchup, worcestershire sauce, brown sugar, salt, onion powder & pepper.
Blend well. Pour over beef, keep warm.
Using large flour tortillas, add mixture to center.
Add cheese sauce on top of beef mixture. Top with shredded cheese. Fold over into a burrito and fry with oil for 1 minute per side over Medium heat. Serve hot.
Enjoy
Nutrition Information:
YIELD: 4 | SERVING SIZE: 1
Amount Per Serving: CALORIES: 600 | TOTAL FAT: 35g | SATURATED FAT: 15g | CHOLESTEROL: 100mg | SODIUM: 1800mg | CARBOHYDRATES: 40g | FIBER: 2g | SUGAR: 10g | PROTEIN: 30g
Frequently Asked Questions:
Can I use ground turkey or chicken instead of ground beef?
Yes, you can substitute lean ground turkey or chicken for the ground beef in this recipe. Adjust the cooking time accordingly as these meats may cook faster than ground beef.
Can I make the recipe vegetarian or vegan?
Yes, you can make a vegetarian version of this recipe by using a meat substitute, such as vegetarian ground beef or crumbles, instead of the lean ground beef.
For a vegan version, you can use vegan cheese and ensure all the ingredients, including the Worcestershire sauce and cheese sauce, are vegan-friendly.
Can I make the cheese sauce from scratch?
Yes, if you prefer homemade cheese sauce, you can make it from scratch instead of using the prepared cheese sauce.
There are various recipes available online for homemade cheese sauce using ingredients like cheese, milk, and seasonings.
Can I use whole wheat tortillas instead of flour tortillas?
Absolutely! You can substitute whole wheat tortillas for the flour tortillas if you prefer a healthier option.
The taste and texture may vary slightly, but it will still work well in the recipe.
Can I bake the burritos instead of frying them?
Yes, if you prefer a healthier cooking method, you can bake the burritos instead of frying them.
Preheat the oven to around 375°F (190°C), place the assembled burritos on a baking sheet, and bake for about 15-20 minutes or until the tortillas are crispy and the cheese is melted.
Can I prepare the Sloppy Joe filling ahead of time?
Yes, you can prepare the Sloppy Joe filling ahead of time. Simply follow the instructions until step 4, and then refrigerate the filling in an airtight container.
When you're ready to make the burritos, reheat the filling in a pan before assembling the burritos.
Can I freeze the Sloppy Joe Grilled Burritos?
Yes, you can freeze the assembled burritos for later consumption. After folding the burritos and before frying, wrap each burrito tightly in aluminum foil or plastic wrap.
Place them in a freezer-safe bag or container and freeze for up to 3 months. Thaw them in the refrigerator overnight before reheating or baking.
Can I add additional vegetables to the filling?
Absolutely! Feel free to add other vegetables of your choice to the Sloppy Joe filling. Popular options include diced tomatoes, corn, or diced jalapeños for some added heat.
Adjust the cooking time as needed to ensure the vegetables are cooked to your desired level of tenderness.
Can I use a different type of cheese?
Yes, you can use your favorite cheese or any cheese that melts well in this recipe. While shredded cheddar cheese is suggested, you can experiment with other varieties like Monterey Jack, Colby, or a Mexican cheese blend.