How to make Queso Flameado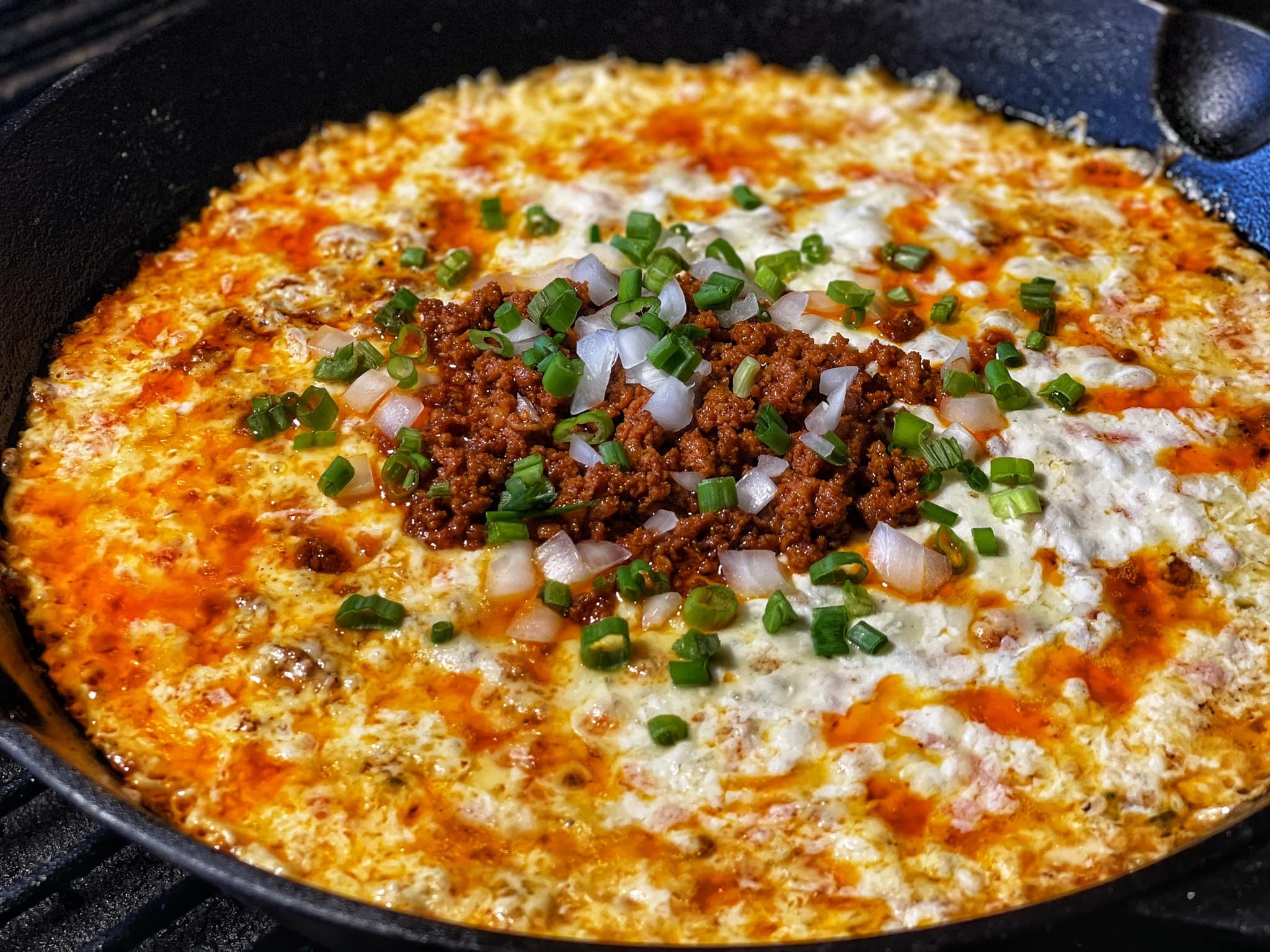 Ingredients
1 lb beef or pork chorizo
1/2 cup white onion finely diced
1 serrano pepper minced
1-2 tbsp Avocado oil
16 oz queso oaxaca shredded or pulled apart
8 oz queso Chihuahua shredded
3 chipotles in adobo finely chopped
warm tortillas or chips
Instructions:
Cook the chorizo for 8-10 minutes at medium heat. I used homemade chorizo, this is the reason I added some oil. It has less fat.
If using store bought and it has excess fat, remove some of it before mixing in the onion and serrano pepper. Saute for 4-5 more minutes, then set aside.
Preheat oven to 400 degrees F.
In an oven safe skillet or baking dish that can accommodate all that cheese, build two layers.
Add half of the queso oaxaca, then half of the queso chihuahua.
Then add half of the chorizo and all if the chipotle. Top with all of the remaining cheese.
Bake on the middle rack uncovered for 20 minutes.
Remove from the oven and top with remaining chorizo.
Transfer back to the oven and bake just until the cheese begins to brown lightly in spot.
Serve right away with warm tortillas or chips.
Add your favorite garnishes, guacamole, pickled peppers and onions…
Notes:
Any good melting cheese works great for queso fundido. On occasion, I like to drizzle the top with
Mexican crema before serving. Mix in some roasted poblano strips and precooked shrimp to really kick it up a notch!
Nutrition Information:
YIELD: 6 SERVING SIZE: 1
Amount Per Serving: CALORIES: 633 | TOTAL FAT: 50g | SATURATED FAT: 26.6g | TRANS FAT: 0g | UNSATURATED FAT: 23.4g | CHOLESTEROL: 150mg | SODIUM: 1133mg | CARBOHYDRATES: 6.6g | FIBER: 0.3g | SUGAR: 1.6g | PROTEIN: 40
Frequently Asked Questions:
Can I use a different type of sausage instead of chorizo?
You can, but the flavor profile of the dish will change. Chorizo has a distinctive spiciness and robust flavor that uniquely complements the creamy cheese.
However, Italian sausage or another type of spicy sausage could work in a pinch.
Can I substitute the beef or pork chorizo with a different type of meat?
Yes, you can use any type of meat you prefer, such as chicken or turkey chorizo. However, keep in mind that this will alter the flavor of the dish.
Traditional chorizo is quite distinctive and contributes a lot to the overall taste of the Queso Flameado.
What kind of cheese can I use if I can't find queso oaxaca and queso chihuahua?
Queso Oaxaca and Queso Chihuahua are Mexican cheeses with a creamy, mild flavor and excellent melting properties.
If you can't find them, good substitutes include Monterey Jack, Mozzarella, or a mild White Cheddar cheese.
Can I use a different type of oil instead of avocado oil?
Absolutely, you can use other types of cooking oil such as olive oil or canola oil. Avocado oil is used for its mild flavor and high smoke point, but it isn't necessary for the success of the recipe.
What if I don't have an oven-safe skillet?
If you don't have an oven-safe skillet, you can first cook the chorizo, onion, and serrano pepper in a regular skillet.
Then, transfer the cooked ingredients to a baking dish to layer with the cheeses and chipotle before baking.
How can I tell when the Queso Flameado is ready to come out of the oven?
The Queso Flameado is ready to come out of the oven when the cheese begins to brown lightly in spots.
The goal is to have a bubbly, melted cheese dish, so you want to catch it before the cheese starts to burn.
What should I do if the cheese starts to harden before serving?
Queso Flameado is best served right out of the oven while the cheese is still hot and melty. If the cheese starts to harden before you've had a chance to serve it, you can pop it back in the oven for a few minutes to remelt the cheese.
Just be careful not to overcook it, as the cheese can become tough and rubbery.
Is it necessary to use chipotle in adobo? Can I replace it with something else?
Chipotles in adobo sauce provide a smoky, spicy flavor to the dish. If you cannot find them or want a substitute, you can use smoked paprika or a bit of barbecue sauce for a similar smoky flavor, with some crushed red pepper flakes or cayenne for heat.
How do I serve and eat Queso Flameado?
Queso Flameado is typically served with warm tortillas or tortilla chips. To eat, you can scoop the cheesy mixture onto the tortillas or chips.
This dish is meant to be eaten warm, as the cheese will start to harden as it cools.
Can I make Queso Flameado ahead of time?
It's best to serve Queso Flameado right out of the oven when the cheese is at its meltiest.
However, you can prepare the chorizo, onions, and pepper mixture ahead of time and store it in the fridge.
When ready to bake, layer the cheese and chorizo mixture in the skillet and bake as directed.