How to make Mole de Olla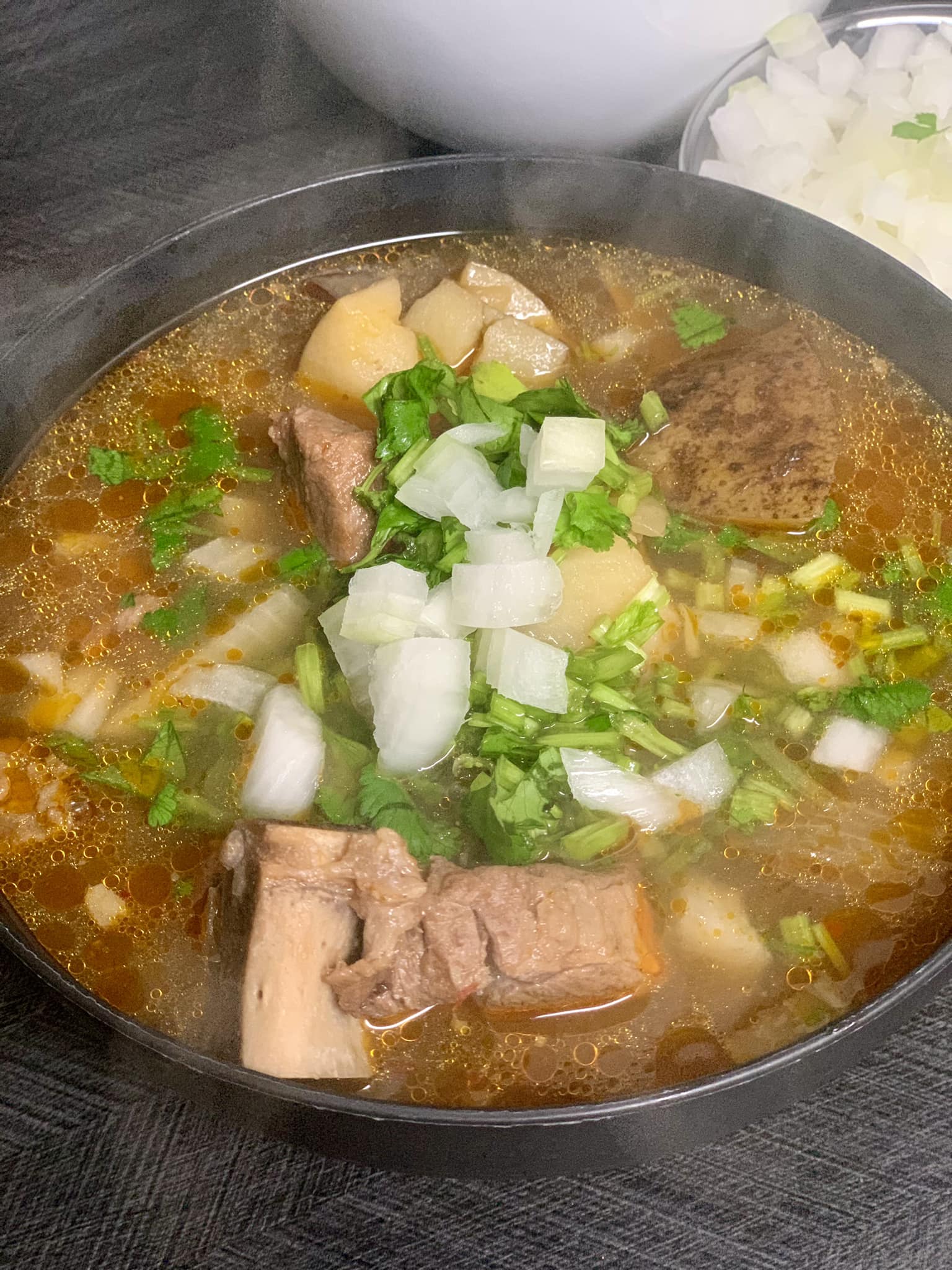 Ingredients:
2.2 pounds beef shank
2 pounds marrow bones
2 corn on the cob (cut into 3 pieces)
2 large zucchini (cut into chunks)
2 large carrots (cut into chunks)
2 medium potatoes (cut into chunks)
6 oz green beans
2 Xoconostles (optional)
1 epazote sprig (or 1 teaspoon of dried epazote)
2 bay leaves
1 garlic clove (skin on)
1 medium onion (halved)
salt (to taste)
For the chili sauce
4 guajillo peppers (stem and seeds removed)
2 ancho peppers (stem and seeds removed)
2 small tomatoes (quartered)
1 small onion (cut into chunks)
1 bay leaf
1 garlic clove (peeled)
1 tsp black peppercorns
1 tsp oregano
For serving
18 corn masa dumplings (optional)
corn tortillas
onion (chopped)
green chilies (chopped)
limes
Instructions:
Place meat and bones in a large pot with onion, garlic, 2 bay leaves, and a tablespoon of salt.
Cover with about 2-inches (5cm) of water and bring to a boil.
Cook over medium heat for about 1 hour. Skim off any foam that rises to the surface.
Make the sauce
Place chilies in a bowl and cover with hot water. Soak for 10 minutes.
Transfer chilies to a blender and add tomatoes, onion chunks, garlic, peppercorns, bay leaf, and oregano.
Add 2 cups of water and blend until smooth.
Make mole
Place a strainer over the pot and pour in the chili sauce.
Keep cooking until the meat is cooked through and tender (read notes).
Add the vegetables and make sure there is enough liquid to cook them. You can also add epazote or cilantro at this point.
After 10 minutes, add corn dumplings and cook everything for another 15 minutes.
Adjust salt to taste and turn off the heat.
Serve with chopped onion and green chilies, a squeeze of lime, and corn tortillas.
Notes:
The cooking time will depend on the type of meat you are using, so sometimes it is necessary to cook between two and three hours.
You can test the meat by inserting a fork in a chunk, if you notice that there is a lot of resistance the meat still lacks cooking, on the contrary, if the fork is easily inserted, the meat is ready.
Some people replace Xoconostle with tomatillos to give a slightly sour taste to the stew. You can use 6 halved tomatillos instead xoconostle.
Want to make it spicer? Blend 2-3 arbol chilies with the other ingredients for the sauce.
Nutrition Information:
Serving: 1bowl w/u garnishes | Calories: 537kcal | Carbohydrates: 42g | Protein: 31g | Fat: 29g | Saturated Fat: 2g | Polyunsaturated Fat: 1g | Monounsaturated Fat: 2g | Trans Fat: 0.002g | Cholesterol: 39mg | Sodium: 1665mg | Potassium: 1672mg | Fiber: 11g | Sugar: 16g | Vitamin A: 8557IU | Vitamin C: 55mg | Calcium: 96mg | Iron: 6mg
Frequently Asked Questions:
Can I make Mole de Olla without meat?
Yes, you can make a vegetarian version by omitting the beef shank and marrow bones.
Increase the quantity of vegetables or add plant-based protein sources like beans.
What can I use as a substitute for Xoconostles if I can't find them?
If Xoconostles are unavailable, you can omit them from the recipe.
They add a tangy flavor, but the dish will still be delicious without them.
Are corn masa dumplings necessary, and how do I make them?
Corn masa dumplings are optional. If you choose to make them, mix corn masa with water until you have a dough-like consistency.
Form small balls and add them to the pot during the last 15 minutes of cooking.
Can I prepare the chili sauce ahead of time?
Yes, you can make the chili sauce in advance and store it in the refrigerator.
This can save time when you're ready to cook the Mole de Olla.
How do I know when the meat is cooked through and tender?
The meat should be fork-tender and easily pull apart.
After about 1 hour of cooking, check the meat's tenderness.
If needed, continue simmering until it reaches the desired level of tenderness.