How to make Mexican Chicken Soup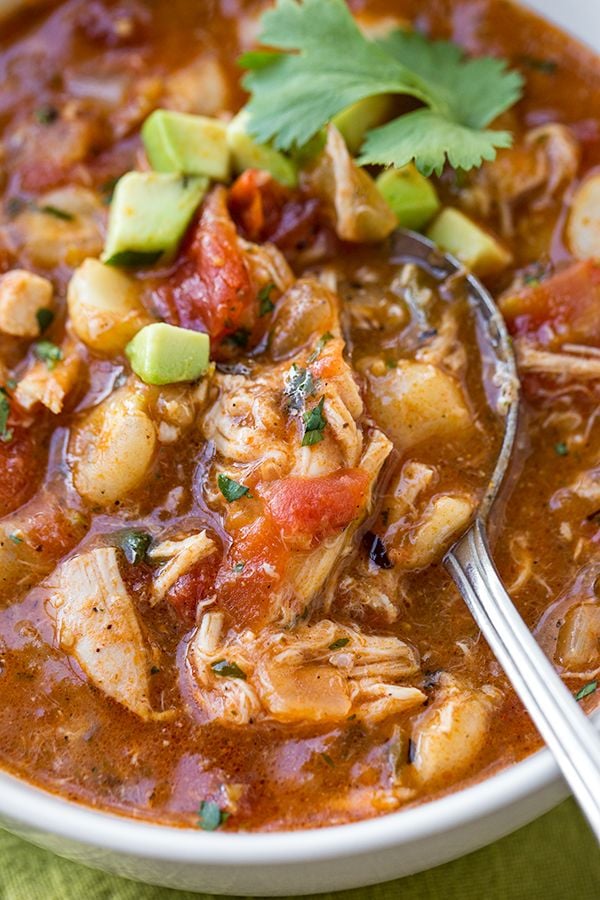 Ingredients:
1 ½ teaspoon ground cumin
1 teaspoon chili powder
1 teaspoon paprika
1 teaspoon dry oregano
1 teaspoon ground coriander
Avocado or olive oil
1 large onion, chopped
1 Anaheim chili pepper, seeds and membrane removed, and chopped
4 cloves garlic, pressed through garlic press
1 cup salsa verde (green salsa)
2 (14.5 ounce) cans diced, fire-roasted tomatoes with juice
1 (25 ounce) can hominy, drained and rinsed
4 cups chicken broth/stock, warm
3 – 4 cups cooked, shredded chicken (I used a 1 ¾ pound rotisserie chicken from the market, skin discarded)
¼ cup fresh cilantro leaves, chopped
Tortilla chips, for garnish (if desired)
Diced avocado, for garnish
Instructions:
Step 1:
In a small ramekin, combine the cumin, chili powder, paprika, oregano and coriander, and set aside this spice mixture for a moment.
Step 2:
Place a large soup pot over medium-high heat and drizzle in about 3-4 tablespoons of the oil; once hot, add in the chopped onion and Anaheim pepper, and saute for a few minutes until tender and translucent.
Step 3:
Add in the spice mixture and the garlic and stir to incorporate; once aromatic, add in the salsa verde, the diced tomatoes, and the hominy, and stir to combine.
Step 4:
Add in the chicken broth/stock, and bring the stew to a gentle simmer, simmering for 20 minutes, uncovered.
Step 5:
Off the heat, stir in the cilantro and add in the shredded chicken, and stir to combine; check to see if any additional salt and pepper is needed.
Step 6:
Serve with tortilla chips on the side or on top, plus some avocado, if desired.
Frequently Asked Questions:
Can I use ground chicken instead of shredded chicken?
Yes, you can use ground chicken in this recipe. Brown the ground chicken in a separate pan before adding it to the soup to ensure it's fully cooked.
What can I substitute for Anaheim chili pepper if I can't find it?
If you can't find Anaheim chili peppers, you can substitute them with mild green bell peppers for a similar flavor without much heat.
Alternatively, you can use poblano peppers for a slightly spicier option.
Is there a low-sodium alternative for chicken broth?
Yes, if you're looking for a low-sodium option, you can use low-sodium chicken broth or even chicken stock.
This allows you to control the sodium content in your soup.
Can I make this soup in advance and reheat it?
Yes, you can make this soup in advance and store it in the refrigerator for a few days.
Reheat it on the stove or in the microwave when you're ready to serve.
You may need to add a little extra broth or water when reheating if the soup thickens.
What other toppings can I add to the soup for garnish?
Besides tortilla chips and diced avocado, you can garnish your Mexican Chicken Soup with a variety of toppings such as sour cream, shredded cheese, lime wedges, chopped green onions, or a dollop of Mexican crema for added flavor and texture.
What is hominy, and where can I find it in the grocery store?
Hominy is a type of dried maize (corn) that has undergone a special process called nixtamalization, which involves soaking and cooking the corn in an alkaline solution, usually lime.
It's commonly used in Mexican and Southwestern cuisine.
You can find canned hominy in the canned vegetable or international foods section of most grocery stores.
Can I use store-bought chicken broth, or should I make homemade chicken stock?
You can certainly use store-bought chicken broth for convenience. It works well in this recipe.
However, if you have homemade chicken stock available, it can add even more flavor to your soup.
Is there a spiciness level in this soup?
The spiciness of the soup largely depends on the heat of the salsa verde and the Anaheim chili pepper.
If you prefer a milder soup, you can use a mild salsa verde or remove the seeds and membranes from the chili pepper to reduce its heat.
Can I make this soup vegetarian or vegan?
Yes, you can make a vegetarian or vegan version of this soup by using vegetable broth instead of chicken broth and omitting the chicken.
You can also add extra vegetables, beans, or tofu for protein.
What can I serve alongside this Mexican Chicken Soup?
This soup pairs well with a variety of sides, including warm tortillas, Mexican rice, a simple green salad, or a side of guacamole.
You can customize the sides based on your preferences.