How to make Hungarian Mushroom Soup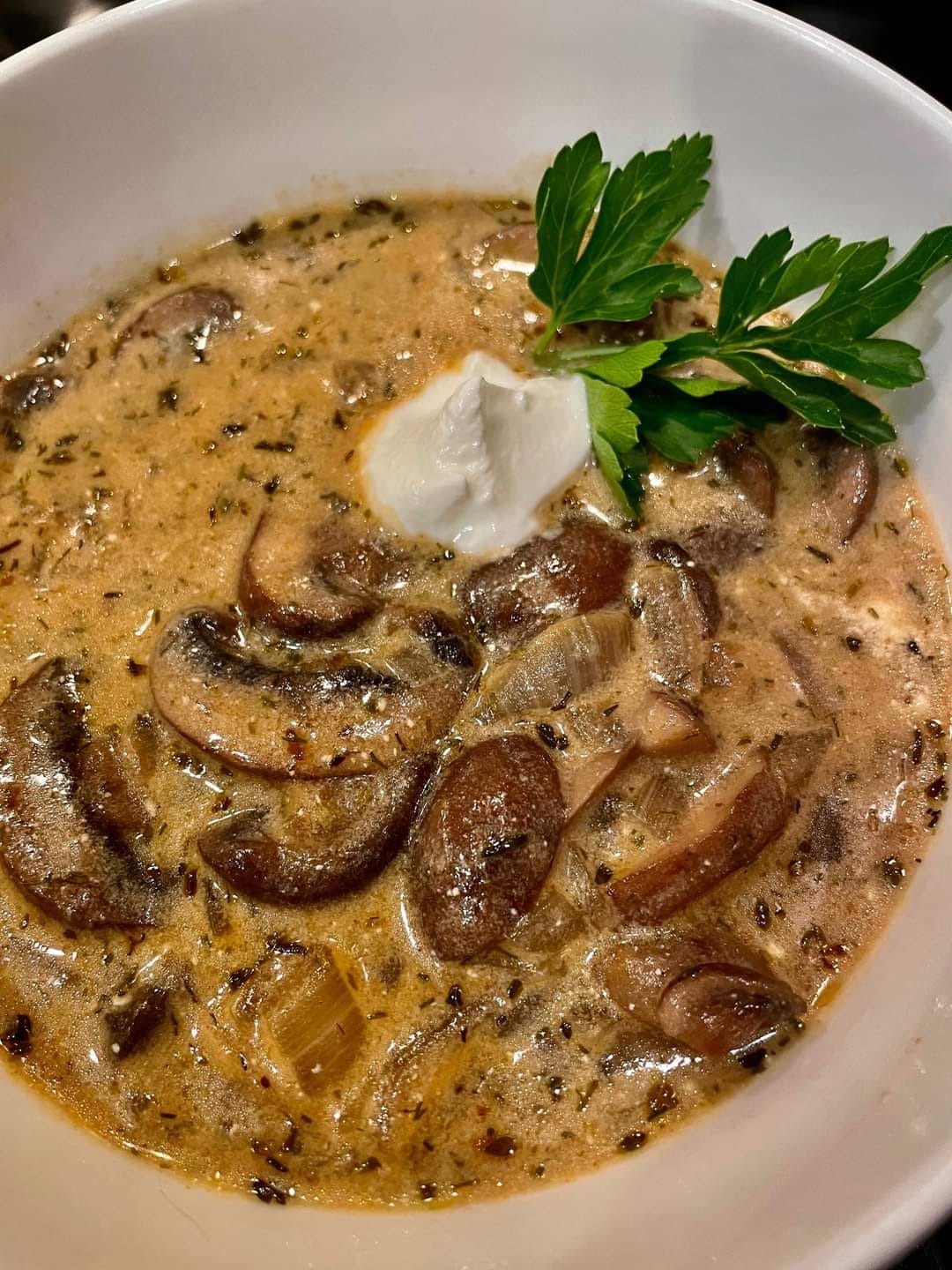 Ingredients
4 tablespoons of salted butter
1 ½ cups white onions, chopped
1 lb. mushrooms, sliced (use crimini, button, etc.)
2 teaspoons dried dill weed
1 teaspoon EACH: dried thyme AND dried mushroom powder (optional)
1 tablespoon EACH: sweet paprika AND lemon juice
2 cloves garlic, grated
2 ½ cups low sodium chicken stock (or vegetable)
2 tablespoons low sodium soy sauce
3 tablespoons all-purpose flour
1 cup half and half (or whole milk)
⅓ cup room-temperature creme fraiche (or sour cream)
3 tablespoons chopped parsley
Instructions
SAUTE:
In a dutch oven or soup pot, saute the onions and mushrooms in the butter over medium heat for 5 minutes.
Then, season with dill, thyme, and paprika and allow the mushrooms and onions to continue cooking for an additional 7-10 minutes, stirring often.
Sprinkle the grated garlic and mushroom powder 30 seconds before the mushrooms are done.
WHISK:
Then, slowly pour in the chicken stock, soy sauce, and lemon juice and scrape the bottom of the pot to loosen anything that might be stuck on.
Allow the soup to gain a simmer and then let cook and reduce for 5 minutes.
While the soup is reducing, whisk together the milk and flour in a small bowl until smooth (you can also just shake it all in a mason jar.)
Then pour the mixture into the soup and continue to cook the soup for 8-10 minutes, or until the soup thickens, stirring as required.
FINISH:
Remove the soup from heat.
Stir the soup while you add in the sour cream slowly and allow for it to mix.
Sprinkle with parsley to finish and serve warm with grilled bread rubbed with a clove of cut garlic!
Notes
Mushroom powder adds a ton of umami to this soup recipe. It really amps up the mushroom flavor so I prefer to use it. However, I know it can be difficult to find so it is an optional ingredient. But I urge you to try and find it if you can, it really kicks this soup into high gear.  I found one at Trader Joes that works well, powder porcini or shiitake mushroom is also easily available on A ma zon and if all else fails, use Better Than Bouillon mushroom base.
Nutrition Information:
Calories: 230 calories | Total Fat: 18g | Saturated Fat: 11g | Trans Fat: 0g | Cholesterol: 51mg | Sodium: 591mg | Total Carbohydrates: 13g | Dietary Fiber: 2g | Sugars: 5g | Protein: 6g
Frequently Asked Questions:
What type of mushrooms are best for this soup?
You can use various types of mushrooms for this soup, such as crimini, button, or even wild mushrooms like shiitake or chanterelles.
Choose the ones you prefer or have available.
Is the dried mushroom powder necessary?
The dried mushroom powder is optional but adds an extra layer of mushroom flavor to the soup.
If you don't have it, you can still make the soup without it, and it will be delicious.
Can I use a substitute for creme fraiche or sour cream?
Yes, you can substitute Greek yogurt or plain yogurt for creme fraiche or sour cream if you prefer a lighter option.
It will still add creaminess and a tangy flavor to the soup.
What is the best way to reheat leftover soup?
To reheat the soup, gently warm it on the stove over low to medium heat.
Avoid boiling it, as this can affect the texture of the dairy-based ingredients.
Stir frequently until it's heated to your liking.
Can I make this soup vegetarian or vegan?
Yes, you can make this soup vegetarian or vegan by using vegetable broth instead of chicken broth, plant-based butter or oil instead of butter, and non-dairy milk or cream instead of half and half.
Omit the sour cream or use a vegan alternative.
Can I use fresh herbs instead of dried ones?
Yes, you can use fresh dill and thyme if you have them on hand.
Keep in mind that the flavor of fresh herbs can be more pronounced, so adjust the quantities to your taste.
Typically, you'll need about three times more fresh herbs than dried.
What is dried mushroom powder, and can I make it at home?
Dried mushroom powder is typically made from dried mushrooms ground into a fine powder.
It enhances the mushroom flavor in the soup.
You can make it at home by grinding dried mushrooms in a spice grinder or food processor until they become a fine powder.
Is there a substitute for creme fraiche or sour cream?
If you don't have creme fraiche or sour cream, you can substitute plain Greek yogurt or a non-dairy alternative like coconut yogurt for a similar creamy and tangy effect.
Can I make this soup in advance and reheat it later?
Yes, Hungarian Mushroom Soup can be made in advance and reheated.
Store it in an airtight container in the refrigerator for up to 3-4 days.
Reheat it gently on the stove over low heat, stirring occasionally until warmed through.
What can I serve as a side with this soup?
This soup pairs well with a variety of sides, but traditional choices include crusty bread or rolls, garlic bread, or a simple green salad.
The soup's rich and savory flavors complement these options nicely.