Homemade Chicken and Dumplings
How To Make Homemade Chicken and Dumplings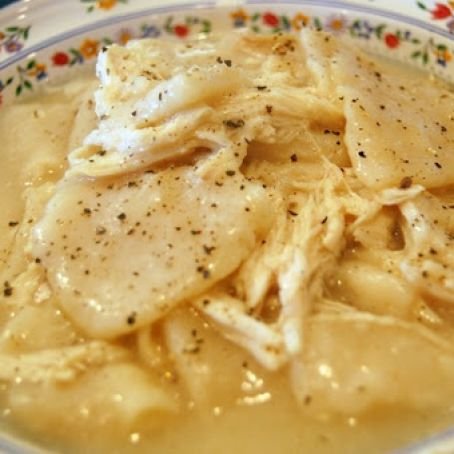 Ingredients
2 cups flour
1/2 teaspoon baking powder
1 pinch salt
2 tablespoons butter
1 cup milk
2 quarts chicken broth
3 cups cooked chicken
Instructions:
In a bowl combine the flour, baking powder, and salt. Cut the butter into the dry ingredients with a fork or pastry blender. Stir in the milk, mixing with a fork until the dough forms a ball.
Heavily flour a work surface. You'll need a rolling pin and something to cut the dumplings with. I like to use a pizza cutter. I also like to use a small spatula to lift the dumplings off the cutting surface.
Roll the dough out thin with a heavily floured rolling pin. Dip your cutter in flour and cut the dumplings in squares about 2×2-inches each. It's okay for them not to be exact. Just eye ball it. Some will be bigger, some smaller, and some might be shaped funny.
Use the floured spatula to put them on a heavily floured plate. Just keep flouring between the layers of dumplings.
To cook them, bring the broth to a boil. Drop the dumplings in one at a time, stirring while you add them. The extra flour on them will help thicken the broth.
Cook them for about 15 to 20 minutes or until they don't taste doughy.
Add the cooked chicken to the pot and serve.
Nutrition Information:
YIELDS: 4 | SERVING SIZE: 1
Calories: 400 calories | Protein: 20 grams | Carbohydrates: 40 grams | Fat: 10 grams | Sodium: 800 milligrams
Frequently Asked Questions:
Can I use store-bought dumplings instead of making them from scratch?
Yes, you can use pre-made dumplings or biscuit dough if you prefer a quicker option.
Simply drop them into the boiling broth and cook according to the package instructions.
What can I substitute for chicken broth if I don't have any on hand?
If you don't have chicken broth, you can use vegetable broth or water with chicken bouillon cubes or chicken base for flavor.
Adjust the seasoning accordingly.
Can I make this dish with leftover turkey instead of chicken?
Absolutely! You can substitute cooked turkey for chicken in this recipe.
It's a great way to use up leftover holiday turkey.
How can I make the dumplings gluten-free?
To make gluten-free dumplings, use a gluten-free flour blend in place of regular flour.
Make sure all other ingredients, like baking powder and milk, are also gluten-free.
Can I add vegetables to the chicken and dumplings?
Yes, you can add vegetables like carrots, celery, peas, or corn to make it a heartier meal.
Simply sauté them with the onions and garlic before adding the broth, or add them when you put the chicken back into the pot.
Can I use pre-made biscuit dough for the dumplings?
Yes, you can use pre-made biscuit dough or refrigerated biscuit dough to save time.
Simply separate the biscuits and drop them into the boiling broth.
Is it necessary to use a pastry blender to cut the butter into the dry ingredients for the dumplings?
While a pastry blender makes it easier to cut the butter into the dry ingredients, you can also use a fork or your fingers to incorporate the butter until the mixture resembles coarse crumbs.
Can I add additional seasonings to the broth for more flavor?
Yes, you can customize the broth by adding herbs and seasonings like thyme, rosemary, or bay leaves to enhance the flavor of the dish to your preference.
What's the best way to reheat leftover chicken and dumplings?
To reheat leftovers, gently warm them in a pot on the stove over low to medium heat, stirring occasionally to prevent sticking.
You may need to add a bit of extra chicken broth to maintain the desired consistency.