Famous Carolina Pecan Bars
How to make Famous Carolina Pecan Bars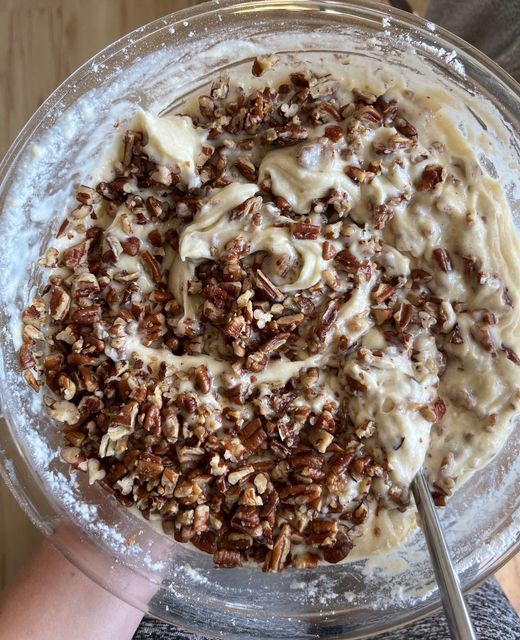 Ingredients
Cake:
3 cups flour
2 tsp baking powder
1 tsp salt
1 tsp Maple extract
2 tsp vanilla extract
4 eggs, room temperature
1 cup butter, unsalted
2 cups white sugar
1 tbsp butter
1 ½ cups pecans, roughly chopped
Frosting:
6 cups Confectioners Sugar
12 ounces Cream Cheese, softened
⅔ cup butter
1 tsp vanilla extract
1 tsp Maple extract
1 to 2 tbsp Milk
Instructions
Preheat the oven to 350*
Grease a 9×13 baking pan
In a small skillet, melt 1 tbsp butter, then add the chopped pecans and stir until toasted
Remove from heat
In a large bowl, combine 1 cup butter and sugar. Beat until fluffy.
Add the eggs one at a time, beating between each
Then add the Vanilla extract and the Maple extract
In another bowl combine the flour, salt and baking powder
Slowly add the dry mix into the wet mixture, alternate mixing in the 1 cup Milk
Mix until just combined, then gently fold in the pecans
Pour the batter into the prepared baking pan
Bake for 30 to 35 minutes, or until a toothpick comes out clean
As the cake bakes, prepare the frosting
Combine the Confectioners Sugar, Cream Cheese and ⅔ cup butter, vanilla extract and maple extract. Beat until smooth, adding just enough milk to make the consistency you want
When the cake is done, and has cooled enough to handle it, divide the cake in half
Take one half of the cake and crumble it into a large bowl, stir in ¼ of the frosting
Repeat this process with the second half of the cake
Transfer all the cake crumble back into the baking pan and press into an even layer
Top this pressed layer with the remaining frosting
Sprinkle with chopped pecan pieces to garnish
Refrigerate until fully set, about 4 hours or overnight
Cut into small squares and serve chilled
Enjoy!
Nutrition Information:
YIELD: 12 SERVING SIZE: 1
Amount Per Serving: CALORIES: 909 | TOTAL FAT: 48g | SATURATED FAT: 24g | TRANS FAT: 0g | UNSATURATED FAT: 21g | CHOLESTEROL: 161mg | SODIUM: 482mg | CARBOHYDRATES: 116g | FIBER: 2g | SUGAR: 89g | PROTEIN: 9g