How to make Drunken Noodles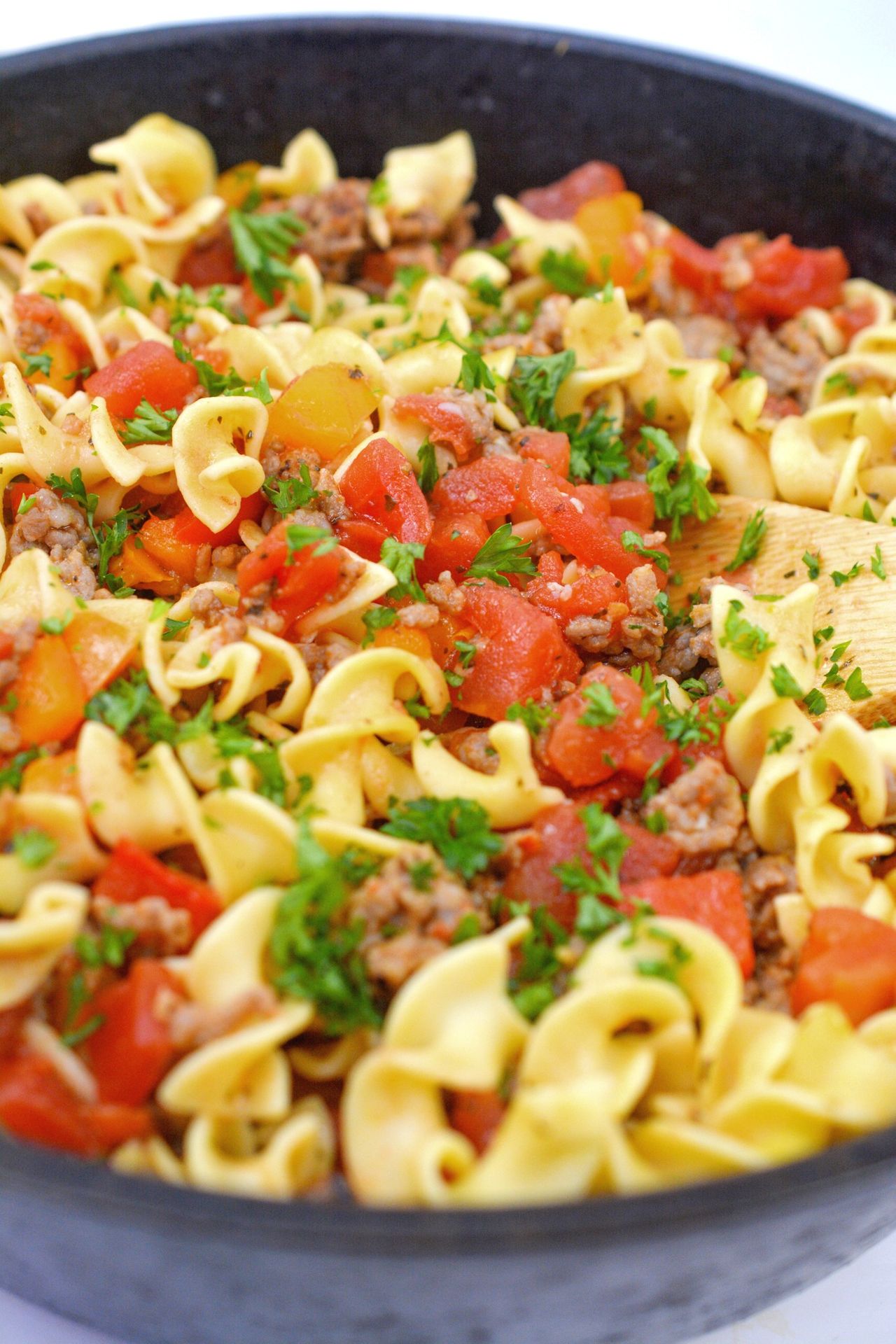 Ingredients
8 Ounces of Pappardelle noodles, wide fettuccine noodles work well also.
1 pound Spicy Italian Sausage
1 medium onion, thinly sliced
1 large can crushed tomatoes
½ cup white wine
1 yellow bell pepper, thinly sliced
1 red bell pepper thinly sliced
3 cloves freshly minced garlic
1 tsp Italian seasoning
¼ tsp red pepper flakes
3 tsp parsley flakes
¼ cup Basil leaves, sliced very thin
Olive Oil
Salt and pepper to taste, optional
Instructions
Cook your choice of pasta according to the package directions.
When Al Dente', drain and rinse and set to the side
In a large skillet, add the Olive Oil and heat on medium heat
Crumble the Italian Spicy sausage and cooked until thoroughly done
Once cooked, remove from the pan and set to the side
If needed, add oil to the pan if there is not enough of the sausage drippings and then add the onion to the pan, add in the italian seasoning, the red and yellow peppers
Stir in the garlic, add in salt and pepper to taste
Add the white wine and let simmer and cook down a bit. After a couple of minutes you can add in the tomatoes and the meat can go back into the pan
Remove from the heat, add in the basiland the parsley
Add in the drained pasta and use tongs to toss and combine.
Enjoy!
Nutrition Information:
YIELD: 6 SERVING SIZE: 1
Amount Per Serving: CALORIES: 475 | TOTAL FAT: 24g | SATURATED FAT: 8g | TRANS FAT: 0g | UNSATURATED FAT: 18g | CHOLESTEROL: 71mg | SODIUM: 661mg | CARBOHYDRATES: 39g | FIBER: 2g | SUGAR: 4g | PROTEIN: 21g