How to make Cranberry Orange Bread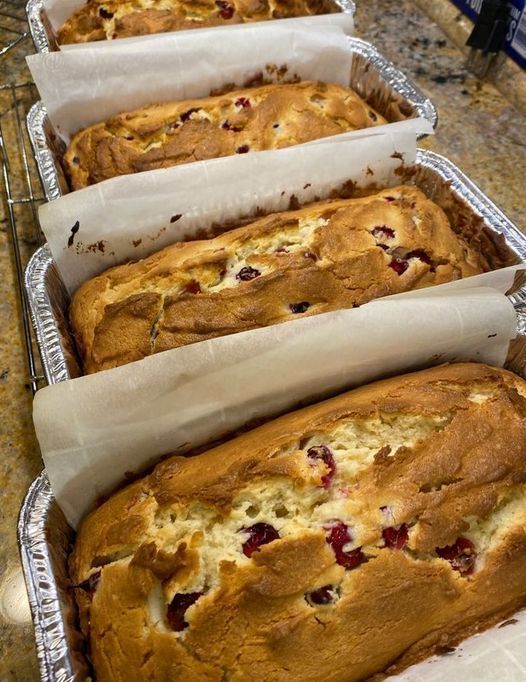 Ingredients
1 ½ cups cranberries, fresh or frozen, thawed and rinsed
½ cup vegetable oil
½ tsp vanilla extract
2 tsp orange zest
1 ½ cups, plus 1 tbsp flour
2 tsp baking powder
½ tsp salt
1 cup plain yogurt
3 large eggs
1 cup of sugar
Orange Syrup
⅓ cup granulated sugar
⅓ cup fresh orange juice
Orange Glaze
1 cup Powdered Sugar
2 to 3 tbsp orange juice
Instructions
Preheat the oven to 350*, grease and flour the sides and bottom of a loaf pan
In a large bowl mix together the yogurt, eggs, vanilla, oil orange zest and sugar
Slowly mix the dry ingredients into the wet ingredients
Pour the batter into the loaf pan and bake for 50 to 55 minutes. Test with a toothpick, if it comes out clean the bread is done.
Let cool in the pan for 10 minutes, then transfer to a baking sheet on a cooling rack
While your bread is cooling, mix the sugar and orange juice in a small saucepan and cook until the sugar is dissolved.
Using a toothpick, place many random holes all over the top and sides of the bread
When the sugar has dissolved in the orange juice, brush it all over the bread using a pastry brush.
Continue cooling the loaf
Make the glaze by mixing the powdered sugar with a little of the orange juice until you get the desired consistency.
Pour the glaze over the top of the loaf, letting it drip down the sides. Let the glaze harden for 15 minutes before slicing.
Enjoy!
Nutrition Information:
SERVING SIZE: 1
Amount Per Serving: CALORIES: 80 | TOTAL FAT: 22g | SATURATED FAT: 12g | TRANS FAT: 10g | CHOLESTEROL: 120mg | SODIUM: 18mg | CARBOHYDRATES: 140g | SUGAR: 14g | PROTEIN: 12g