Chicken Ranch and Bacon Casserole
How to make Chicken Ranch and Bacon Casserole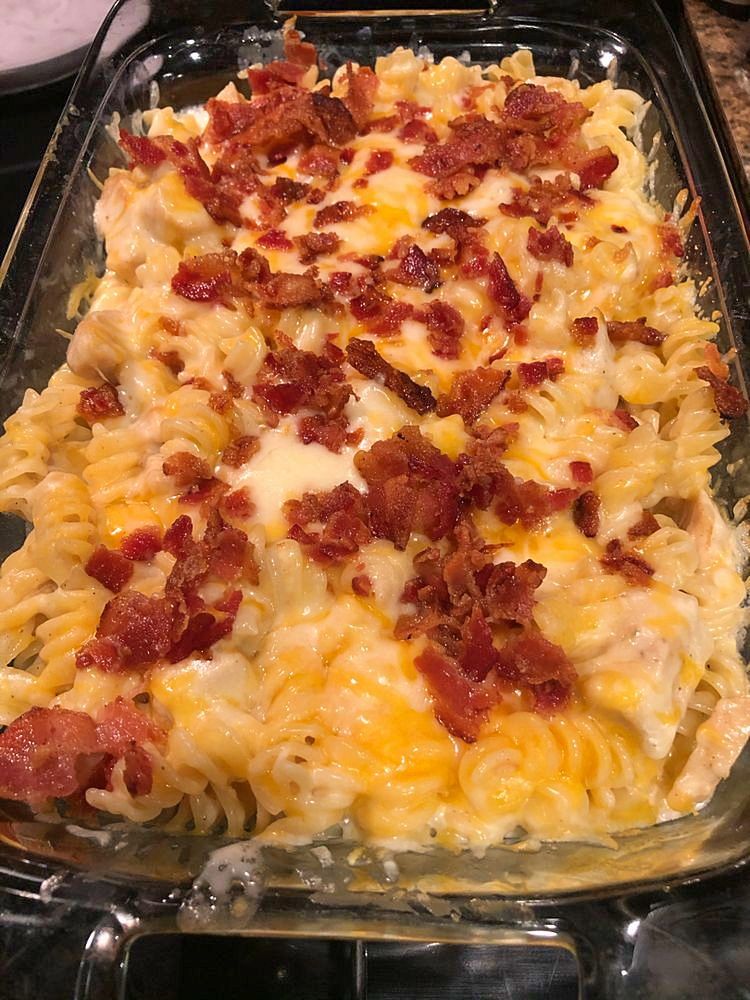 Ingredients
1 pound Chicken Breast, boneless and skinless, cut into bite-sized pieces
8 ounces bacon, cooked and crumbled
1 tablespoon Olive Oil
1 envelope Ranch Dressing Mix
1 cup Mozzarella Cheese, shredded
¾ cup Cheddar Cheese, shredded
Salt and pepper to taste
1 jar Alfredo Sauce
8 ounces pasta, your choice (shell macaroni or elbow macaroni)
Instructions
Preheat your oven to 375°F (190°C).
Make sure to grease a 9×9 casserole dish to prevent the food from sticking.
Cook the bacon until it becomes crispy and then set it aside on some paper towels.
In a bag mix together the ranch dressing mix and olive oil. Add the chicken to the bag. Shake it well so that the chicken gets coated evenly.
Using the skillet you used for cooking bacon cook the chicken until it is no longer pink, in color.
Boil some pasta and drain it well. Transfer it into the greased casserole dish.
Combine the chicken with alfredo sauce. Gently stir them together with the pasta.
Sprinkle an amount of mozzarella cheese, cheddar cheese and crumbled bacon on top of everything.
Place the casserole dish in your preheated oven, for 15 minutes. Until you see bubbling and a golden crust forming on top.
Allow the casserole to rest for 5 minutes before serving. This will help all of its flavors come together nicely.
Enjoy your delicious Chicken Ranch and Bacon Casserole while it's still warm!