How to make Caramel Pecan Dream Bars
These Caramel Pecan Dream Bars really are dreamy and if it weren't for The Recipe Tin Project, I never would have known they existed.
They take approximately five minutes to get into the oven and they rely mostly on kitchen shortcuts that are easy to keep in your pantry so they are the type of dessert that's easy to whip up on a moment's notice.
It's hard not to fall in love with a dessert bar that's sticky, sweet, and full of toffee flavor so it's easy to see why Emily took the time to commit this one to paper. And I'm sure glad she did.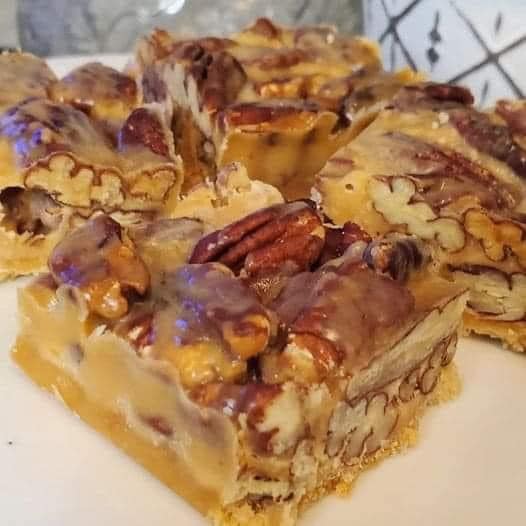 Ingredients
For The Crust:
1 box yellow cake mix
1/3 cup soft margarine
1 egg
For The Filling:
1 (14 oz) can sweetened condensed milk
1 cup pecans, chopped
1/2 cup bits o' Brickle baking chips
Instructions:
Preheat oven to 350°F and grease a 9×13-inch baking pan with nonstick spray.
Mix together the cake mix, margarine, and egg and press into the bottom of the prepared pan.
Pour filling ingredients (sweetened condensed milk, pecans, bits o' brickle) over the base and bake 25-30 minutes.
Let cool before cutting. Enjoy!
Nutrition Information:
YIELDS: 16 | SERVING SIZE: 1
Calories: 300  | Total Fat: 15g | Saturated Fat: 4g | Trans Fat: 0g | Cholesterol: 15mg | Sodium: 200mg | Total Carbohydrates: 35g | Dietary Fiber: 1g | Sugars: 20g | Protein: 5g
Frequently Asked Questions:
Can I use butter instead of margarine for the crust?
Yes, you can substitute butter for margarine in the crust if you prefer.
Just make sure the butter is soft and at room temperature for easy mixing.
Can I use a different type of nuts in the filling?
Absolutely! If you're not a fan of pecans or prefer a different nut, you can use walnuts, almonds, or any other nut of your choice as a substitute.
What can I use instead of bits o' Brickle baking chips?
If you can't find bits o' Brickle baking chips or prefer not to use them, you can substitute with toffee bits or even chocolate chips for an added twist.
Can I make these bars in advance and store them?
Yes, you can make the bars ahead of time and store them in an airtight container.
They should stay fresh for a few days at room temperature or up to a week if refrigerated.
Can I freeze these bars for later enjoyment?
Absolutely! These bars freeze well.
Once they have cooled completely, wrap them tightly in plastic wrap and store them in a freezer-safe container.
They should stay good in the freezer for up to 2-3 months.
To thaw, simply leave them at room temperature or warm them up in the oven for a few minutes.
Can I use a different type of cake mix for the crust?
Yes, you can experiment with different cake mix flavors to change the crust's taste.
For example, a butter or vanilla cake mix can work well with this recipe.
Can I use unsalted butter instead of soft margarine?
Yes, unsalted butter can be used as a substitute for soft margarine. Just make sure it's at room temperature and has a similar consistency to the margarine.
Can I add extra toppings to the filling?
Absolutely! Feel free to get creative and add additional toppings like shredded coconut, chocolate chips, or caramel drizzle for extra flavor and texture.
Can I use a different size baking pan?
While the recipe calls for a 9×13-inch baking pan, you can adjust the pan size slightly if needed.
Just be mindful of baking time adjustments, as it may vary with a different pan size.
Can I make this recipe gluten-free?
Yes, you can make gluten-free Caramel Pecan Dream Bars by using a gluten-free yellow cake mix.
Additionally, ensure that all other ingredients, including the bits o' Brickle baking chips, are gluten-free as well.