How to make Stuffed Cabbage Rolls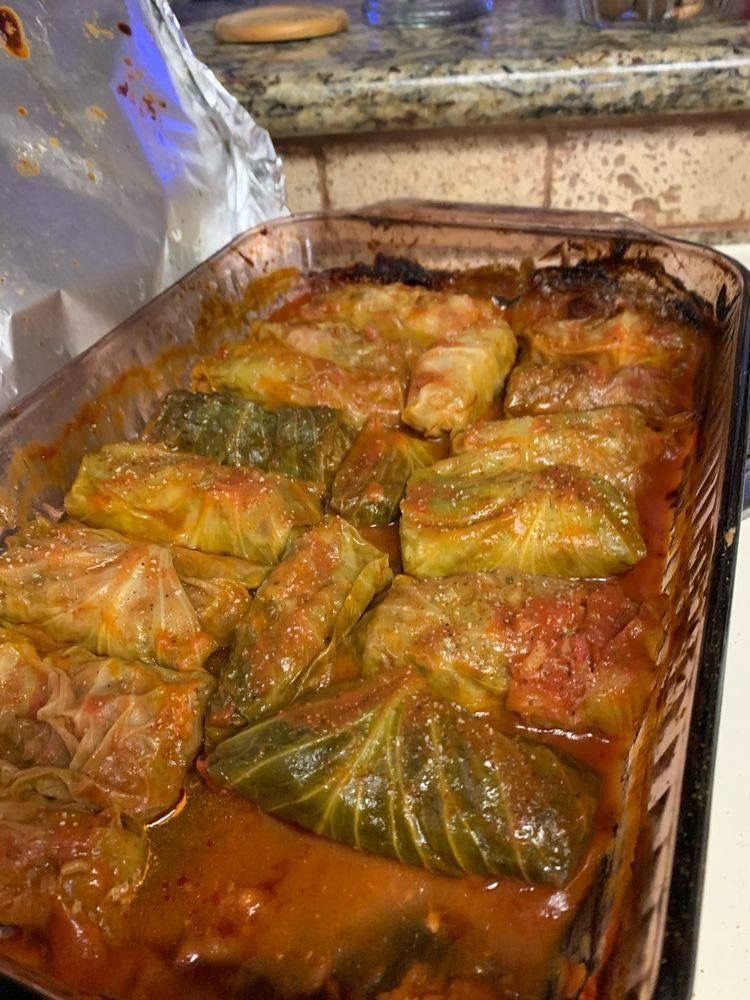 Ingredients:
For the Tomato Sauce:
2 tablespoons olive oil
½ cup onion yellow finely chopped
1 teaspoon garlic minced
1 teaspoon crushed red peppers
28 ounce can fire roasted tomatoes do not drain
15 ounce can tomato sauce
salt and pepper to taste
2 tablespoons brown sugar
1 tablespoon red wine vinegar
For the Cabbage Rolls:
2 pounds ground beef 80/20
1 ½ cups cooked white rice
½ cup onion yellow, finely chopped
2 teaspoon minced garlic
1 teaspoon salt
½ teaspoon pepper
1 teaspoon cumin
1 teaspoon italian seasoning
¼ cup fresh parsley minced
2 eggs
1 head cabbage
cooking spray
Instructions:
Add the olive oil to a large pot over medium heat.
Add the onion and cook until the onions are translucent.
Add the minced garlic and toss with the onion.
Add the fire-roasted tomatoes, tomato sauce, salt and pepper, and seasonings to the pot.
Stir to combine, and cook for 4 minutes.
Add in the brown sugar and red wine vinegar, and stir to combine.
Bring the mixture to a simmer.
Cook the sauce for 15 minutes, stirring occasionally.
In a large stockpot filled to ¾ full, bring the water to a boil.
Add the cabbage head to the boiling water.
Cook for 7-8 minutes or until cabbage leaves is pliable.
Remove the cabbage from the stockpot and place it on a baking tray.
Peel 12 large leaves off the cabbage.
In a large bowl add the ground beef, rice, onion, garlic, salt, pepper, seasonings, parsley, and egg in a bowl.
Stir to combine.
Use your hands to combine the meat mixture.
Lay each cabbage leaf on a cutting board or flat service.
Use scissors to cut off the thick part of the cabbage rib.
Take a portion of the meat mixture and form it into a log shape, then place it in the center of a cabbage leaf.
Roll the cabbage leaf around the meat mixture, like you would a burrito.
Repeat with remaining meat and cabbage leaves, until all the meat mixture is used.
Preheat the oven to 350 degrees F.
Use a 9″x13″ pan and coat it with cooking spray.
Place ½ of the fire-roasted tomato sauce at the bottom of the baking dish.
Place the cabbage rolls, seam side down, in the dish.
Top with remaining sauce.
Cover the baking dish with foil.
Bake for 90 minutes or until the cabbage is tender.
Garnish and enjoy!