How to make Mexican Lasagna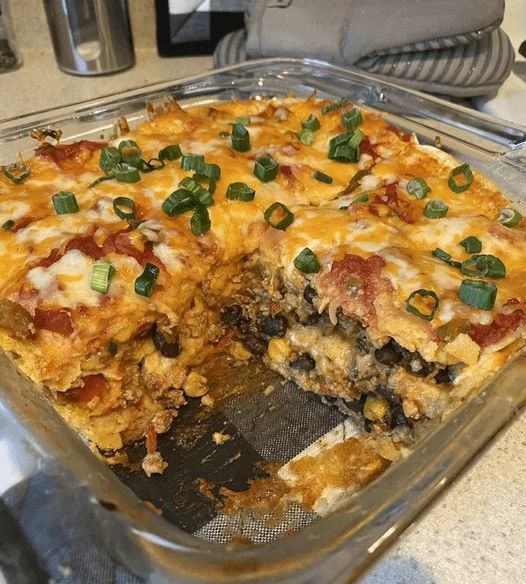 Ingredients:
1 pound lean ground beef
1 tablespoon olive oil
1/2 small yellow onion, grated or finely chopped
2 teaspoon smoked paprika
1 teaspoon cumin
1 tablespoon New Mexico chile powder
1 teaspoon kosher salt
1/2 teaspoon black pepper
1 (14.5 oz) can fire roasted diced tomatoes
1 (15 oz) can black beans, rinsed and drained
1 1/2 cups frozen sweet corn
1 (4 oz) can fire roasted diced green chiles
1 (10 oz) can enchilada sauce (or our homemade enchilada sauce)
12 8" large flour tortillas
8 ounces Pepperjack cheese, shredded
4 ounces Colby Jack cheese, shredded
6 oz can sliced olives, drained
2 scallions, finely chopped
2 tablespoons chopped cilantro
Instructions:
Preheat oven to 425°F. Drizzle olive oil into a large skillet, over medium high heat.
Add beef, onion, paprika, cumin, chili powder, salt and pepper to skillet.
Brown beef for about 5-7 minutes.
Add tomatoes, beans and corn.
Stir to combine.
Allow to cook while you begin preparing the baking pan.
Smooth about 1/3 of the enchilada sauce over the bottom of a 9×13 baking pan.
Lay tortillas on the bottom of the pan, slightly overlapping until pan is covered (about 4 tortillas).
Spoon half of the beef mixture over top of the tortillas, spread evenly.
Layer tortillas on top of beef mixture.
Smooth about 1/3 of the enchilada sauce over the tortillas.
Sprinkle 1/2 of each of the cheeses on top.
Scatter the green chiles over the cheese.
Add the remaining beef mixture.
Spread evenly.
Layer tortillas on top of beef mixture.
Spoon remaining enchilada sauce over tortillas.
Sprinkle remaining cheese on top of tortillas.
Garnish top with olives and scallions.
Bake for 10-15 minutes, until cheese is melted and lasagna is warmed through.
Remove from oven and sprinkle with cilantro.
Serve and enjoy!
Nutrition Information:
YIELD: 8 servings | SERVING SIZE: 1/8th of the lasagna
Amount Per Serving: CALORIES: 415 | TOTAL FAT: 19g | SATURATED FAT: 8g | TRANS FAT: 0g | CHOLESTEROL: 56mg | SODIUM: 1036mg | CARBOHYDRATES: 39g | FIBER: 6g | SUGAR: 5g | PROTEIN: 23g
Frequently Asked Questions:
Can I use ground turkey or chicken instead of ground beef?
Yes, you can substitute ground turkey or chicken for the ground beef in this recipe. It will alter the flavor slightly, but it will still be delicious.
Can I use different types of cheese?
Absolutely! While the recipe suggests Pepperjack and Colby Jack cheeses, you can experiment with other types of cheese, such as cheddar, Monterey Jack, or a Mexican cheese blend, depending on your preference.
Can I make this recipe spicy?
If you enjoy spicier flavors, you can add additional spices or ingredients like jalapeños or hot sauce to the beef mixture or enchilada sauce. Adjust the heat level according to your taste.
Can I make this recipe vegetarian or vegan?
Yes, you can make a vegetarian version by omitting the ground beef and using additional beans or vegetables as a substitute.
For a vegan version, omit the meat and cheeses, and use dairy-free alternatives for the cream and cheese.
Can I use corn tortillas instead of flour tortillas?
Yes, you can use corn tortillas if you prefer. They will give the dish a slightly different texture and flavor compared to flour tortillas, but it will still be tasty.
Can I prepare this recipe in advance?
Yes, you can assemble the lasagna ahead of time and refrigerate it before baking. When you're ready to serve, simply bake it as directed in the recipe.
This can be convenient for meal prepping or when you want to save time on busy days.
Can I freeze the leftovers?
Yes, you can freeze the leftovers of this Mexican Lasagna. Allow it to cool completely, portion it into individual servings or as a whole, wrap it tightly in foil or place it in an airtight container, and store it in the freezer. It can be reheated in the oven or microwave when you're ready to enjoy it again.