Melt in Your Mouth Chicken
How to make Melt in Your Mouth Chicken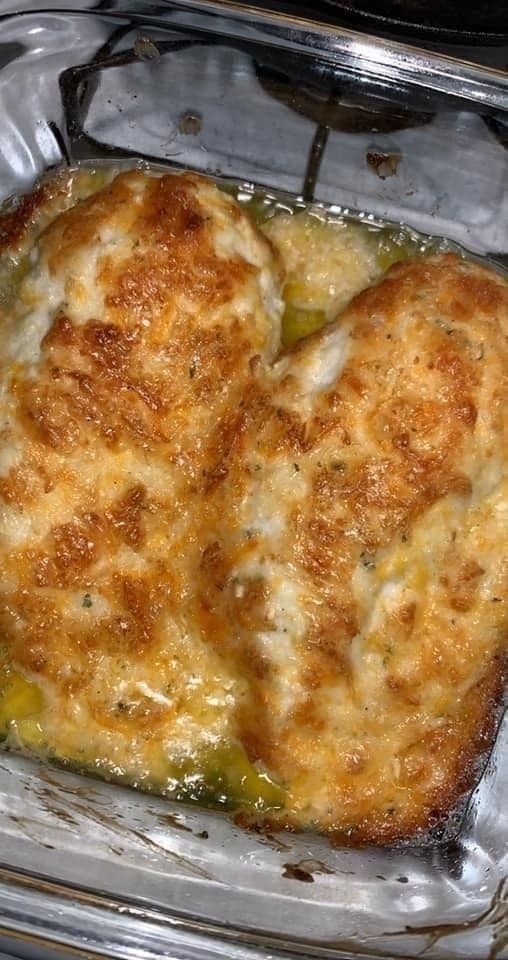 Yield: 8
Prep time: 15 MINUTES
Cook time: 2 HOURS
Total time: 2 HOURS 15 MINUTES
Ingredients
4 boneless Chicken Breasts
1 cup mayonnaise or greek yogurt
1 tsp garlic powder
1 cup parmesan cheese divided
1 tsp seasoning salt
½ tsp black pepper
Instructions
Cut each chicken breast into three equal pieces
Place into a bowl of milk, or buttermilk and let sit in refrigerator overnight
Preheat the oven to 375* when ready to cook the chicken
In a small bowl, combine the mayonnaise, ½ cup parmesan and the seasonings.
Combine well
In a 9 x 13 baking dish, place the chicken in, spacing it apart
Spread the mayonnaise mixture over each chicken breast
Sprinkle the tops with the remaining parmesan cheese
Bake for 40 to 45 minutes, or until a meat thermometer reads 165*
Place under the broiler to brown the cheese, slightly
Enjoy!
Notes
This dish can be served with fresh, steamed vegetables, roasted potatoes or wedge potato fries. As the chicken is cooking, you will notice a build up of liquid at the bottom of the baking dish.
This can be carefully drained every so often. The liquid does not hurt the chicken, it is just the juices coming from the chicken pieces.
You could also wait until just before you place it under the broiler to give the cheese a slight brown color, to drain the liquid.
The longer that the liquid is left in the pan, the more it will help steam the chicken.
Nutrition Information:
SERVING SIZE: 1
Amount Per Serving: CALORIES: 120| TOTAL FAT: 24g | SATURATED FAT: 12g | TRANS FAT: 10g | CARBOHYDRATES: 240g | SUGAR: 18g | PROTEIN: 44g