Homemade Enchiladas Rojas
How to make Homemade Enchiladas Rojas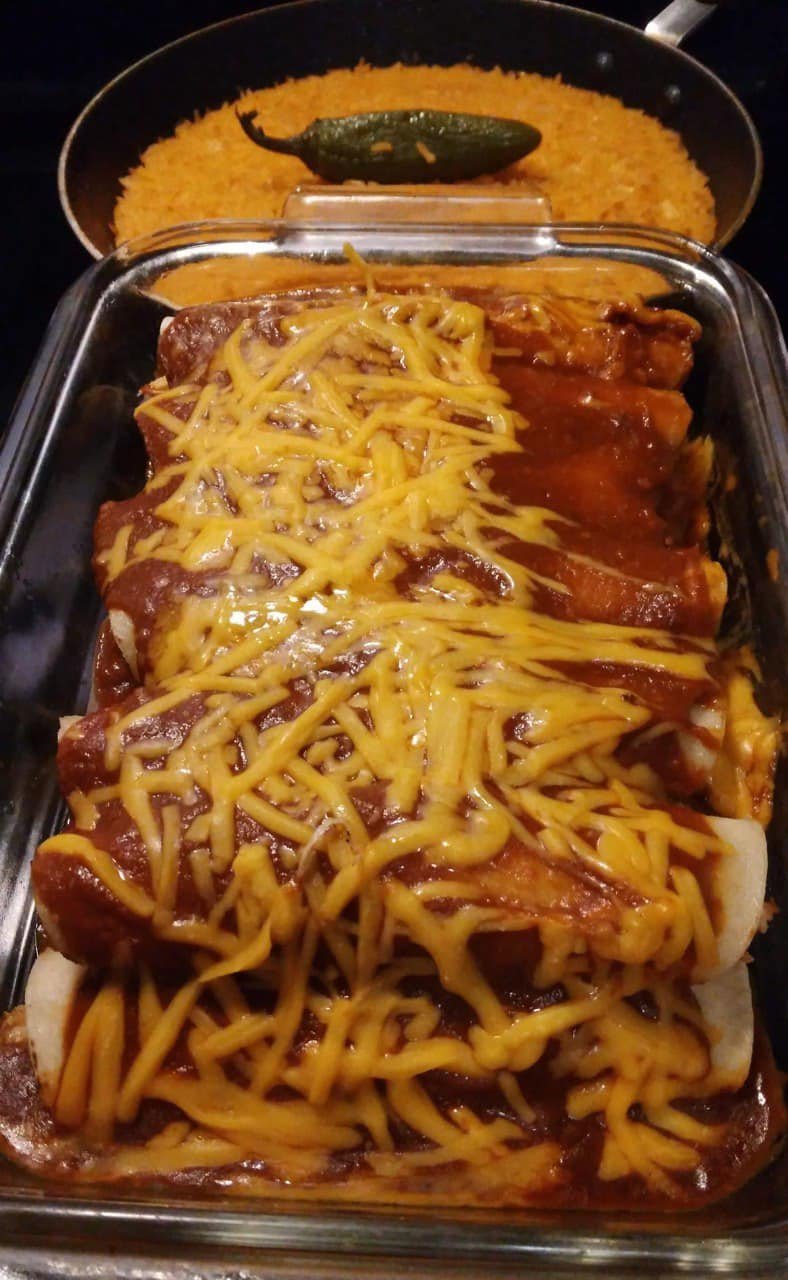 Ingredients:
For the Enchilada Sauce
1 tbsp Vegetable or Canola Oil
2 tbsp Flour
1/4 cup Chili Powder
1/2 White Onion diced
1 clove Garlic minced
1 tbsp Tomato Paste
1 can Roasted Tomatoes
1 1/2 cups Water
1/4 tsp Cumin
1 tbsp Brown Sugar
Salt and Pepper to taste
For Enchiladas
12 Authentic Corn Tortillas
Vegetable or Canola Oil
1 lb Chicken Breast boneless, skinless
2 tsp Cumin
2 tsp Chili Powder
1 Onion sliced thin
2 Cubanelle Peppers sliced
1 Ear of Corn kernels removed from cob or 1 cup frozen corn
2 cloves Garlic minced
1 can Whole Green Chiles seeded and sliced
1 Chipotle Pepper in Adobo Sauce diced up; do not use the whole can as it will be too spicy
1 can Tomatoes diced
Shredded Cheese of Your Choice I like cheddar
Directions :
Make your enchilada sauce!
Pour your vegetable or canola oil into a medium pot over medium high heat. Add your flour and your chili powder and cook until a dark paste forms (about 3 minutes).
Once the paste is cooked through, add your diced onions and sauté until they start to soften. Once they begin to soften, add your minced garlic and tomato paste. Cook out another minute.
Add your water, roasted tomatoes, brown sugar and cumin. Cook for another couple of minutes and then transfer to a blender. Blend the sauce on high until it is fully combined. Place sauce into a large bowl and let cool while you make your enchilada filling!
Make your filling!
Preheat oven to 350 degrees.
Coat your boneless skinless chicken breast in the cumin and and chili powder. Add oil to your pan and cook chicken on medium high heat (about 7 minutes on both sides) until fully cooked through.
Take chicken out of pan and let cool.
Add your sliced onions to the chicken drippings. Cook on medium high until they begin to soften.
Once they do add your cubanelle peppers and cook together for about 5 minutes. After the pepper and onions are soft and beginning to brown, add your corn, minced garlic, green chiles and chipotle pepper. Cook another minute. Then add your canned tomatoes.
Shred your cooled chicken and then add it back into the pan with the vegetables. Let cook and reduce for a few minutes until a solid filling is formed. If it's too loose, add some flour.
Assemble your enchiladas!
Soften your tortillas a bit. Microwave them each for about 20 seconds or stick them in the oven for a few (make sure they are wrapped in tinfoil if going in the oven).
Ladle a large spoonful of your homemade enchilada sauce at the bottom of a 13×9 pan. Dip each tortilla in enchilada sauce to lightly coat. Spoon some chicken mixture in each tortilla and add some cheese if you'd like.
Roll the tortilla up as best as possible and place the enchiladas in pan with seam side down. When finished loading the pan, top with remaining enchilada sauce and cheese.
Bake for about 15 minutes until cheese has melted.
Side note, that last step is REALLY messy (and no one tells you that). You're going to get enchilada sauce all over your hand while you're stuffing and rolling. No worries! Just rinse your hand in between each one and you'll be fine. A little mess never killed anyone.
Enjoy !!
Nutrition Information:
YIELD: 12 enchiladas | SERVING SIZE: 1 enchilada
Amount Per Serving: CALORIES: 350 | TOTAL FAT: 13g | SATURATED FAT: 4g | TRANS FAT: 0g | CHOLESTEROL: 50mg | SODIUM: 600mg | CARBOHYDRATES: 37g | FIBER: 6g | SUGAR: 3g | PROTEIN: 22g
Frequently Asked Questions:
Can I use flour tortillas instead of corn tortillas?
While corn tortillas are traditionally used for enchiladas, you can use flour tortillas if you prefer.
Keep in mind that the texture and flavor will be different, but it's a matter of personal preference. Flour tortillas are generally more pliable, so you may need to adjust the cooking time accordingly.
Can I substitute the chicken with another protein or make it vegetarian?
Absolutely! If you prefer a different protein, you can substitute the chicken with cooked and shredded beef, pork, or even tofu.
For a vegetarian version, you can replace the chicken with cooked vegetables like sautéed bell peppers, mushrooms, zucchini, or spinach.
Can I adjust the spiciness of the recipe?
Yes, you can adjust the spiciness according to your preference. If you prefer milder enchiladas, you can reduce the amount of chili powder, omit the chipotle pepper, or use mild green chiles.
On the other hand, if you like it spicier, you can add more chili powder or use additional chipotle peppers in adobo sauce. Adjust the heat level based on your personal taste.
Can I make the enchilada sauce in advance?
Yes, you can make the enchilada sauce in advance. Once prepared, let it cool and store it in an airtight container in the refrigerator for up to 3-4 days.
When you're ready to use it, gently reheat it on the stovetop before assembling the enchiladas.
Can I make vegetarian enchiladas by omitting the chicken?
Absolutely! If you prefer vegetarian enchiladas, you can omit the chicken and increase the amount of vegetables in the filling.
Consider adding additional vegetables like diced bell peppers, zucchini, or spinach to make a flavorful and hearty vegetarian filling.
Can I use store-bought enchilada sauce instead of making it from scratch?
Yes, if you prefer convenience or don't have the time to make the enchilada sauce from scratch, you can use store-bought enchilada sauce as a substitute.
Just make sure to choose a sauce that aligns with your flavor preferences and heat level.
Can I make the enchiladas ahead of time and refrigerate them?
Yes, you can prepare the enchiladas in advance and refrigerate them before baking. Assemble the enchiladas as directed but instead of baking them, cover the dish with foil or plastic wrap and store it in the refrigerator for up to 24 hours.
When you're ready to bake, remove the covering and bake as instructed, adding a few extra minutes if needed.
Can I freeze the enchiladas for later?
Yes, you can freeze the enchiladas for later. It's best to assemble the enchiladas without baking them, wrap them tightly in plastic wrap or foil, and place them in an airtight container or freezer bag.
They can be frozen for up to 2-3 months. When you're ready to enjoy them, thaw them in the refrigerator overnight, then bake as directed in the recipe.