Easy Creamy Corn Casserole
How To Make Easy Creamy Corn Casserole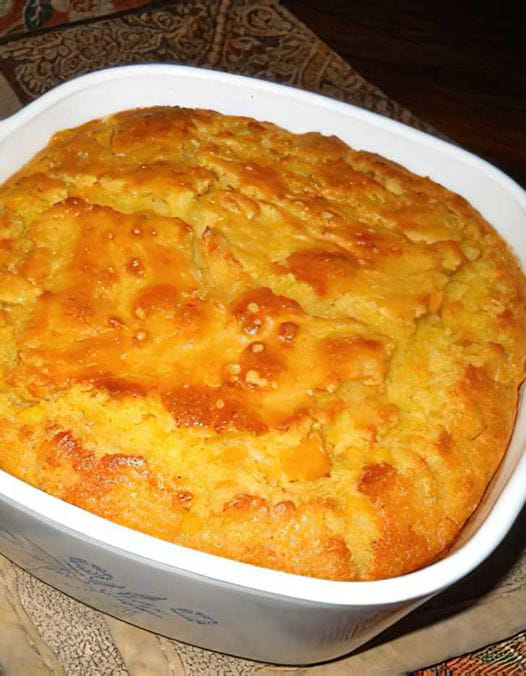 Ingredients
1 (15 ounce) can whole kernel corn, drained
1 (14.75 ounce) can creamed corn
1 (8.5 ounce) package dry cornbread mix
1 cup sour cream
½ cup butter, melted
2 eggs, beaten
Instructions:
Preheat the oven to 350 degrees F (175 degrees C). Lightly grease a 9×9-inch baking dish.
Mix whole and creamed corn, cornbread mix, sour cream, melted butter, and eggs together in a medium bowl until well combined. Spoon mixture into the prepared dish.
Bake in the preheated oven until the top is golden brown and a toothpick inserted in the center comes out clean, about 45 minutes.
Nutrition Information:
Calories: 329 kcal | Total Fat: 20.6g | Saturated Fat: 11.8g | Cholesterol: 97mg | Sodium: 666mg | Total Carbohydrates: 32.5g | Dietary Fiber: 2.1g | Sugars: 9.1g | Protein: 4.6g
Frequently Asked Questions:
Can I use fresh corn instead of canned corn in this recipe?
While fresh corn can be used, the recipe is specifically designed for canned corn.
If using fresh corn, you may need to adjust the moisture level and cooking time.
Is there a substitute for sour cream?
Greek yogurt can often be used as a substitute for sour cream if you prefer or need a dairy-free option.
Can I make this casserole ahead of time and reheat it?
Yes, you can prepare this casserole ahead of time, refrigerate it, and then reheat it in the oven when you're ready to serve.
Just be sure to cover it with foil to prevent it from drying out when reheating.
Can I add other ingredients like cheese or bacon?
Absolutely! You can customize this recipe by adding ingredients like shredded cheese, crumbled bacon, chopped green onions, or diced jalapeños for extra flavor.
Can I double the recipe for a larger crowd?
Yes, you can double the ingredients and use a larger baking dish to make a larger batch to serve more people.
Adjust the baking time as needed to ensure it cooks through.