How to make Vegetable Soup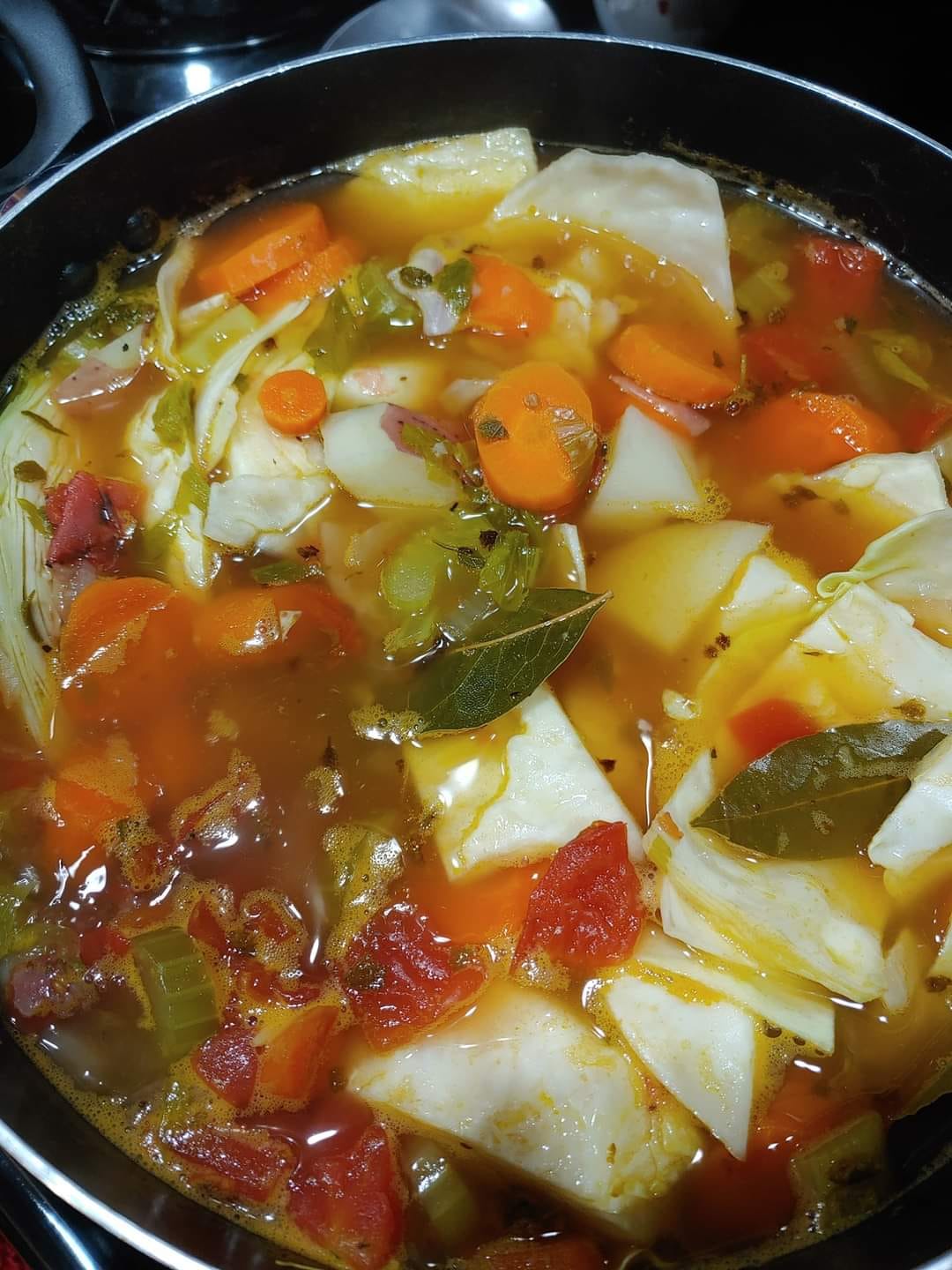 Ingredients:
1/4 cup olive oil
1 yellow onion, chopped
4 carrots, peeled and chopped
2 celery stalks, rinsed and chopped
3 cloves garlic, minced
4 cups (1l) low-sodium vegetable broth, or more
2 (14 oz) cans diced tomatoes, undrained
3 medium potatoes, peeled and diced
2 medium zucchini, chopped
2 bay leaves
1/2 teaspoon dried thyme
1/2 teaspoon salt and freshly ground black pepper
1 1/4 cups frozen or fresh corn kernels
1/3 cup chopped fresh parsley
Instructions:
To make the vegetable soup: In a large stockpot or Dutch oven, add the olive oil over medium heat and sauté the onions, celery, carrot, and garlic for 4-5 minutes.
Add in the rest of the ingredients: diced tomatoes, diced potatoes, and zucchini. Cover with vegetable broth, add salt, pepper, thyme, and bay leaves.
Bring the vegetable soup to a boil, then reduce to a simmer and cook covered for 30 minutes or until potatoes are almost fully tender.
Add corn and cook 5 minutes longer. Adjust seasoning with salt and pepper. Sprinkle the vegetable soup with fresh chopped parsley and serve immediately.
Nutrition Information:
Calories: 200 kcal | Total Fat: 7g | Saturated Fat: 1g | Monounsaturated Fat: 5g | Polyunsaturated Fat: 1g | Cholesterol: 0mg | Sodium: 600mg | Total Carbohydrates: 30g | Dietary Fiber: 6g | Sugars: 6g | Protein: 5g
Frequently Asked Questions:
Can I use other vegetables in this soup?
Yes, feel free to customize the soup with your favorite vegetables.
Broccoli, peas, green beans, or spinach are great additions.
Can I use vegetable stock instead of broth?
Yes, vegetable stock is a suitable alternative.
Adjust the quantity to achieve your desired soup thickness.
How can I store leftovers?
Store leftovers in an airtight container in the refrigerator for up to 3-4 days.
Reheat on the stovetop or in the microwave.
Is it okay to use fresh or canned corn?
Either fresh or frozen corn works well. If using canned corn, drain and rinse it before adding to the soup.
Can I freeze this soup?
Yes, this soup freezes well. Allow it to cool completely before transferring to freezer-safe containers.
It can be stored in the freezer for up to 2-3 months.
Is it okay to substitute vegetable broth with chicken broth?
Yes, you can use chicken broth if you prefer.
However, for a vegetarian version, stick with vegetable broth.
Can I prepare this soup in advance?
Absolutely! The flavors tend to deepen when allowed to sit, so making it in advance and reheating can enhance the taste.
What can I serve with vegetable soup for a complete meal?
Pair it with a crusty bread, a side salad, or even a grilled cheese sandwich for a satisfying and complete meal.
Can I freeze this soup?
Yes, you can freeze vegetable soup. Allow it to cool before transferring to a freezer-safe container.
It can be stored in the freezer for up to 2-3 months.