How to make Green Chilaquiles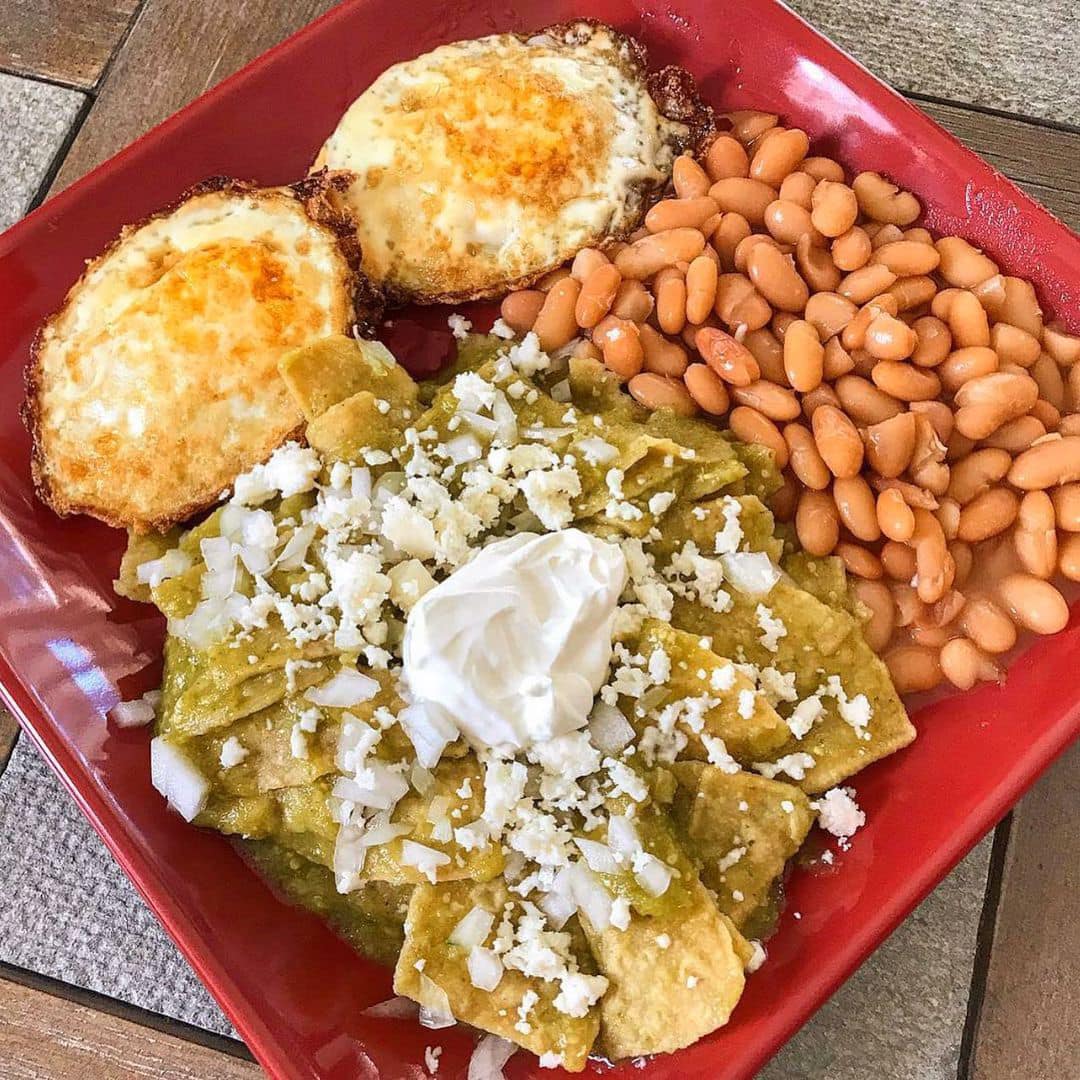 Ingredients
15 white corn tortillas
1 cup canola oil (for frying)
salt (to taste)
1 medium onion (thinly sliced)
salsa verde (homemade or storebought )
queso fresco (crumbled, to garnish)
minced cilantro (to garnish)
minced onion (to garnish)
fried egg (optional, to serve)
Instructions
Cut tortillas into small squares or triangles.
Heat oil in a deep skillet over medium-high heat and fry tortillas pieces until crispy, about 2-3 minutes.
Strain fried tortillas from the pot on to a plate lined with paper towel.
Season fried tortillas with salt to taste; set aside.
Add sliced onions to the hot pan along with the reserved fried tortillas.
Fry an additional 5-6 minutes or until onions are softened.
Stir in around 3 cups of salsa or enough to completely soak the tortillas.
Saute for an additional five minutes then remove from the heat.
You may wish to add more salsa as it cooks – the goal is to keep the tortillas drenched.
Garnish pan with crumbled cheese, minced cilantro and onion.
Serve with eggs and/ or refried beans if you wish.
Nutrition Information:
YIELD: 6 SERVING SIZE: 1
Amount Per Serving: CALORIES: 550 | TOTAL FAT: 30g | SATURATED FAT: 5g | CHOLESTEROL: 15mg (if serving with a fried egg, add about 185mg more) | SODIUM: 400mg | CARBOHYDRATES: 60g | FIBER: 7g | SUGAR: 3g | PROTEIN: 12g (if serving with a fried egg, add about 6g more)
Frequently Asked Questions:
What kind of salsa should I use?
The recipe calls for salsa verde, which is a green salsa typically made with tomatillos. You can either make this at home or purchase it from the store.
Can I use other types of tortillas instead of white corn tortillas?
Yes, you can use other types of tortillas, such as yellow corn or even flour tortillas. However, white corn tortillas are traditionally used in Chilaquiles and provide a specific taste and texture.
Can I bake the tortillas instead of frying them?
Yes, if you're looking for a healthier alternative, you can bake the tortillas in the oven until they're crispy. Make sure to brush them with a bit of oil and bake at 375°F (190°C) for about 10-15 minutes or until crisp.
What type of cheese is best for garnishing?
Queso fresco, a Mexican cheese, is recommended for this recipe. It's a soft, mild cheese that crumbles easily. If you can't find it, you can substitute with other mild, crumbly cheeses like Feta or farmer's cheese.
How can I serve these Chilaquiles?
Chilaquiles can be served as a breakfast or brunch dish, often accompanied by a fried egg on top. They can also be a great use for leftover tortillas and salsa. You can add additional garnishes like sliced avocado, a squeeze of lime juice, or a dollop of sour cream, depending on your preference.
Do I have to use canola oil for frying the tortillas?
Canola oil is used due to its neutral flavor and high smoke point, which makes it ideal for frying. However, you could also use other types of oil with a high smoke point, such as vegetable oil or corn oil.
What should be the texture of the tortillas after frying?
After frying, the tortillas should be crispy. Be careful not to burn them; golden brown is the color you're looking for.
What can I do if I added too much salsa and the tortillas became too soggy?
The aim is to have the tortillas well-coated and somewhat softened, but not overly soggy. If you find that you've added too much salsa, you can increase the heat and cook for a few more minutes, which may help some of the excess moisture to evaporate.
Is it necessary to garnish with cheese, cilantro, and onion?
While these garnishes add additional flavor and texture to the dish, they are optional and can be adjusted based on personal preference. You could also consider other garnishes such as avocado, radish slices, or a squeeze of lime.
How do I serve the chilaquiles with a fried egg?
After the chilaquiles are done, you can fry an egg separately to your desired level of doneness (e.g., sunny-side-up, over-easy, etc.), and then place it on top of the chilaquiles when serving.