Chicken Tortilla Crockpot Soup
How to make Chicken Tortilla Crockpot Soup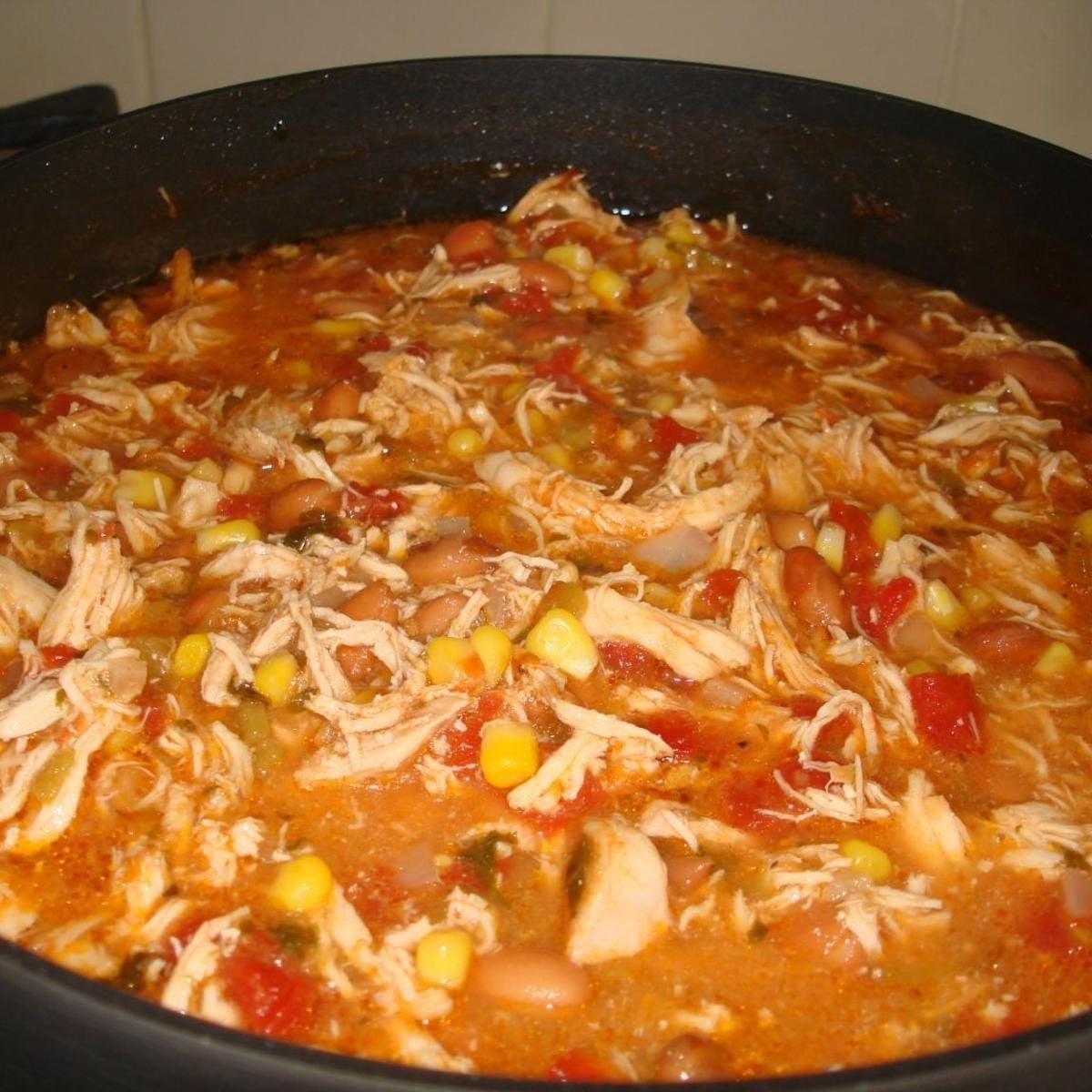 Ingredients
1 pound shredded, cooked chicken
1 (15 ounce) can whole peeled tomatoes, mashed
1 (10 ounce) can enchilada sauce
1 medium onion, chopped
1 (4 ounce) can chopped green chile peppers
2 cloves garlic, minced
2 cups water
1 (14.5 ounce) can chicken broth
1 teaspoon cumin
1 teaspoon chili powder
1 teaspoon salt
1/4 teaspoon black pepper
1 bay leaf
1 (10 ounce) package frozen corn
1 tablespoon chopped cilantro
7 corn tortillas
vegetable oil
Instructions
Place chicken, tomatoes, enchilada sauce, onion, green chiles, and garlic into a slow cooker. Pour in water and chicken broth, and season with cumin, chili powder, salt, pepper, and bay leaf. Stir in corn and cilantro. Cover, and cook on Low setting for 6 to 8 hours or on High setting for 3 to 4 hours.
Preheat oven to 400 degrees F (200 degrees C).
Lightly brush both sides of tortillas with oil. Cut tortillas into strips, then spread on a baking sheet.
Bake in preheated oven until crisp, about 10 to 15 minutes. To serve, sprinkle tortilla strips over soup.
Nutrition Information:
Calories: 300 calories | Protein: 20 grams | Carbohydrates: 20 grams | Fat: 10 grams | Fiber: 3 grams | Sugars: 3 grams | Sodium: 800 milligrams
Frequently Asked Questions:
Can I use pre-cooked chicken for this recipe?
Yes, you can use pre-cooked chicken to save time.
Rotisserie chicken or leftover cooked chicken works well.
Just shred it and add it to the slow cooker as directed.
What can I use as a substitute for corn tortillas?
If you don't have corn tortillas, you can use tortilla chips or strips as a substitute for a similar crunchy texture when serving.
You can also consider using flour tortillas if that's what you have on hand.
Is there a way to make this soup spicier?
If you prefer a spicier soup, you can add additional chili powder, diced jalapeños, or hot sauce to the slow cooker.
Adjust the spice level to your liking.
Can I make this soup vegetarian?
Yes, you can make a vegetarian version of this soup by omitting the chicken and using vegetable broth instead of chicken broth.
You can also add extra vegetables or beans for added substance.
Can I freeze this soup for later?
Yes, this soup is freezer-friendly.
Allow it to cool completely, then store it in airtight containers or freezer bags.
When reheating, you may need to add a little water or broth to adjust the consistency.
Can I use fresh tomatoes instead of canned tomatoes?
Yes, you can use fresh tomatoes.
To replace canned tomatoes, use about 2 to 3 fresh tomatoes, peeled, seeded, and mashed.
This can give your soup a fresher flavor.
What type of tortillas should I use for the tortilla strips?
The recipe calls for corn tortillas, but you can use flour tortillas if you prefer.
Cut them into strips and bake until crispy for a tasty topping.
Is it necessary to use a slow cooker, or can I make this on the stovetop?
You can certainly make this soup on the stovetop.
Simply follow the same steps but simmer the soup on low heat for about 30 to 40 minutes, or until all the flavors meld together.
What toppings can I add to this soup for extra flavor?
You can top your Chicken Tortilla Soup with a variety of toppings such as shredded cheese, diced avocado, chopped cilantro, sour cream, or even a squeeze of lime juice for added freshness.
How can I adjust the spice level of this soup?
To make the soup spicier, you can add extra chili powder, diced jalapeños, or hot sauce to suit your taste.
Conversely, to reduce the heat, use less chili powder or mild enchilada sauce.