Chicken Fajita Quesadillas
How to make Chicken Fajita Quesadillas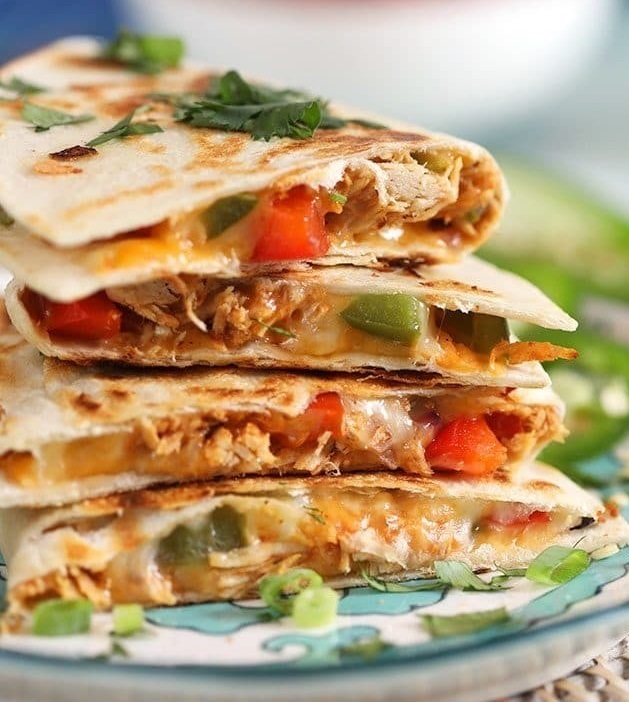 Ingredients:
8 tortillas
3 chicken breasts (boneless and skinless, cut into long strips)
2 tablespoon fajita seasoning
1 cup Tex Mex cheese (or cheddar cheese)
1 red bell pepper (cut into long strips)
1 green bell pepper (cut into long strips)
2 onions (sliced)
salsa
sour cream
2 tablespoon olive oil
2 tablespoon butter
Instructions:
Season the chicken breasts strips with 1 tbsp of the fajita mix.
In a large skillet, heat 1 tbsp of the olive oil and add the chicken to it.
Cook the chicken for 5 to 10 minutes until it's fully cooked and no longer pink, and it's slightly charred, but not burned.
Remove chicken from skillet, and wipe the skillet clean.
Add another tbsp of olive oil to the skillet and heat it up.
Add the onion and cook for a couple minutes until it's slightly translucent.
Add the peppers and the fajita mix and mix well.
Cook for a couple more minutes so the peppers cook slightly.
Add the chicken to the skillet, mix with peppers and onions and cook for a minute.
In a clean skillet, add a bit of the butter and melt.
Add a tortilla and move it around until it's buttery.
Add a little bit of the chicken and onion mixture on top of the tortilla, and about 1/4 cup of cheese, depending on how you like it.
Add another tortilla on top and pat it down.
Now flip it over and cook on the other side until the other side is nice and golden.
Remove from skillet and cut into quarters.
Repeat these steps with the remaining tortillas.
Serve this with some sour cream and salsa.