Buffalo Chicken Garbage Bread Recipe
Buffalo Chicken Garbage Bread Recipe is a delicious, hearty, and indulgent recipe that combines the flavors of a Buffalo chicken sandwich with the concept of "garbage bread" or "stuffed bread."
This dish is perfect for game days, gatherings, or a fun family dinner. It features tender shredded chicken coated in tangy Buffalo sauce, melted cheese, and optional additional fillings, all wrapped in a soft, golden-brown bread crust.
The result is a satisfying, mouthwatering meal that's sure to be a hit with Buffalo chicken lovers.
How to make Buffalo Chicken Garbage Bread Recipe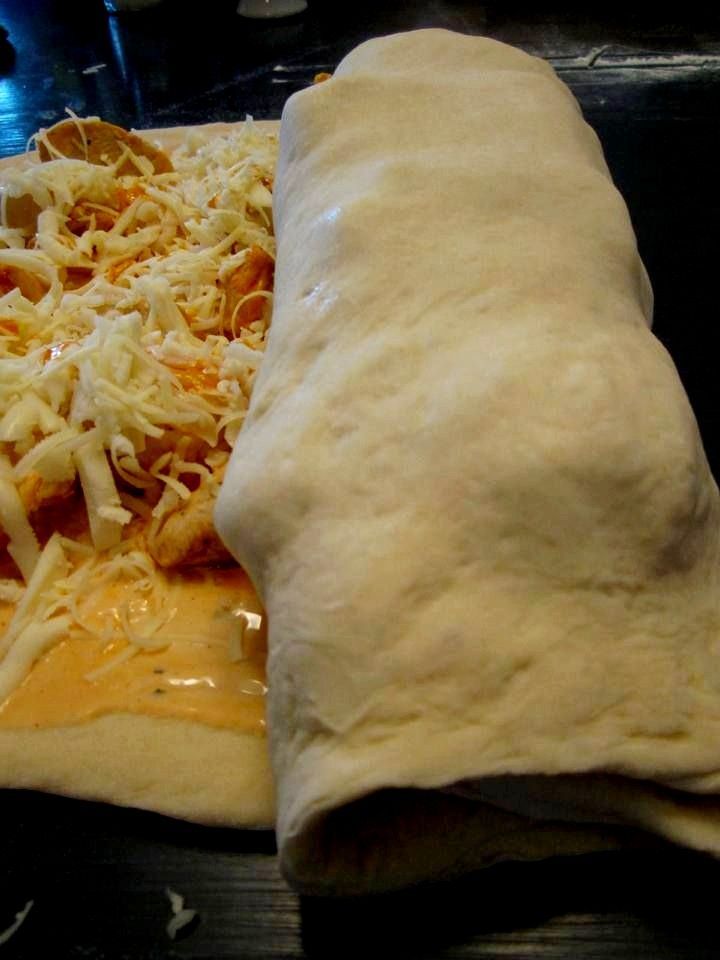 Ingredients for Buffalo Chicken Garbage Bread Recipe
1 loaf French bread, top portion cut off and some of the filling scooped out
8 ounces Cream Cheese, softened
1 cup cooked chicken, shredded or diced
2 cups Cheddar Cheese, shredded
¼ cup Blue Cheese
¼ cup Ranch Dressing
¼ cup Buffalo Sauce
Instructions
Preheat the oven to 350*
In a small bowl combine the blue cheese, the buffalo sauce, cream cheese and the ranch dressing.
Blend until well combined
Fold in the chicken and 1 ½ cups of the shredded Cheddar Cheese
Prepare the bread as stated above
Spread the Chicken mixture into the loaf of bread
Cover with the remaining Cheddar Cheese
Place the top of the loaf back on the bread
Bake for 18 to 22 minutes
Enjoy!
Nutrition Information:
YIELD: 12 SERVING SIZE: 1
Amount Per Serving: CALORIES: 86 | TOTAL FAT: 12g | SATURATED FAT: 6g | TRANS FAT: 6g | CHOLESTEROL: 64mg | SODIUM: 126mg | CARBOHYDRATES: 124g | SUGAR: 8g | PROTEIN: 10g
Frequently Asked Questions about Buffalo Chicken Garbage Bread Recipe
What type of chicken should I use for Buffalo Chicken Garbage Bread?
You can use any cooked chicken, such as rotisserie chicken, grilled chicken breasts, or even leftover chicken from a previous meal. Just make sure to shred the chicken into small, bite-sized pieces before mixing it with the Buffalo sauce.
Can I use store-bought pizza dough for this diy recipe?
Yes, store-bought pizza dough works well for Buffalo Chicken Garbage Bread. Alternatively, you can use homemade pizza dough or even store-bought bread dough if you prefer.
Can I customize the fillings in the Buffalo Chicken Garbage Bread?
Absolutely! Feel free to add or substitute ingredients based on your preferences. You can include diced vegetables like bell peppers, onions, or jalapeños for added flavor and texture. You could also experiment with different cheese combinations or add crumbled blue cheese for a more authentic Buffalo chicken experience.
Can I prepare Buffalo Chicken Garbage Bread in advance?
Yes, you can prepare the bread in advance up to the point of baking. Assemble the bread with all the fillings, roll it up, and wrap it tightly in plastic wrap. Store it in the refrigerator for up to 24 hours before baking. When you're ready to bake, remove the bread from the refrigerator, unwrap it, brush with melted butter or oil, season, and bake as instructed.
How should I store and reheat leftovers?
Store leftover Buffalo Chicken Garbage Bread wrapped in plastic wrap or aluminum foil in the refrigerator for up to 3-4 days. To reheat, place individual slices on a baking sheet and warm in a preheated 350°F (175°C) oven for about 5-10 minutes, or until heated through. You can also reheat the bread in a microwave for a quick option, but the crust may not be as crisp.
What is a Buffalo Chicken Sandwich?
A Buffalo chicken sandwich is a popular American dish that consists of a breaded and fried chicken breast or chicken tenders, coated in a spicy Buffalo sauce, and served on a bun or bread.
Buffalo sauce is typically made from a combination of hot sauce (such as Frank's RedHot), butter, and sometimes additional spices or ingredients like garlic or vinegar. The sandwich is often served with toppings such as lettuce, tomato, onion, and a cooling dressing like ranch or blue cheese to balance out the spiciness of the Buffalo sauce.
This sandwich is inspired by the flavors of Buffalo-style chicken wings, which originated in Buffalo, New York, and have become a popular bar food and appetizer throughout the United States.