How to make Texas Tamale Pie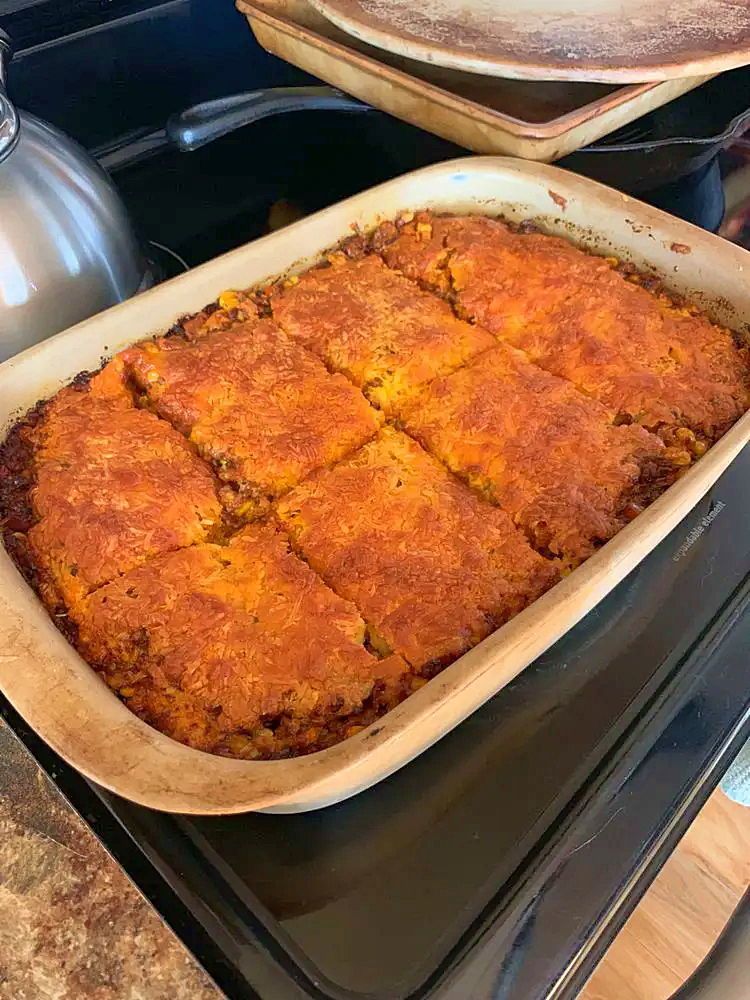 Ingredients:
2 pounds lean ground beef 900g
2 cups diced poblano peppers about 2 peppers
8 ounces frozen corn thawed (225g)
1 16 ounce jar salsa (Pace Picante is recommended for this dish)
1/2 10 oz. can red enchilada sauce
2 8.5 ounce boxes dry cornbread mix (Jiffy is preferred for this dish)
2 large eggs
2/3 cup whole milk
4 ounces shredded Sharp Cheddar cheese 115g
4 ounces shredded Monterey Jack cheese 115g
1 teaspoon salt
1/2 teaspoon dried oregano
1 teaspoon ground dried chipotle pepper
1 tablespoon brown sugar
Cooking spray
Instructions:
Preheat your oven to 350 degrees F (175 degrees C).
Lightly coat a 9×13-inch casserole dish with cooking spray to prevent sticking.
In a skillet over medium-high heat, brown the ground beef until cooked through. Stir in the diced poblano peppers, corn, salt, salsa, oregano, enchilada sauce, and chipotle powder.
Cook and stir for about 10 minutes, until the beef is crumbly and no longer pink. Don't worry if it looks liquidy; the cornbread will soak up the flavors while baking.
In a large bowl, combine both packages of cornbread mix with the eggs, milk, and brown sugar. Whisk until well combined.
Spread half of the cornbread mixture evenly in the bottom of the prepared baking dish. Sprinkle half of both cheeses over the cornbread layer, then pour the beef mixture on top.
Spoon the remaining half of the cornbread mixture over the beef and carefully spread it with a spoon, leaving about half an inch from the edges of the pan. Finally, sprinkle the rest of the shredded cheese on top.
Cover the dish with foil and bake in the preheated oven for 50-60 minutes, or until the cornbread is golden brown and cooked through.
Once baked, remove from the oven and let it cool for a few minutes before serving. Slice into portions and savor the irresistible flavors of Texas Tamale Pie!
Notes:
Feel free to customize the recipe by adding additional ingredients such as black beans, diced onions, or jalapeños for extra heat.
If you prefer a milder version, you can use regular green bell peppers instead of poblano peppers.
Serve this dish with a dollop of sour cream, fresh cilantro, and a squeeze of lime for a delightful garnish.
Nutrition Information:
YIELD: 12 , SERVING SIZE: 1 slice
Amount Per Serving: CALORIES: 400 | TOTAL FAT: 20g | SATURATED FAT: 9g | TRANS FAT: 0.5g | CHOLESTEROL: 90mg | SODIUM: 900mg | CARBOHYDRATES: 35g | FIBER: 3g | SUGAR: 8g | PROTEIN: 20g
Frequently Asked Questions:
Can I use a different type of meat instead of ground beef?
Yes, you can substitute ground beef with other lean ground meats such as turkey or chicken for a healthier option or use a combination of meats for added flavor.
Can I substitute the cheeses?
Yes, you can substitute the Sharp Cheddar and Monterey Jack cheeses with other types of cheese that melt well, such as Colby Jack, Pepper Jack, or a Mexican blend.
Feel free to experiment with different cheese combinations to suit your taste.
Can I adjust the spice level of Texas Tamale Pie?
Absolutely! If you prefer a milder taste, you can reduce or omit the chipotle pepper and adjust the amount of salsa and enchilada sauce to your preference.
For a spicier version, you can add additional spices or hot sauce.
Can I make Texas Tamale Pie vegetarian?
Yes, you can make a vegetarian version by replacing the ground beef with plant-based meat alternatives or using a mixture of beans and vegetables as a filling.
Adjust the seasonings accordingly for the desired flavor.
Can I make Texas Tamale Pie gluten-free?
Yes, you can make a gluten-free version by using a gluten-free cornbread mix and ensuring that the other ingredients you choose, such as the salsa and enchilada sauce, are gluten-free as well.
Can I make individual servings instead of a casserole?
Yes, you can adapt the recipe by using individual oven-safe dishes or ramekins. Simply divide the cornbread mixture, beef filling, and cheese among the individual dishes and adjust the baking time accordingly, as smaller portions may require less time to cook.
Can I make Texas Tamale Pie ahead of time?
Yes, you can prepare the dish ahead of time by following the recipe until step 7. Once assembled, cover the dish and refrigerate.
When ready to serve, bake it in the preheated oven as directed, adding a few extra minutes if needed.
Can I freeze Texas Tamale Pie?
Yes, you can freeze the assembled but unbaked Texas Tamale Pie. Wrap the casserole dish tightly with plastic wrap and aluminum foil, then freeze.
When ready to bake, thaw it in the refrigerator overnight and bake as directed. It may require a slightly longer baking time if still partially frozen.