How to make Tator Tot Casserole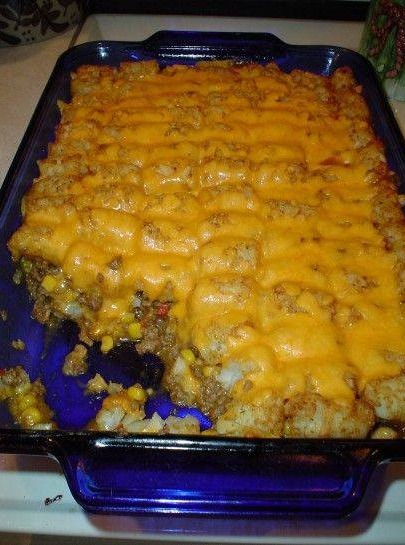 Ingredients:
2 lbs. Ground beef
1 Package taco seasoning
1 Can corn drained
1 Can nacho cheese soup
32 oz. Bag frozen tater tots
1 ½ C. Shredded cheddar cheese
Instructions:
Preheat the oven to 350 degrees.
Add the ground beef to a large skillet over medium high heat on the stove, and saute until the meat is completely browned. Drain any excess fat.
Reduce the heat to low and stir in the taco seasoning. Saute for 2-3 minutes.
Stir in the corn and soup to combine. Continue to cook for a minute or two.
Pour the meat mixture in the bottom of a well greased 9×13 baking dish.
Top the mixture with the tater tots in an even layer.
Bake for 45 minutes.
Remove from the oven, top with the shredded cheese and bake for an additional 5 minutes, or until the cheese has melted.