One Pan Mexican Chicken Rice Bake
How to make One Pan Mexican Chicken Rice Bake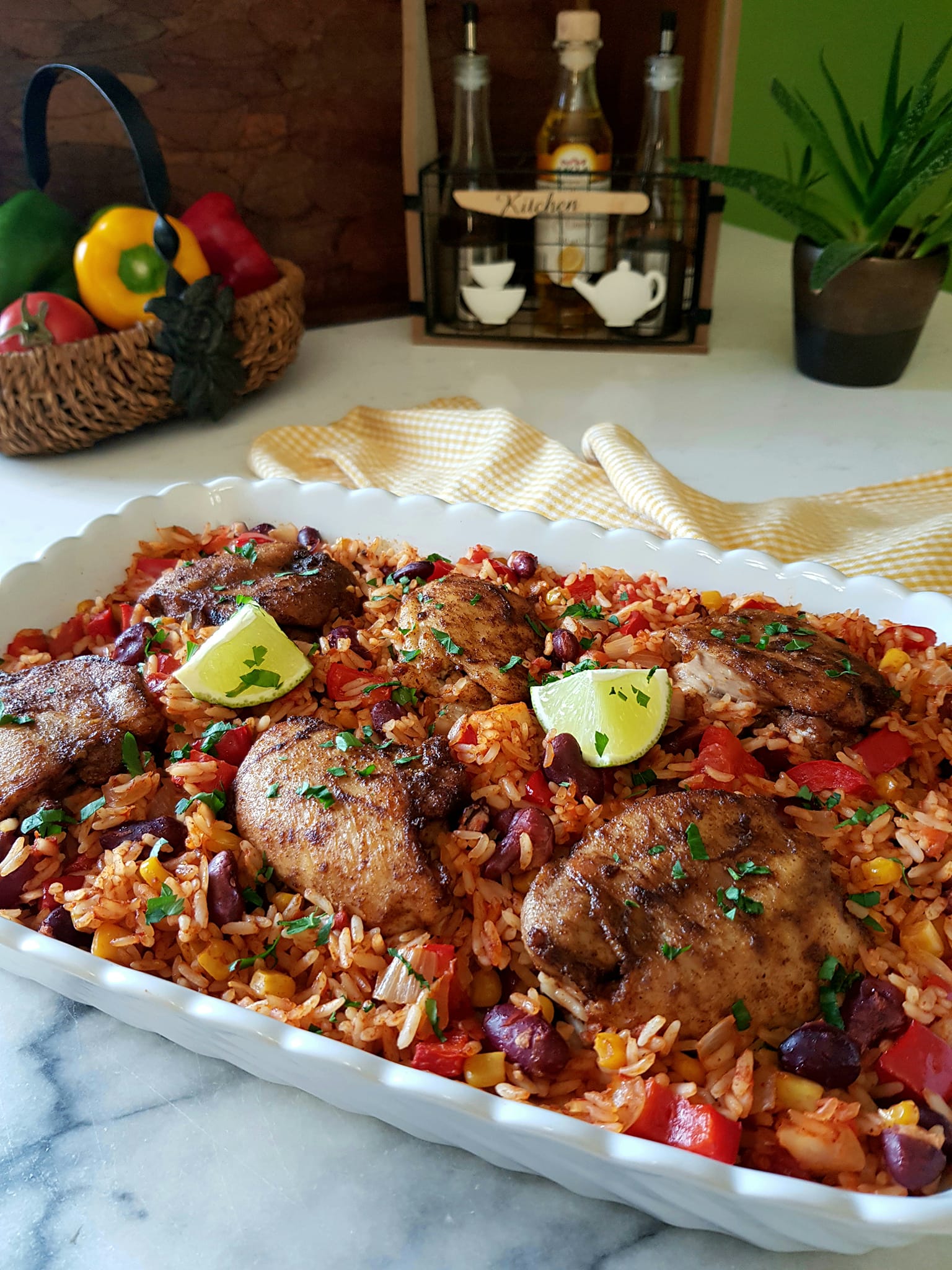 Ingredients
Chicken Boneless Thighs
2 Tbls Olive Oil
2 Tbls Homemade Taco Seasoning
1 Onion, diced
1 Red Bell Pepper, diced
3 Cloves Garlic, minced
1 Cup Raw Rice
1 3/4 Cups Chicken Stock
1 (400g/14oz) Tin Diced Tomatoes
1 Tin Red Kidney Beans, drained and rinsed
Small Tin Sweet Corn
2 Tsps Homemade Taco Seasoning
Topping:
1 Lime, juiced
1 Tbls Cilantro
Sour Cream
Homemade Taco Seasoning:
1 Tbls Mild Chilli Powder
1 Tsp Garlic Powder
1/2 Tsp Onion Powder
1/2 Tsp Oregano
1/2 Tsp Paprika
1 Tsp Cumin
Salt & Pepper
Instructions:
Add chicken pieces, 2 tablespoons olive oil and 2 tablespoons homemade taco seasoning to a medium bowl. Rub the chicken to coat with oil and seasoning.
In a pan brown the chicken on both sides. Remove from pan and set aside. Add the onions and bell pepper to the same pan and cook until tender. Stir in the garlic and rice and cook for an additional minute. Add in the diced tomatoes, chicken stock, beans, corn and 2 teaspoons taco seasoning.
Bring to boil and remove from heat.
Transfer filling to a casserole dish. Snuggle the chicken thighs in between the rice. Cover with foil and cook in oven 190C/375F for 30 minutes. Uncover and cook for a further 30 minutes or until chicken and rice is tender.
Remove from oven and squeeze fresh lime juice all over and sprinkle with fresh cilantro.
Serve chicken and rice with a dollop of sour cream.
Enjoy!