How to make Mexican Pizza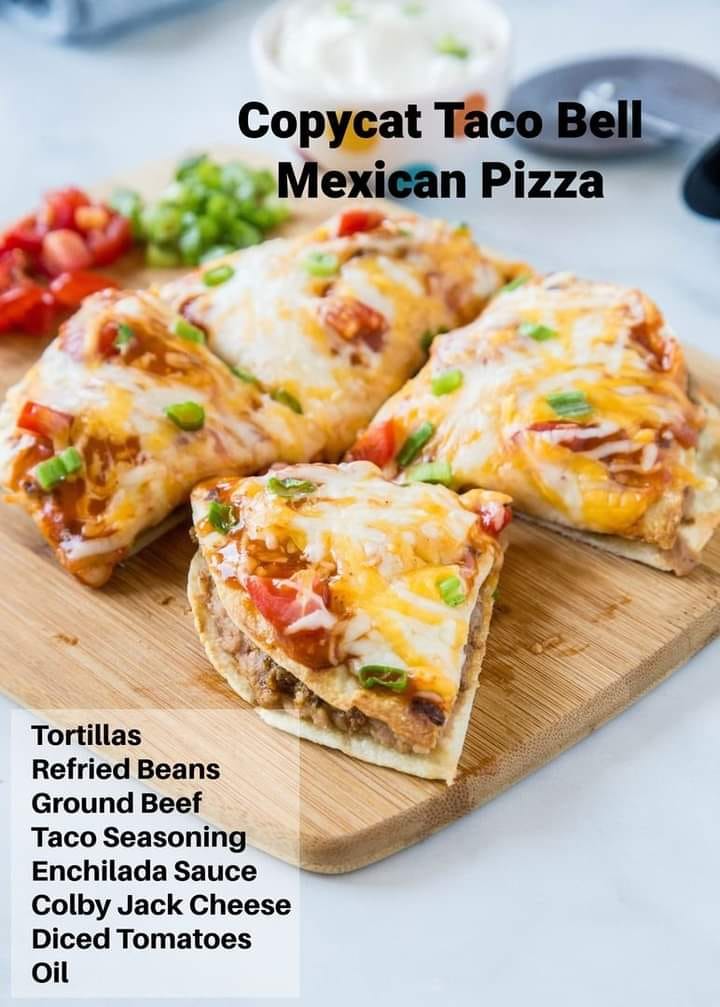 Ingredients
1 pound ground beef
1 packet taco seasoning
3/4 cup water
1 can (15 oz) refried beans
1 can (10 oz) enchilada sauce
1/4 cup diced tomatoes
1 1/2 cup shredded Colby Jack cheese
8 flour tortillas, taco size
1 Tbls vegetable oil
Instructions
Preheat oven to 400 degrees.
In a large skillet brown ground beef, breaking up into small pieces. Once cooked, add taco seasoning and water. Bring to a boil, reduce heat and simmer until most of the liquid is absorbed.
In a large skillet or griddle pour half of the oil into the pan. Heat over medium high heat. Add tortillas and cook for 4-5 minutes, flipping frequently, until crisp. Repeat with remaining tortillas and oil.
Spread about 1/4 cup of beans evenly over the bottom of each tortilla. Top with taco meat.
Place another tortilla over the top of the meat. Spread about 2 Tbls of enchilada sauce evenly over the tortilla. Divide tomatoes evenly over the top of the tortillas.
Sprinkle the cheese in an even layer over the top.
Place each pizza on a baking sheet and bake for 8-10 minutes until the cheese is melted and everything is hot.
Slice and serve.