Mexican Dorito Chicken Casserole
How to make Mexican Dorito Chicken Casserole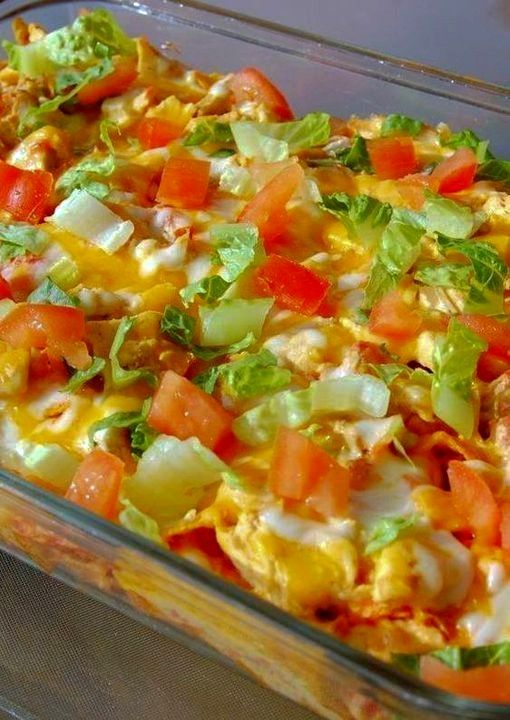 Ingredients
4 boneless and skinless chicken breasts, cooked
8 ounces Doritos chips, crushed
1 can black beans, drained and rinsed
2 small cans of Cream of Chicken soup
1 can rotel tomatoes and green chilis
¾ cup whole milk
1 cup Cheddar Cheese, shredded
Instructions
Preheat the oven to 400*
Line a baking sheet with foil
Season the chicken breast with salt and pepper and place onto the foil lined tray
Bake for 20 to 25 minutes
Remove from the oven and set aside to cool
Spray a baking dish with nonstick spray
Put half of the crushed doritos as the bottom layer in the baking pan
In a bowl, mix the soup with the milk
Shred the chicken breasts using two forks
Stir in the black beans and the can of rotel tomatoes, stir until blended well.
Place a layer of shredded chicken and bean mixture on top of the Doritos
Spread a layer of the soup over the chicken
Sprinkle with cheese
Repeat the layers one more time each and place pan into the oven
Bake for 20 to 25 minutes, until the cheese is bubbly.
The chicken has already been cooked so that is not a concern this baking time.
Enjoy!
Nutrition Information:
SERVING SIZE: 1
Amount Per Serving: CALORIES: 120 | TOTAL FAT: 12g | SATURATED FAT: 6g | UNSATURATED FAT: 6g | CHOLESTEROL: 120mg | SODIUM: 28mg | CARBOHYDRATES: 140g | SUGAR: 18g | PROTEIN: 12g