Instant Pot Pinto Beans, Green Chile and Bacon
How to make Instant Pot Pinto Beans, Green Chile and Bacon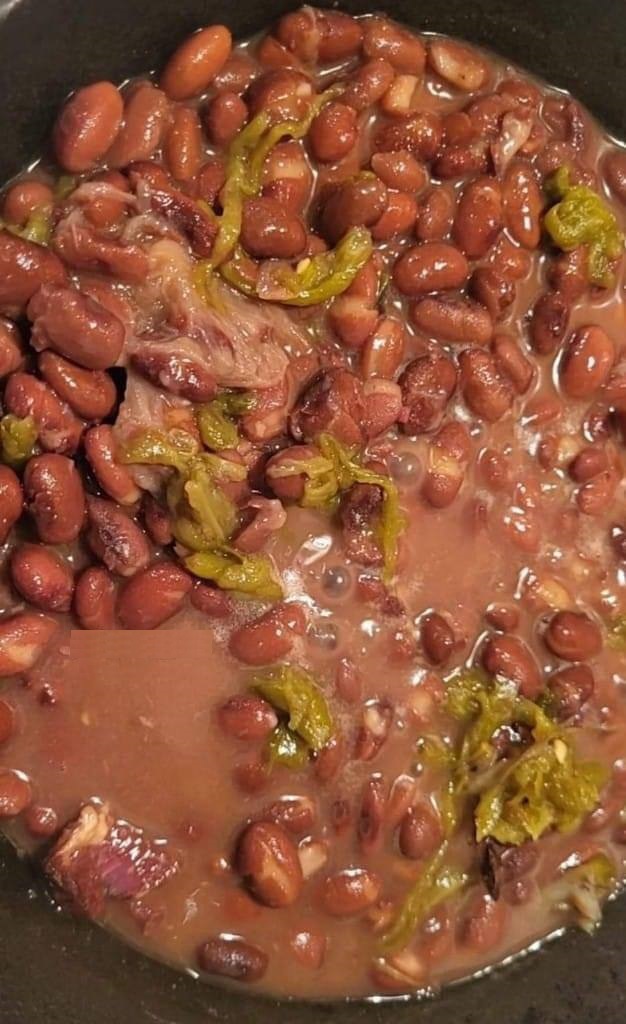 Ingredients
½ pound bacon
½ cup yellow onion chopped
½ Tablespoon paprika
2 teaspoons garlic powder
1 ½ teaspoons salt
¾ teaspoon cumin
2 bay leaves
4 ounces diced green chiles heat of choice
1 pound pinto beans dry (no need to soak)
4 cups chicken stock
Instructions
Turn the Instant Pot on to the sauté function.
Dice the raw bacon, add to the pot, and cook until the bacon is crispy and much of the fat is being cooked, about 5-7 minutes.
Add the diced onion and cook until translucent but not browning, about 2-3 minutes.
Add all of the spices (paprika, garlic powder, salt, cumin, bay leaves), stir, and cook until fragrant, 30 seconds.
Add the diced green chiles, beans, and stock. Stir and turn off sauté.
Put the lid on the Instant Pot and set to manual high pressure for 45 minutes.
When cooking has finished, let it sit on natural release (not opening the venting valve) for 20 minutes.
After the 20 minutes, open the valve to release the rest of the pressure. Serve warm. (Can be kept on warm setting or with lid on until ready to serve).
Notes
If you want it thicker, you can start stirring the beans which will release some of the starches into the sauce.
You can also mash a few of the beans and then mix.
Alternatively, add 1/4 cup of flour or two tablespoons of cornstarch (great gluten free option) to the same amount of water, mix in a small bowl, and then mix into the beans. Mixing it with water first will help prevent it from being lumpy. Then let the beans cook over low or warm for a few minutes as the heat will activate the thickener and thicken the bean sauce.
Nutrition Information:
Serving: 1serving | Calories: 338kcal | Carbohydrates: 29g | Protein: 16g | Fat: 18g | Saturated Fat: 6g | Polyunsaturated Fat: 3g | Monounsaturated Fat: 8g | Trans Fat: 1g | Cholesterol: 30mg | Sodium: 1065mg | Potassium: 657mg | Fiber: 8g | Sugar: 4g | Vitamin A: 334IU | Vitamin C: 4mg | Calcium: 55mg | Iron: 3mg
Frequently Asked Questions:
Do I need to soak the pinto beans before using them in the Instant Pot?
No, you do not need to soak the pinto beans for this recipe.
The Instant Pot's pressure cooking function will cook the dry beans to perfection without the need for soaking.
Can I use different types of beans for this recipe?
While this recipe specifically calls for pinto beans, you can experiment with other bean varieties if you prefer.
Just be mindful of adjusting the cooking time as different beans may have varying cooking requirements.
What type of green chiles should I use, and can I adjust the heat level?
You can use diced green chiles of your choice, whether mild or hot, depending on your heat preference.
Adjust the amount of green chiles to suit your taste.
Canned green chiles are commonly used in this recipe.
Can I make this recipe vegetarian or vegan?
Yes, you can make a vegetarian or vegan version of this dish by omitting the bacon and using vegetable stock instead of chicken stock.
The spices and green chiles will still add plenty of flavor.
How do I serve Instant Pot Pinto Beans with Green Chile and Bacon?
This dish can be served as a side dish or even as a main course.
It's delicious with rice, tortillas, or alongside other Mexican-inspired dishes.
You can garnish it with toppings like chopped cilantro, sour cream, or shredded cheese for added flavor.
Can I use canned pinto beans instead of dry beans?
While this recipe uses dry pinto beans, you can substitute canned pinto beans if you want to save time.
If using canned beans, you won't need to pressure cook them; simply rinse and drain the canned beans and add them to the Instant Pot along with the other ingredients.
Adjust the cooking time accordingly to heat everything through.
Is there a substitute for bacon if I prefer a vegetarian version?
If you prefer a vegetarian or vegan version, you can omit the bacon entirely or use vegetarian bacon substitutes like tempeh bacon or coconut bacon.
Adjust the cooking process accordingly, as vegetarian bacon may not need as much cooking time as traditional bacon.
What can I serve with Instant Pot Pinto Beans and Green Chile?
This dish pairs well with various accompaniments, such as rice, tortillas, or cornbread.
You can also serve it as a side dish alongside grilled meats, vegetables, or other Tex-Mex dishes like tacos and enchiladas.
Can I adjust the level of spiciness in this recipe?
Yes, you can adjust the spiciness by choosing the type of diced green chiles you prefer.
If you like it milder, opt for mild green chiles, and for more heat, choose hotter varieties.
Additionally, you can adjust the amount of green chiles to suit your spice tolerance.
How do I store and reheat leftover Instant Pot Pinto Beans?
To store leftovers, allow the beans to cool to room temperature, then transfer them to an airtight container and refrigerate for up to 3-4 days.
To reheat, you can use the microwave or stovetop.
If the beans have thickened, you may need to add a little water or chicken stock to reach your desired consistency.