How to make Homemade Mexican Pizza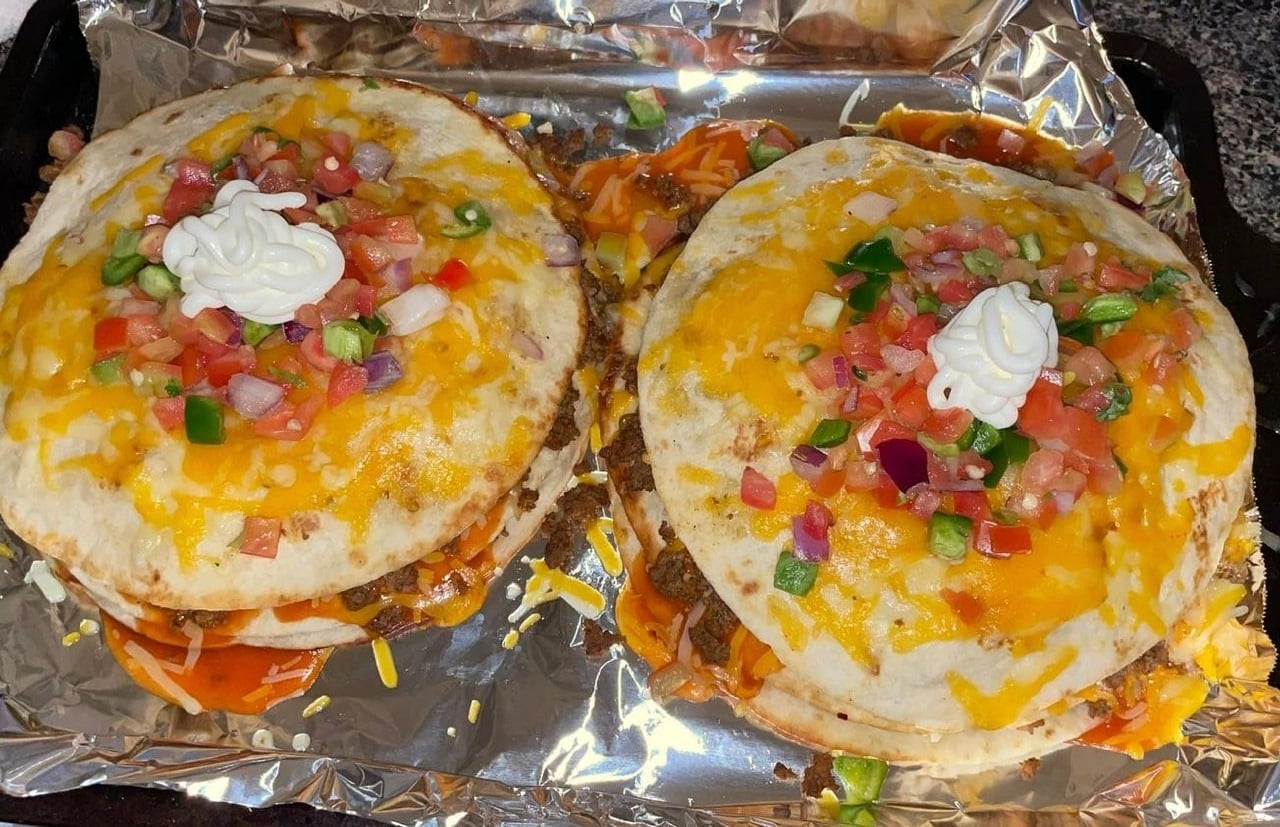 Ingredients:
1 pound lean ground beef
1 packet (1 ounce) taco seasoning
1/2 cup water
6 medium-size flour tortillas
1 can (16 ounces) refried beans
1 can (10 ounces) red enchilada sauce
1 cup shredded cheddar cheese
1 cup shredded pepper-jack cheese
1 Roma tomato diced
1 green onion diced
1 small can sliced black olives
Directions:
Preheat oven to 375 degrees F. Take 2 baking sheets and spray them with non-stick spray. Place 3 tortillas on each baking sheet.
Place in the oven and bake for 3 to 5 minutes, then carefully flip tortillas over while they're still in the oven (*don't burn yourself please*) and bake another 2 to 5 minutes to crisp on the other side. You want tortillas a slight golden color. Remove from oven and set aside.
Meanwhile, cook and crumble ground beef in a large skillet over medium-high heat. Drain grease.
Add taco seasoning and water. Bring mixture to a boil, then reduce heat to medium-low. Stir and simmer for 10 minutes. Remove from heat.
In a microwave-safe bowl, heat the refried beans until warmed through. Spread a thin layer of beans on one tortilla.
Top with 1/3 of the meat mixture. Place another tortilla on top of the meat. Spread 3 Tablespoons of enchilada sauce on top of the top tortilla.
Sprinkle with some cheddar cheese and pepper-jack cheese. Add a few dices of tomato, green onion and olives.
Repeat process with the remaining tortillas. You will have 3 Mexican pizzas total.
Place pizzas on the baking sheet and bake for 5 minutes, or until cheese is melted and bubbly. Remove from oven and let stand to cool slightly before slicing and serving.
Enjoy
Nutrition Information:
SERVING SIZE: 1/3 Pizza
Amount Per Serving: CALORIES: 575 | TOTAL FAT: 29g | SATURATED FAT: 14g | TRANS FAT: 0g | CHOLESTEROL: 101mg | SODIUM: 1747mg | CARBOHYDRATES: 47g | FIBER: 6g | SUGAR: 3g | PROTEIN: 33g
Frequently Asked Questions:
How can I make the pizza spicier?
If you prefer a spicier Mexican pizza, you can add additional heat by incorporating ingredients like hot sauce, crushed red pepper flakes, or diced fresh chili peppers into the meat mixture or as toppings. Adjust the spice level according to your taste preferences.
Can I use a different type of meat instead of ground beef?
Yes, you can substitute ground beef with ground turkey, chicken, or even a plant-based alternative like textured vegetable protein (TVP) for a vegetarian version.
Can I use corn tortillas instead of flour tortillas?
Yes, you can use corn tortillas instead of flour tortillas if you prefer. Corn tortillas will give the pizza a different texture and flavor, which can be a delicious variation.
Can I make the tortillas crispy without using an oven?
Yes, if you don't have an oven, you can achieve crispy tortillas by heating them in a skillet or griddle over medium heat for a few minutes on each side until they turn golden and slightly crispy.
Can I use homemade enchilada sauce instead of the canned version?
Absolutely! If you have a homemade enchilada sauce recipe or prefer making your own, feel free to use it instead of the canned version.
Just ensure you have the equivalent amount needed for the recipe.
Can I customize the toppings to my preference?
Definitely! The toppings mentioned in the recipe, such as diced tomatoes, green onions, and black olives, are suggestions.
You can add or omit any toppings based on your personal taste. Consider adding sliced jalapeños, fresh cilantro, or diced bell peppers for additional flavor and variety.
How can I make this recipe healthier?
To make the Mexican pizza recipe healthier, you can opt for whole wheat tortillas or use low-carb tortillas to reduce the carbohydrate content.
Additionally, you can use reduced-fat or skim cheese options and choose a lower-sodium taco seasoning or make your own seasoning blend with less salt.
Can I make this recipe vegetarian or vegan?
Absolutely! You can make this recipe vegetarian by substituting the ground beef with a plant-based ground meat alternative or using additional vegetables like sautéed mushrooms or bell peppers.
For a vegan version, you can choose vegan-friendly tortillas, cheese alternatives, and skip the use of meat and dairy products.
Can I prepare the pizza in advance and bake it later?
Yes, you can assemble the pizzas in advance and refrigerate them until you're ready to bake. Just make sure to cover them tightly with plastic wrap or foil to prevent them from drying out.
When you're ready to bake, adjust the baking time as needed since the pizza will be starting from a cold state.