Green Chile Mac and Cheese
How to make Green Chile Mac and Cheese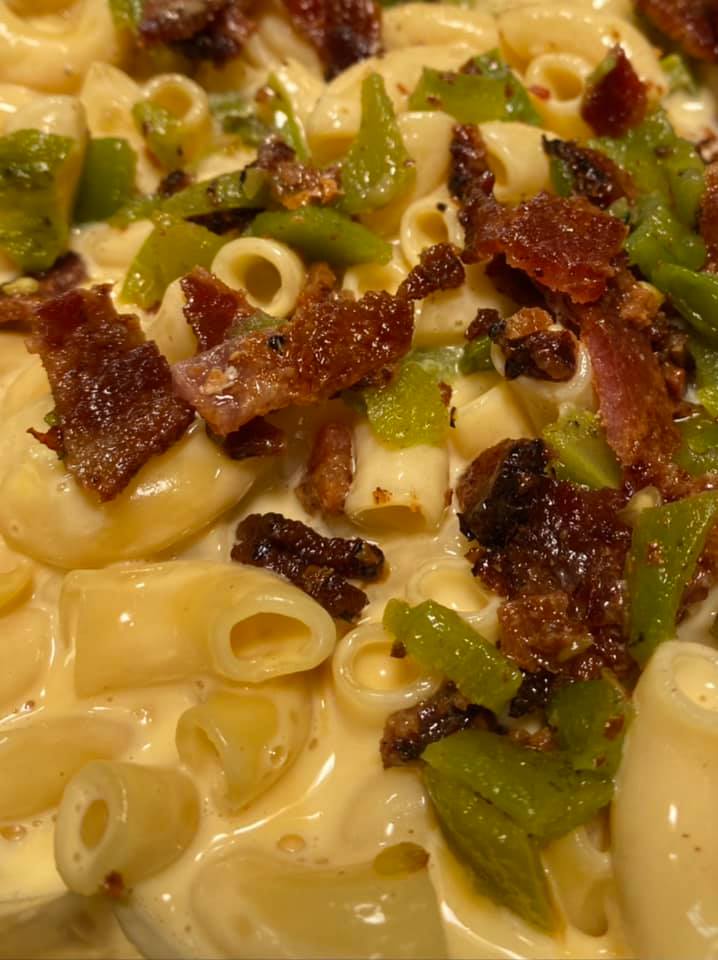 Ingredients
2 cups uncooked elbow macaroni
Salt
2 cups whole milk
3 tablespoons unsalted butter
3 tablespoons all-purpose flour
1/4 pound (1 cup, packed) finely shredded jack cheese
1/4 pound (1 cup, packed) finely shredded sharp cheddar cheese
1 1/4 cups chopped roasted, seeded green chiles, or 3 (4-ounce) cans diced roasted green chiles
1 teaspoon salt
1/4 to 1/3 cup cooked peppered bacon
Instructions:
Step 1: Cook the macaroni very al dente:
Bring a large pot of salted water to a boil (a tablespoon of salt for every 2 quarts of water). Add the macaroni pasta. Return to a rolling boil, and boil, uncovered, for about 2 minutes less than the cooking time given on the pasta box instructions.
The pasta should be mostly cooked, but still a little too firm to eat; it will complete its cooking in the oven.
When the pasta is ready, drain it into a colander and run cold water over it to stop the cooking.
Step 2: Preheat the oven to 400°F.
Step 3: Make a roux with butter and flour:
In an ovenproof pot such as a casserole or Dutch oven, heat the butter over medium heat.
When the butter is melted and bubbly, stir in the flour to make a roux.
Cook this, stirring often, for about 2 minutes. You don't want the roux to brown.
Step 4: Slowly whisk in milk, then the cheeses:
Add the milk to the roux, a little at a time, stirring constantly so that lumps do not form. Whisk until smooth.
Stir in the cheeses third at a time, stirring to incorporate after each addition.
Step 5: Stir in pasta, salt:
Add the macaroni and stir until well combined. Taste for salt, add a teaspoon, less or more, if needed.
Step 6:
Top with cooked peppered bacon and HOT roasted chopped green chile
Nutrition Information:
YIELDS 4 | SERVING SIZE: 1
Calories: 450 calories | Protein: 15 grams | Carbohydrates: 30 grams | Dietary Fiber: 2 grams | Sugars: 7 grams | Total Fat: 30 grams | Saturated Fat: 15 grams | Cholesterol: 75 milligrams | Sodium: 800 milligrams
Frequently Asked Questions:
Can I use a different type of pasta instead of elbow macaroni?
While elbow macaroni is commonly used for mac and cheese, you can certainly use other pasta shapes like penne, shells, or rotini.
Just be aware that different pasta shapes may affect the texture and appearance of the dish.
What kind of green chiles should I use, fresh or canned?
You have the option to use either fresh roasted and seeded green chiles or canned diced roasted green chiles.
The choice depends on your preference and what's available.
Canned chiles are convenient, while fresh ones can provide a more vibrant flavor.
Can I make this dish vegetarian?
Yes, you can make a vegetarian version of this dish by omitting the bacon.
You can also explore vegetarian bacon alternatives or simply leave it out for a meatless option.
Can I use low-fat or skim milk to reduce the calorie content?
You can use lower-fat milk if you want to reduce the fat content of the dish, but keep in mind that it may affect the creaminess and richness of the sauce.
Whole milk will give you a creamier result.
What can I serve as side dishes with Green Chile Mac and Cheese?
This mac and cheese pairs well with a variety of sides, such as a simple green salad, steamed vegetables, or garlic bread.
You can customize your sides to suit your preferences and create a balanced meal.
Can I use regular bacon instead of peppered bacon?
Yes, you can use regular bacon if you prefer.
Peppered bacon adds a bit of spice, so using regular bacon will give the dish a milder flavor.
What's the best way to roast and seed green chiles for this recipe?
To roast green chiles, you can place them directly over an open flame or under the broiler until the skin blisters and blackens.
Then, place them in a sealed plastic bag for a few minutes to steam, which makes it easier to peel off the skin.
To seed them, cut the chiles open, remove the seeds, and chop them as needed.
Can I prepare this dish in advance and reheat it later?
Yes, you can make this mac and cheese ahead of time and reheat it in the oven or microwave.
Just be sure to cover it to prevent it from drying out when reheating.
Is it possible to make this recipe gluten-free?
Yes, you can make this recipe gluten-free by using gluten-free macaroni and a gluten-free flour blend as a substitute for all-purpose flour in the roux.
Ensure that all your ingredients, including the bacon, are gluten-free.
What are some good alternatives to green chiles if I want to adjust the level of spiciness?
If you want to make the dish milder, you can use diced roasted red bell peppers instead of green chiles.
This will provide a sweet and colorful alternative to the spicier chiles.